Europe - July 2017
Day 1 - Family reunions
Saturday 29th
Today has been full on, as we've moved from one activity to the next. We've had a blast but I'm now looking forward to tucking up in bed. The day started well with a restful night's sleep…for the most part. It was punctuated in the early hours with me suddenly leaping out of bed with cramp in my calf. The muscle had completely ceased up before my conscious self knew what was going on and the pain was quite intense. The shock of me lurching, of course, woke Sandy as well. Luckily, I was able to get some more sleep after that but I'm not sure exactly how many hours I managed in the end. Sandy, on the other hand, is prone to remaining awake once awoken, so this probably affected her more than it did me.
The CPAP machine is working well here, so no problems in that department. The only problem is that I haven't figured out how to change the machine's internal clock. This doesn't affect the sleep per se but it does mean that the charts from all the stats look like the apply to the wrong day of the week and a sleep cycle appears spread out over two different graphs. First world problems.
It seems that Paul is an early riser. I found him tinkering in the kitchen when I got up at around 5am. He and I chatted in the kitchen before the rest of the household roused. He was making everyone a full, cooked, English breakfast. Paul's in-laws arrived late last night – after we'd all gone to bed – and were sleeping in the living room when I got up. Once they were up and about, we contemplated what to do for the morning, one of the few chunks of time for which I hadn't yet scheduled anything in on the agenda. Someone mentioned Primark last night. It's a low-cost clothing retail chain here in the UK. Not far from here is the Lakeside shopping centre, one of the country's largest, where there's a large Primark retail shop. The mere mention of Primark perked Sandy's ears up so I took her, Jennifer, Marie (Paul's partner) and her mother over there to spend an hour traipsing around the place after breakfast. Sandy picked up a few things for the kids but we didn't have a lot of time to spend there, as we were due at John & Lisa's house at noon for the family BBQ. We had to make this time slot since we were also scheduled to visit Ann in Basingstoke later in the afternoon, which is a two-hour drive away.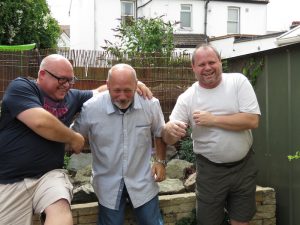 John & Lisa live in Shoeburyness. Despite the fact that Sandy and I lived with them for almost a year, and had travelled to there from South Ockendon probably a thousand times, I still found I needed to peek at the satnav a couple of times on the way there. Yes, I know. My ability to form a mental map of any area has been decimated over the years by my reliance on satnavs. When we arrived, we found John & Lisa, Jenny-Lee & Jay and their kids and also James and his kids. Paul and his entourage arrived shortly after we got there. John had erected a marquee in the back garden and we all sat there having a great time just chilling and catching up on the past seven years. It was a real joy to see all the family members there – especially the great nephews and nieces. This is the first time I have seen any of those in the flesh.
We had an absolutely lovely time and the afternoon whizzed by all too quickly. Before long, it was time to head out to visit Ann, my sister in Basingstoke. Before we left, I handed out autographed copies of my book to several family members and there were plenty of photos being taken all around.
We left John & Lisa's, really quite reluctantly, and made our way to Jacqueline's house. Today would be the only opportunity we would have to see her. She had just come back from a girl guides camp in Scotland this morning and was going to be leaving for holiday on Monday. Jacqueline had booked her holiday thinking we would be coming back to the UK before flying home, which is when she planned to see us.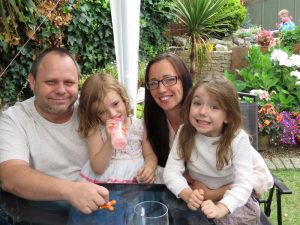 This was all based on the original plans I sent through to her. Those plans changed over time but not before she had already booked her time away. It's nobody's fault (perhaps my own) but it's really unfortunate that this small window of opportunity is now the only chance we'll have of seeing her. Small or not, I wasn't going to let the opportunity slip. Although we only had probably half an hour at Jacqueline's house, it was great to catch up with her and her husband Kevin. As was the case at John & Lisa's, it was like I had never been away. As a happy bonus, Charlotte, Jacqueline's youngest daughter, was also there. Victoria, Jacqueline's only other child we hadn't seen today, was originally going to be at the family BBQ at John & Lisa's but she wasn't able to make it in the end. It isn't clear whether another opportunity will present itself to see her in the time we have here.
Time stops for no one and so, once again reluctantly, we had to leave another sibling's house and make our way to another's. Ann lives in Basingstoke, which is about a two-hour drive from where Jacqueline lives. The trip there was uneventful, save for the need for us to stop half way there to tend to a headache Joey was complaining about. Fluids and some paracetamol did the trick. We were told that we should be there by 7pm, as that's when dinner was being served. We were all really keen to find out what Ann had cooked for us – especially since her entire family, her kids and grandkids, would all be there. We got there to find she had slaved relentlessly over a KFC bucket.
The evening at Ann's was great. Unlike at John and Lisa's, we hadn't forgotten to pack into the car the gift we brought for the kids and brought a few smiles to a few faces when we handed those out. We have to figure out how to get the gifts we brought for Jenny-Lee's & James' kids to them but I'm sure we'll come up with something.
After dinner, we spent some quality time just chilling and catching up with Ann and her extended family. Tomorrow promises another BBQ here in Ann's back garden, which I'm really looking forward to.