Europe - July 2017
Day 10 - Arrival at Disneyland Paris
Monday 7th August

Since we wanted to spend as much of the day as possible exploring the Disneyland Paris parks today, I was fortunate to have remembered to set the alarm for this morning. I got up rather reluctantly and forced myself into gear for what would turn out to be a most gruelling day ahead for all of us. Ideally, we would come at this from a rested frame of mind and a full tank of energy. Alas, we have just travelled half way around the planet and have kept up an unbelievably manic pace since arriving. We just haven't stopped moving. We are thus already knackered beyond belief and haven't even set foot in any of the parks. Indeed, we have a long journey ahead of us this morning before we even get there.
Sandy had already done a great job of packing last night but we were still far from complete and I picked up where she left off this morning. The others were all slower to get going than I was, so I tried to be as quiet and considerate to them as possible.
As far as where we're going today, we're still keeping up the pretence so that it's a big surprise for the kids when we arrive. I have to admit it has been hard keeping this a secret from them. There was a particularly gut-wrenching moment this morning when Jennifer noticed a Disneyland Paris brochure amongst a pile that was at the house. We said quite casually that we were heading to Holland today, which is why we were heading to the train station. Jennifer looked incredibly sullen and disappointed. She hung her head and almost cried as she said quietly, "oh, and I really hoped we would be going to Disneyland Paris as well." My heart just melted and I nearly cried myself. I desperately wanted to tell her there and then but I held off. I knew it would be so much more rewarding for it to be a very last-minute surprise. I can honestly say holding my tongue whilst watching the disappointment on Jennifer's face was one of the hardest things I've ever had to do as a parent – absolutely gut-wrenching.
We finished tidying up the house. Save for the need to sweep (the only broom in the house was broken), we pretty much left it as we found it. We manhandled the considerable luggage into the lift and down to the ground floor and I booked our Uber. This time, I booked a van, which was a little more expensive than a regular vehicle. About eight minutes later, a rather nice Mercedes van showed up and we loaded up. All of the luggage went in the back and there were six rather comfortable, leather seats in the cabin, with three facing forwards and three facing backwards. I had previously been advised to begin the train journey at Place de la Nation, so that's where I booked the €29 Uber to. Our very friendly woman driver didn't speak English so I whipped out the Google Translate app just to make sure she understood we were going to be boarding a train. I wanted to minimise the distance we needed to walk with everything we had. It was therefore important that she dropped us off as close as possible to the entrance to the train station. As it turned out, it's a metro station, so we had to navigate some stairs down into the station itself. Everyone had some luggage but I had the lion's share. We soon found a ticket office in the metro labyrinth and I bought the tickets that would get us to Disneyland Paris and back again all the way to Gare du Nord in a few days time. It was actually quite a trek from the ticket booth to the particular platform we needed and so off we trundled again, awkwardly navigating several stairwells along the way. Fortunately, a rather helpful Frenchman took pity on me and helped me not just down one particularly long flight of stairs but all the way onto the right train. It was only after we were on the train, a double-decker as it turned out, that I realised I still have two unused tickets in my wallet. I'm not sure by how much that would have reduced the €45 cost of the tickets I paid just moments earlier.
Our plan was to arrive at the station, which is the last stop on the line, and then spring the surprise on the kids. I was sweating all the way there, as the information boards on the train show Disneyland Paris on the label for the last stop. As if that wasn't bad enough, the French intercom announcements also kept mentioning Disney. I hoped that if either of the kids picked up on this, they would just assume we were changing trains there or something.
The surprise on the kids' faces when we finally alighted and dropped the bombshell was definitely worth the wait. However, the euphoria was short lived. The weather was piercingly hot and we were already hot and bothered just with getting the luggage off the platform and into the main passenger hall. I had paid for a special service to have our bags collected and taken directly to our room, so that we could head straight to the park. However, there was nobody there to meet us. Worse still, there were no signs indicating what to do or where to go. In all the discussions I had with the Disneyland Paris staff over the previous few weeks – including several lengthy phone conversations – the very clear expectation was that we were to just go straight to the Disney desk and everything would be taken care of. I therefore assumed the Disney desk would be readily visible from the platform. Nope. Not even from the passenger hall. Sure, there were signs showing how to get to the parks themselves but nothing relating to baggage collection. I asked a couple of train station staff but none of them seemed to understand me. There was an information booth, so I went in there to get directions. Stunningly, none of the staff there knew anything either. What? How is that even possible? It wasn't until I asked the forth of fifth person, and by now my stress levels are well beyond where they should be, that we were directed to the next level up and to the rear of the station. It wasn't until we were half way there that I saw the first inkling of a clue, which was a sign that said Disney Express. After lugging all our heavy bags considerably farther than was my expectation, we finally found the spot. The whole point of paying the extra was for the piece of mind of not having to worry about carting bloody luggage around in the first place. The stress levels caused by this run-around had thus already rendered that cost wasted. I was NOT a happy camper.
The staff at the Disney Express booth were at least very friendly and helpful. At the luggage drop-off point, there were dozens of luggage trolleys and we duly tagged and loaded our nine bags onto one of them. We would next expect to see the bags safely in our room when we arrived there later this evening. Just before we left the luggage drop-off, we were handed our park entry tickets and several pages of dining vouchers to cover the various meals I had pre-booked. With wads of paperwork in hand, we finally set off and made our way to the park entrance. Phew!
At the main entrance to the Disneyland park, we queued for 10-15 minutes at the line we were directed to. I was actually still climbing down from the stress of the whole luggage saga. Being somewhat overheated from walking the couple of hundred metres from the train terminal to the park entrance didn't help matters either. When we were finally at the front of that queue, we were told we were in the wrong place. Holy shit, really! Do I really need this kind of stress in my life right now? It turns out this was the queue for people that didn't yet have tickets. We already had ours and so could have gone straight through. Once finally through, we were then directed to City Hall, which is where we needed to be to collect our priority tickets for the kids. We queued there for another ten minutes as well. Once we were seen, however, things started to look up. The woman looked at our Victorian issued carer's cards as well the doctor's letters I brought showing confirmation of the kids' ASD diagnosis. Indeed, she examined them quite thoroughly. Once she was satisfied, however, she was just marvellous. She wrote us out priority tickets and explained them to us in detail. She also provided us with extra information about where the best places were to go, and all manner of other useful information. I truly got the sense we were genuinely being well looked after.
The woman at City Hall was great and I left that place feeling for the first time today relaxed and with everything under control. Armed with our park maps and priority passes, all we needed to do now was to enjoy ourselves.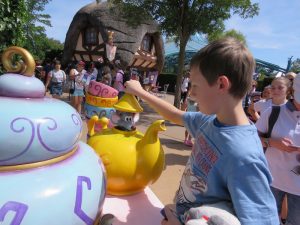 We made our first port of call the Discoveryland section of the park (what we otherwise would know as Tomorrowland), where we were all keen to try the Star Wars Hyperspace Mountain. Based on all the other Disney theme parks I've been to, this was what I knew as Space Mountain but themed to Star Wars. I showed a cast member our priority pass and was immediately directed to the exit lane. Since the entry lane looked like there was bout two hours of queuing going on, this was a good start for us. Another cast member at the end of that exit lane took a look at our ticket – indeed a very good look – they then took us right through. Within seconds, we were boarding our first attraction – without having spent two hours waiting for the privilege of doing so. Could this get any better?
The ride itself was brilliant and just about everything I expected it to be. The nice thing with this particular ride is that the overhead harness comes down and forces a spring-tensioned belt into place from shoulders to hip. The spring-loaded nature of this provided the ability to wiggle and manoeuvrer, as opposed to being forcibly locked into place with no ability to breath. I've had that problem on some rollercoasters in the past.
Everyone was impressed with the Star Wars Hyperspace Mountain…except for Joey. It was perhaps just a little too intense for him and he let us know it. Fortunately, there won't be any other rides of this level of intensity and we at least now know where his threshold is.
At the end of the ride, we exited through the photo shop. Rather than pay for individual photos, Sandy wanted to by the all-you-can-eat photo pass for €60, which would mean we'd get the digital photos for each and every Disney photo taken of us during our stay here for the next few days. I bought the pass and loaded the photos from the ride we'd just exited from onto it. We now have three photo passes with a barcode. Now, every time we exit a ride or have a photo taken with one of the characters around the park, we can just waft the barcode to have it scanned and the photos are added automagically. A nice bonus with the ride photos here at Disney is that they can zoom in on just the members of your party to position you all in the frame nicely. That way, you don't have to worry about sharing the photo with strangers, so to speak.
As is the way of the world, each attraction exits through or close to a convenient shopping experience. Just around the corner from the ride's photo booth was the first of dozens of such shops that are littered throughout the parks. Lest anyone be under any illusions, Disney theme parks are really huge retail parks with a few attractions dotted around. For the most part, you are really paying to enter a large shopping centre. That may sound a bit cynical but it's simply the way it is. Once you make peace with that, life in the parks actually becomes a bit more tolerable. Joey's penchant for wanting what he can see right now, as opposed to pacing himself and waiting to see if there might be something elsewhere that could be better than what's in front of him now, got the better of him. As such, we made our first toy purchase right here. Indeed, Jennifer also fell in love with something right here and so we indulged her as well.
Next up was another Star Wars attraction. Since Disney bought the rights to the Star Wars franchise, the marriage between the two has been swift. Star Wars appears to now be quite a prominent theme throughout the parks – right through to the pipe music you can hear everywhere. This next attraction is great if you're already a Star Wars fan. It's essentially a showcase of the broader Star Wars universe. Various people involved in the making of Star Wars provide commentary of how lucky they are to be involved, etc. It proceeded to a theatre, where some Star Wars imagery was choreographed to lights in the theatre and some movement of the seating, etc. It was good but I'm not sure the kids really enjoyed it a lot.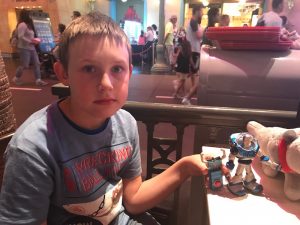 By now, it was closing in on lunchtime. In Discoveryland, we found a large restaurant, which was more of a fast food joint attached to an auditorium arranged in a half-crescent around a stage. The food wasn't especially great – or cheap for that matter – but it wasn't far removed from what we would expect. After lunch, we split up. With Jennifer being the more thrill-seeking child and Joey preferring a more gentle experience, I took Jennifer and Sandy took Joey. Jennifer and I examined the park map, looking for all the best thrill rides. There was another coaster over in Adventureland, so we wasted no time in setting off in that direction. The Indiana Jones Temple of Peril had to be good, right? Once again, our priority passes sent us straight to the front of the line via the exit. Once again, well over an hour of queuing was avoided. You really can't beat it. The Indiana Jones ride was good but not as thrilling as the Hyperspace Mountain and we were both left wanting for more. I asked a cast member but he said we had now already done the most thrilling rides in this park. To further feed our fix, we would need to head over to the Disney Studios park. There we could confront the Hollywood Tower of Terror. Once again, we wasted no time and set off. I couldn't reach Sandy by phone so I sent her an SMS. Phone coverage here has proven to be sketchy at best – even though we appear to have full signal strength.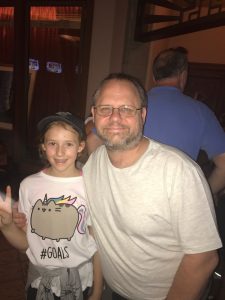 In the blistering heat of the sun, the journey all the way to the Studios park and the Tower of Terror was a long and tortuous one. I initially had visions of us just popping over there for half an hour or more and then coming back again but it turned out to be quite an event in itself just getting there. Our priority passes did grant us the expected access through the exit. However, the wait in this instance was still around half an hour. I can only imagine what the wait would have been like for those in the regular line. The exit line in this case was pretty much inside the exit gift shop, so Jennifer picked herself up a Mickey Mouse themed cap whilst we waited. As we were getting closer to going through, Sandy called and I told her where we were. She decided to come across with Joey also.
Jennifer and I came out of the Tower of Terror ride suitably shaking from the experience. We found our photo and added it to our photo pass. Next up for us was the Rock 'n' Rollercoaster. Like the Hyperspace Mountain, it's essentially a rollercoaster that takes place inside and in the dark, save for the themed light show you pass through. It was quite thrilling but also more of a jolting experience, which did sort of take the edge off a bit. We didn't go back in for a second go, despite our passes taking us straight through the first time.
With the phones seemingly working for the moment, Sandy and I arranged to meet inside Sound Studio 1, which in a huge hanger-like building through which you have to pass to enter the park. It's outfitted with snack food outlets and, of course, lots more retail outlets. All four of us were quite hot and bothered by this point so we agreed to just sit inside for half an hour to cool of and regroup, which we did.
Now that we were again reunited as a family, we wanted to strike a good balance with what to do next, so we thought we'd give the Studio Backlot tram tour a go. Our passes once again took us straight in, although we, and indeed everyone else, were delayed by about 10 minutes as everything came to a standstill. It wasn't entirely clear but it looked like one of the passengers might have injured themselves getting out of the tram or something like that. Once that blockage was resolved, normal operations resulted and we boarded our tram. Having done this tour a few times before at other Disney parks, I'd have to say this one pales a little in comparison but it was a great family ride all the same.
We next wandered into the Toy Story section of the park, which featured a few attractions each of us enjoyed. All of us went on the Slinky train ride, which was little more than a fairground ride in which a train went around a circular track, going over a couple of humps along the way. Joey loved it. Next to that was something a little more thrilling that Jennifer insisted on trying. A car moved a few times back and forth along a fixed length of track that curved up into the air forwards and then backwards, like a crescent shape standing up at its centre. The couple of moments of partial weightlessness at the two opposite apexes were pretty good.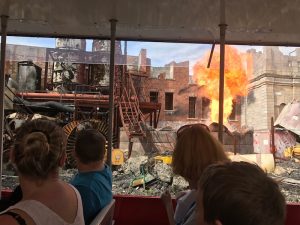 The next ride, tucked away at the back of the park turned out to be one of the highlights of the entire day. The name of the Ratatouille attraction does nothing to give away its secrets. It's really quite a unique attraction. We went straight on, of course, and found ourselves inside a dark space with cars themed as huge mice moving about on a seemingly flat surface. Upon closer inspection, it became clear there were no tracks. Each car somehow moved its two rows of three occupants seemingly independently, although they seemed to be travelling in threes. How exactly this was achieved is a mystery to me. Whether there are magnets or something involved or just clever computer brains directing each car, I just don't know. We were all given 3D glasses to wear, which suggested some 3D viewing was involved somehow. The theme is that you – the car you are in – are the rat from the movie Ratatouille. As the rat moves throughout the dark course, it parks up periodically in front of curved 3D screens and you experience what a rat would experience. The car tilts and moves like a flight simulator, which adds to the 3D effect to give the impression you're being chased around the kitchen, and so on. The car moves you through the circuit from one 3D viewing screen to the next, as the story plays itself out. It's reminiscent of the Superman ride at Universal Islands of Adventure in Orlando. As theme park attractions go, the 5-minute ride was definitely a winner. Having two children with Autism priority passes did mean we had to wait at a special entry point for one particular car (mouse). Whereas all the other cars (mice) made their way to the normal loading area, this special car reversed itself into a special slot, where we were allowed to board. At this special loading area, we could see a computer screen with coloured blobs, each representing one of the cars, moving around the course as the controller kept an eye on everything. There were about 20 or so cars in the circuit with three of them being depicted in a special colour. These are the cars that take the special needs passengers around, such as those with autism or in wheelchairs. One of the cast members explained this was so they knew exactly where all the special needs passengers were at any time, so as to be able to access them if need be should the ride break down. I was really quite impressed with the whole operations.
Eager to try more rides, we thought the Crush's Coaster ride would be thrilling enough for Jennifer and not so thrilling that Joey would have a problem with it. A small section of this coaster passes through a brief section outside, so we could see what it was like. It's like a mini rollercoaster with just 4 people to a turtle. Two people are facing forward and two are facing backwards. It was a crap-shoot but we thought we'd give it a go all the same. It was clear there were no looping the loop or corkscrews or anything. It wasn't until we were on the ride itself that it became clear where the thrill from this thrill ride came from. Once underway, it was inside and the passenger potion of the car was allowed to spin freely, so you never knew whether you were going to traverse a down section going forwards or backwards. It was a great ride, although in hindsight, perhaps not for Joey after all. Oh well, it's a learning exercise.
As the day was starting to wear us all out, we made our way out of the park and into the Disney village, which is situated adjacent to the train and bus terminals. It's like a much smaller version of Orlando's Donwtown Disney, with an assortment of things like shops, restaurants, theatres, etc. This is where our first Disney meal would take place. It was at a place called La Grange. Technically, this was a restaurant upstairs at a place called Billy Bob's. The meal was buffet style and the food and atmosphere were both very good. We were there just before opening time. As it happens, it was also in time for a very brief parade of horseback riders - all in tune with the cowboy theme. We paid for the meal upon entering with several of the vouchers we were handed at the train station upon arrival. I think we paid an additional €4 for an extra glass of soft drink, as the vouchers we had permitted us only a single drink each. Given the amount I paid for the vouchers, I have to say that a stingy one drink per person is a bit of a disappointment.
After gorging ourselves senseless at the buffet, we slouched around the Disney Village for a bit after the meal. Given the heat of the day, the huge number of steps walked and the energy and stress expended at getting here in the first place, our bodies were sending us signals that it was time to go and get horizontal – quickly.
We walked – slowly, which is all we could manage – to the nearby bus terminal and waited about 10 minutes for our complementary bendy shuttle bus to the Hotel Cheyenne. At the check-in, stress levels were about to elevate once more. The check-in process itself was seamless enough but they then hit me with a most unwelcome bombshell. You can collect your luggage from the luggage depot, he said. What? No I fecking can't! I'll collect my luggage from my room, which is exactly where you're supposed to have delivered it from the train station, right? Um, well, apparently not. It turns out that their Express Service entailed moving the luggage from the train station to the hotel and not to the room which was my expectation. That little gem hit me in the face like a bullet and I just about exploded. The whole point of paying extra for the luggage service was to relieve you of the hassle of dealing with shifting your luggage. As predicted, and to all intents and purposes the very reason why I paid for this service to begin with, we were in no fit state to move even just one bag – let alone nine very heavy ones – anywhere. In fact, it would be a chore just walking to the luggage depot. As it was, I wasn't entirely sure I'd even make it to the bloody room from the reception. The man insisted this was the service they offered and kept throwing things like we're only a two-start hotel at me. Well, my friend, you can call it what you fecking want but I paid through the nose to stay here – regardless of how many stars you choose to call it. I quickly reached an impasse with this first layer of staff so a raised voice was called for, which, given my current frame of mind, wasn't hard to muster. That was very quickly followed by a calling for the manager, who at first also attempted the same excuses. I was having none of it and explained, rather forcefully, but without actually shouting, that this was what I was sold, this is what I'm expecting, and this is what I'll be getting. Eventually a compromise was reached. They agreed they would deliver my bags to our room and then collect the bags from our room to be taken back to the train station this time. If ever we came back, we'd have to live with the understanding this isn't actually a service they offer. In short, I won.
Having forgotten just how poorly my body was now functioning, I followed the porter to the luggage room to identify my luggage. It was a good job I did so, since one of our bags had been inadvertently swapped with another and I had to go looking for it in amongst all the other luggage trolleys. Fortunately, it wasn't far and once again our nine bags were reunited. To their credit, all the porters were very good. Our bags arrived at our room a few minutes after I did.
First order of business for me in the room was to take a much-needed shower. This made me feel just a little bit human again. It has to be said that the room is rather cramped. There's a double bed for Sandy and me and a couch/bed. Another matrass is hidden underneath the couch. Once that's out and folded into a functional bed, there's very little space left in the room to move about. There isn't even a table and chair to sit at. With our nine bags – several of which are now open – it really doesn't leave any space left. The room is good to sleep in but little else. Coming from the fully equipped house in Paris, this postage stamp of a hotel room is world of difference. Like the man at the front desk said, it's only a two-star hotel…and it shows.
Another annoyance was that there wasn't enough bedding in the room for both kids' sleeping arrangements, so we had to have that remedied. The kids did eventually unwind, with the aid of their iPads and a TV in the room. With nowhere to physical sit and type, I went outside to find somewhere to park myself so that I could write up the notes for my daily blog. I made the mistake of going out with no shoes or socks on, as I expected to find a table and chair somewhere relatively quickly. Wrong. I eventually found something outside of the Starbucks café here. It was great while it lasted, which was up to the point all the mozzies came out in force. That sent me back inside, which my bare feet have not thanked me for since.
Save