Europe - July 2017
Day 15 - Family reunion
Saturday 12th August

Although the kids would have loved it, there was no time this morning to go back to the swimming complex for another splash. On the cards today was a pre-organised family and friends reunion, which we still had to get to. Because of the limited time here in Holland, there was no way we were ever going to manage seeing everyone if we had to visit them all individually. Instead, we've arranged to be a restaurant at a particular time and those able come to see us will do so. This has been organised for the past few months and we're expecting around 20-30 people to attend. We've chosen a place not far from Tilburg, which itself is only a 45-minute drive from here in Center Parcs. With friends and family dispersed throughout the Netherlands, we needed to choose something, as far as possible at least, equidistant from everyone. There were still some people that are quite a few hours drive from Tilburg but the majority are reasonably close.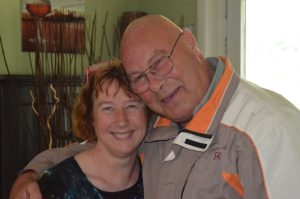 Sandy insisted I dress up a little for the occasion, so I threw on the one shirt and tie that I have with me. The only reason I brought those was for the author presentation I delivered at the South Ockendon Library a week or two ago. So, with Sandy suitably accepting of my attire, we loaded up into the car and set off in the direction of Hilvarenbeek, near Tilburg. It took us the predicted 45 minutes to get there.
When we walked through the door, it was immediately clear which section of the restaurant was reserved for our event. A handful of tables in that section were already occupied and all of them were waving at and beckoning us to come over. Over the course of the next couple of hours, about 40 people in all – including various friends and family – showed up to join us. We had a great time catching up with so many people it was hard to get airtime with everyone equally. Still, we did our level best to spend at least a few minutes with everyone. Since we weren't exactly sure who was or wasn't going to be there, there were some very nice surprises and some faces we completely didn't predict. It was great. We had lots of photos and, of course, a few copies of my book were passed around to those that were interested in a copy.
A particularly nice surprise was the presence of Anton and his Daughter, Elysa. Anton's wife, Liana, went to school with Sandy and was one of her very best friends. Sadly, she died a few years ago and Anton has been raising the two children, approximately our kids' ages, ever since. Calvin, Anton's son, was on a camp excursion so he wasn't there. Jennifer and Elysa, however, immediately clicked. Despite them being from different countries and speaking different languages, the two girls got on like a house on fire right from the get-go. They would have seen each other about eight years ago but also when Liana and Anton brought their kids to Australia on holiday about five or six years ago. It was sheer joy to watch their friendship blossom so quickly, picking up where it left off after so many years. I had to help translate on a couple of occasions but Elysa's English is really rather fluent – she's only 12 years old – despite her being a little unsure of herself initially.
During the course of the reunion, everyone enjoyed a few drinks and a few snacks. As with all good things, however, the time eventually came for people to have to leave and we slowly went through the unpleasant series of good-byes with everyone that was in attendance.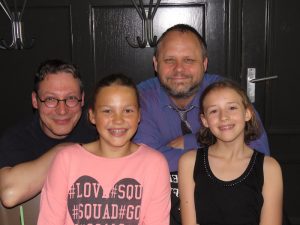 It's of course impossible to have a favourite relative but Sandy's cousin Peter must surely be one of the prime candidates. It was he that suggested this venue in Hilvarenbeek for the reunion to begin with. He insisted we go back with him and José, his wife, to their house for some dinner and further catch-up. As it happened, Elysa is on her school holidays and we were able to convince Anton to come back to Center Parcs to spend the night with us, which he agreed to. This meant he and Elysa would join us back at Peter's house for the evening as well, which was another nice bonus.
After the last good-bye, we piled into our cars and all met up shortly thereafter at Peter's house in nearby Tilburg. He and José served us not only a meal but some truly magnificent company for the evening, which we thoroughly enjoyed. The truth is we could have sat there for a week or more catching up with Anton, Peter & José and just generally enjoying their company. Alas, that evening also had to come to an end at some point and we needed to get all the kids back to Center Parcs and into bed. Sandy got into Anton's car and I took the three children – our two plus Elysa – with me. The parting farewell with Peter and José was, predictably, the sort that brought a lump to my throat.
The journey from Tilburg back to Lommel was certainly an interesting one for a couple of different reasons. Firstly, I was a little distracted on a few occasions, which meant I missed the satnav instructions. I missed a turn off here and there and even had to double back at one point. All of this added probably a good 20 minutes to our journey. It didn't help that it was now dark and raining to boot. The distractions, of course, were provided copiously by the three children in the car. I had earlier in the day told Jennifer that she needed to learn at least five new Dutch words before the end of the day. I mentioned this to Elysa and she took it upon herself to become Jennifer's Dutch teacher for the day. She diligently taught Jennifer how to count and how to say numerous Dutch words. I actually think that much of it was retained as well, which is testament to how well the girls were getting along. The level of distractedness took a turn for the worst after Puff the Magic Dragon played on my iPhone through the car sound system. All three children requested that I repeat the tune over and over so that they could all sing – loudly – to the music. I think I lost count at around the fifteenth rendition.
Even with all the missed turns and extra time taken to get to our destination, it was a terrific ride and one through which I was grinning for the duration. We came here with the express intention of making new memories and today was a doozy for that. We did eventually make it back to the park and into our cabin. The guards at the front gate insisted we park the cars instead of driving up to the cabin to drop everything off, but by now most of the rain had fallen and it was a pleasantly warm evening.
Once inside, the kids burned off a bit more energy and excitement before we all settled in for the night.