Europe - July 2017
Day 19 - Venlo
Wednesday 16th August

With yesterday's hotel breakfast fracas still fresh in my mind when I woke up morning, I was determined to have a hearty meal and so made sure to get to the breakfast hall with more time to spare. Fortunately, I wasn't disappointed this time around with plenty of hot food still available. I did actually enjoy the breakfast this morning. It has to be said that for a hotel of this calibre, I should expect to have a good breakfast everyday of the stay.
Once all the packing was done – no mean feat – I wandered to reception to hand in my room key. The lovely young lady at the desk asked if we enjoyed our stay and whether everything was to our liking. It's a standard question and probably asked on autopilot more than anything. Ordinarily, I might have just said 'yes', nodded politely and went about my business. With the number of issues we've had with this hotel however, I just couldn't let it go. And so I answered – honestly. I explained that we hadn't, in fact, enjoyed the stay at all and I gave her all the reasons for it – including several problems I haven't even mentioned in any of these blogs. I was polite, calm, smiling and pleasant as I delivered the list of issues to her. I explained that there was no one thing on its own that ruined the stay for us but when added together, it all contributed to an experience I wouldn't want to repeat. To be completely honest, I doubt very much we will ever stay here again. She was extremely apologetic and told me we should have had a better experience than we did. On the face of it, she did seem quite empathetic. Whether she was just saying the right things to try to appease me, I'll never know. I will follow up on everything with the hotel management after we get back. Because, well I'm just like that.
With the car once again packed to the point of not being able to see out of many windows, we left Kasteel Erenstein for the last time and made our way over to the Roda JC stadium to say a quick hello and goodbye to Frank.
We found him waiting patiently at the stadium entrance and he came over to greet us at the car. Ever the opportunist, Frank had me photograph him sitting in the Jag, so he could plaster himself all over social media being wrapped around with a Jaguar.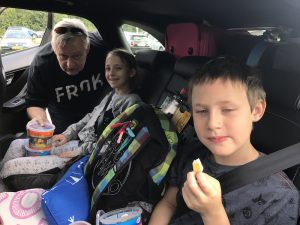 We had a parting gift for him, which was a Beatles LP (vinyl record for you youngsters – look it up!) that was laser cut into the shape of the four Beatles walking across the zebra crossing on Abby Road. As it happens, he also had a parting gift for the kids, which was sweet…literally. They each received two huge tubs of jellied lollies. Yeah, thanks, Frank!
Having said our last goodbyes to Frank, we set the satnav for Venlo, about an hour North of here, to where Sandy's sister, Karin, lives. Before leaving Kerkrade, I filled the car up with fuel (Diesel as it turned out). The car was showing just a quarter of a tank left and I spent €67 filling it up to full.
The drive to Venlo, like the drive to just about anywhere we've completed in this car, was comfortable and uneventful. We arrived in the Straelseweg in Venlo and unloaded, amid lots of hugs and greetings. Of course, we saw them all just a couple of days ago at Center Parks but it was lovely to see Karin, Wile and Max again. Max lives just around the corner from here. Kay lives a lot farther away, and so we won't get the opportunity to see him again on this trip.
We absolutely adore our Venlo relatives. Karin and I – and Max as it turns out – have the same sense of humour, which helps. Just like Diana and Lei, they are among an extremely small and select few people on the planet that we've holidayed together with, and with whom we're always extremely pleased at the opportunity to visit.
They had taken time off work to be able to spend time with us. We could have arranged to go somewhere and do something together. Instead, we simply sat around the house and enjoyed their company. To be honest, as was the case with our visit to Diana and lei, there was never any need to go anywhere. I can't think of any better way to spend the time than just sitting and chilling with them.
One thing we did do was to walk around the corner with them all to check out their new house. It's actually an old convent. Karin & Wiel, along with several others, bought the property and have sub-divided it into multiple living spaces. Karin & Wiel's space is in an enormous (and I do mean enormous) loft area. It must at least triple the amount of space relative to what they currently have. They are currently fitting it out as a living space but by the time it is all finished – Wiel hopes by December of this year – it will likely be worth an absolute fortune. We were all suitably impressed.
We enjoyed a spot of lunch by way of some ham and salami rolls, which was nice. As the plan was to fire up the BBQ for the evening, we popped over to a nearby supermarket to pick up some provisions.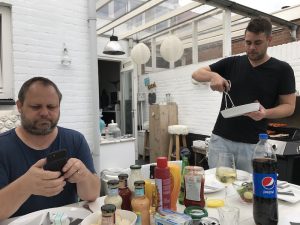 When Sandy and I travelled around the world, we got as far as South Africa and experienced some truly horrific travel sickness. It was during a week of diving at Sodwana Bay. Rough seas and a small boat are not a good combination if you're trying not to vomit. It was so bad, I was actually prepared to sell our dive equipment on the spot, since I never wanted to feel that nauseous ever again. Luckily, we were introduced to a particular medicine that knocked the nausea abruptly on the head. It's sold under various names around the world but isn't actually available at all in Australia. The active ingredient is called Cinnarizine. At the shop we were at, this motion sickness medicine was available in packs of ten tablets for just €2, so we picked up a few boxes.
Back at Karin and Wiel's house, we chatted and relaxed for the remainder of the day. Max fired up the BBQ and we all ate our fill…and then some. Max left shortly after dusk and the kids were settled into their room, whilst the rest of us talked well into the night. It was lovely.