Europe - July 2017
Day 8 - Seine river cruise & Notre Dame
Saturday 5th August

A blissfully lazy start to the day awaited us this morning. Although we originally planned a fairly packed schedule here in Paris, Sandy and I mulled it over and we've decided to take things a little slower instead and to cut a couple of things out. We've maintained a brisk pace for the past week or so and we probably can't keep that up indefinitely so we will start today off in a more leisurely manner.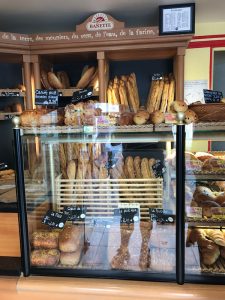 That turned out to be a stroll over to the nearby bakery so that I could chance my arm at a bit of French by buying something for breakfast. That went very well and I came back to the apartment laden with a French bread, a fresh loaf and a couple of croissants. With my poached eggs and bacon that I rustled up to go along with it, breakfast was delish J
Last night, we tried to call the bank in Australia to sort out the locked global currency card but to no avail. Unfortunately, although our ASDA SIM cards work fine for calling each other, they don't have any international calling credit and it seems that my bank much prefers for you to call them by phone for such matters. We'll eventually sort out the ability to make the call but in the meantime we had to content ourselves with sending them a general contact e-mail. I wasn't particularly encouraged by the auto-response claiming they aim to get back to us within five working days.
We considered our transportation options this morning for our jaunt out into Paris. Being one of the great cities of the world, it's a sprawling place and we will likely end up doing lots of walking one way or another. We figured that minimising the walking would enhance our enjoyment of our time here. There's nothing like having to listen to constant whining about how far it is or how much my leg hurts, etc. And that's just Sandy and me.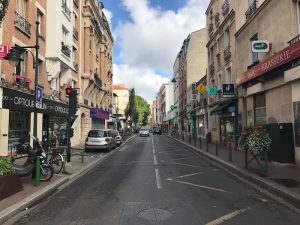 It's even worse when you factor in the kids. We decided to book an Uber to take us to Pont de l'Alma, where we planned to board a river cruise up and down the Seine. There just also happens to be a BNP Paribas bank just walking distance from there. This is the only bank here in France from which we can withdraw money at the ATM without being hit with charges. Since one of our two global currency cards was on the blink, I figured it would be safer for us to tap some ready cash, rather than relying on the cards to pay for various things.
The ATM at that particular BNP Paribas branch was good enough to allow us to withdraw €300 twice, so that should keep us going whilst here in France…or at least that was my expectation, but more about that later.
From the bank branch to the dock was just a couple of minutes walk. Being just about anywhere here in Paris is an experience. Looking up and down all the boulevards and observing the wonderful Parisian architecture everywhere is a real treat to the senses. It isn't just the grand architecture everywhere you look. Even the little back streets all look very picturesque.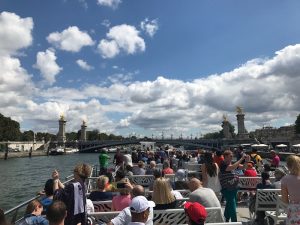 As luck would have it, the trip up the river on one of the many river cruise boats is really quite reasonable at under €40 for the four of us. Another happy bonus was that we arrived and bought our tickets just minutes before the next boat was scheduled to depart. We got on and found a seat upstairs. Joey wasn't a happy camper – we suspect headaches or something of that nature but it's always difficult to know with him – and he wasn't keen on being on the top deck, so Sandy took him below. With very little cloud cover to provide relief from the summer sunshine, Jennifer soon followed, which left just me on my own…with a couple of hundred other tourists. I actually felt kind of out of place without a selfies stick.
The cruise went up to just past the Notre Dame and then back to just below the Eiffel Tower before back up to where we started. The entire thing lasted about 70 minutes. The weather was just about perfect. Warm sunshine with the odd cloud here and there.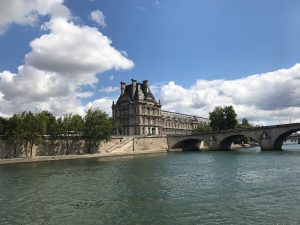 I do feel like I caught a bit of the sun but not enough to worry about sunburn. I'm pretty sure it's doing wonders for my vitamin D levels. The sights along the river are truly out of this world. The architecture, grand buildings and monuments leave you just absolutely awestruck.
Jennifer wasted little time in finding another girl of a similar age to play with. As it happens, it was a Dutch girl and Jennifer revelled in my ability to have a conversation with the girl in her own language. Joey spent the entire trip glued to his iPad. The continuity it offers is actually good therapy for him and I'm sure he is soaking up the surrounding atmosphere at his own pace.
It was quite relaxing on the cruise. The boat didn't move fast, but fast enough for a really pleasing breeze. The Parisian sights along the Seine drifted effortlessly in and out of view. I found I was taking my phone out of my pocket just about every 30 seconds to snap another shot. I loved every minute of it.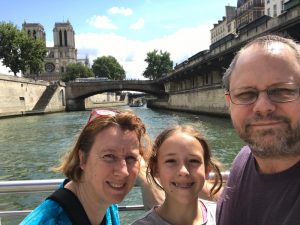 When the cruise did come to an end, we disembarked and walked up to near the road, where I booked an Uber to take us a bit farther up the river to Notre Dame. Since we arrived, we keep seeing these restaurants called Hippopotamus. We asked our host's mother about this and she explained it was an inexpensive meat-lover's paradise. As this is us to a tee, we've been looking for an opportunity to eat there since we arrived. Our Uber driver seemed fairly confident in English so I asked him to drop us off at the Notre Dame but near one of these particular restaurants. He seemed to immediately understand and agreed to do just that. When we got to the Notre Dame, which looked absolutely amazing even from the car, he let us out right next to a long row of what looked like restaurants and told us to just head in that direction and we'd find what we were looking for. We thanked him and he went on his way. It was shortly thereafter that it became clear his superficial English portrayed a level of understanding beyond what was actually the case. All but one of the restaurants were actually serving just crepes for the most part and none of them were a Hippopotamus restaurant.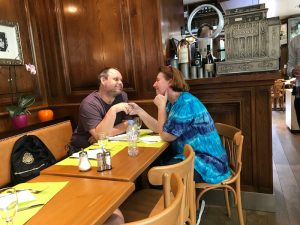 Now, we know France – specifically Paris – is an expensive place. Most major cities are expensive but Paris seems particularly so. I braced myself for this and am psychologically prepared for the sticker shock. Since getting here, however, I've spent my time fluctuating repeatedly back and forth between holy shit, that really is fecking expensive and ah, fuck it, we're on holiday so to hell with the expense. I've bounced back and forth between those two frames of mind so many times today I've gone dizzy from it all. A light lunch for the fours of us at one of the restaurants next to Notre Dame set me back…wait for it…€87 (AUD $129, £79, USD $102). I suspect it might have been the €7 for a 50cl glass of coke that sent me over the edge for the umpteenth time today. Still, the waiters there were all very good – quintessentially French, I'd have to say, and not at all like any of the negative stereotypes you might imagine.
We contemplated having ice cream for desert, but a single scoop at €10 did push me over the edge again, so we settled the bill…reluctantly…and wandered a bit farther up the street where they were selling ice cream scoops in a cone for only €3.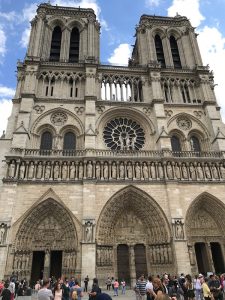 Behind the Notre Dame cathedral, literally just across the road from where we were eating, is a pleasant little park with a few pieces of playground equipment. The kids were keen for a bit of a play so we went over and indulged them. Although Joey wasn't overly keen, I was especially looking forward to having a look inside the cathedral, so we walked the thirty metres or so around to the front of the building to the truly magnificent main entrance. Like much of the rest of the building, it's adorned with literally hundreds of full-size sculptures – all intricately detailed. There must have been thousands of people in the main square there. We found the queue of people piling through the main door. It led away from the building directly into the throng of tourists milling around the square. We agreed that I would do the queuing for us all and Sandy would hold onto the kids and find some relief from the hot sun. I followed the line of people, looking for where it ended. I kept following, and following, and following. It actually went right to the back of the square before doubling back almost all the way to the cathedral again. It was a very long queue indeed BUT it was moving constantly and at quite a good pace. I think I spent about 10-12 minutes in the queue altogether before being joined by Sandy, Jennifer and a now really rather reluctant Joey.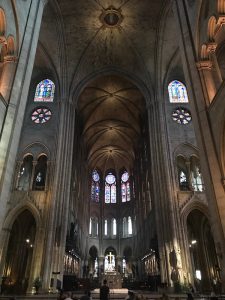 Inside, the cathedral did not disappoint. It's really hard for me to do justice in words to the awe I felt at marvelling at the inside. Everywhere you point your eyes, you're looking at a magnificent photo opportunity. Before we made our sojourn around the ground level circuit inside, we stopped at one of several candle stations throughout the building and dropped some coins into the slot so that we could light some candles. We lit them for Oma and also for Charlie and Patty. Sandy also lit four candles for the four of her aunts that all died in recent times. With that out of the way, we walked around inside and my jaw was just dropped for the duration. The cathedral is an enormous space with huge stained glass windows in every crevice. The pillars seem to go up into the vaulted ceiling forever. They stretch across to form bridges that became the ceiling. It's just stunning from every angle.
Given the number of people outside and inside, we always knew this would be difficult for Joey and his behaviour reflected those concerns. We stayed for as long as we dared but he needed some relief and we left to go find him some refuge back at the playground. We had a bit of an incident there when Jennifer was flung from a rotating disk. She landed and grazed one of her arms. This signalled the end of our time at the playground and we popped into one of the nearby souvenir shops for a little retail therapy. This seemed to make everyone happy again.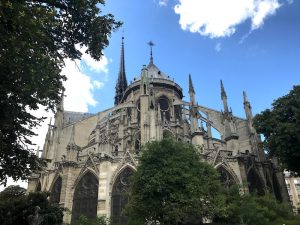 With our time at the Notre Dame coming to it's natural conclusion, we asked for directions to the nearest metro station. We still had six unused metro tickets and we thought we'd give it a try, rather than another taxi or Uber. I asked one of the friendly waiters from the restaurant we had eaten at. He was really nice and understood what I was asking for – especially as I asked in French – but he proceeded to provide those directions back to me in quite some detail…in French. This is the danger of using schoolboy French. You can just about make yourself understood, which gives the impression you will understand them when they speak back to you. The truth is I didn't understand most of what he said. However, I got the gist of his hand and body language to understand approximately where we needed to go. We set off in that direction but got snagged at the ice cream stall again, where both kids were treated once more. Fortunately, the woman serving us seemed to speak English so she removed any remaining doubt as to where we needed to be by clarifying the directions we were just given but in a way that we understood.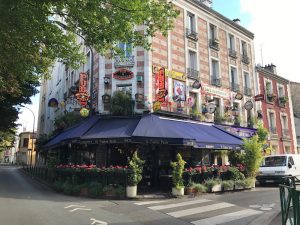 The metro trip home was easy enough, although our weary bones could have done without the walking on both ends of the trip. Once home, we settled in for the night and I popped around to the nearby shops to pick up some rotisserie chicken and chips. It was effectively the same meal we had earlier eaten, although at just €13 it was considerably less expensive.
Finally, and at a quarter past midnight, I'm now up to date with my blogs. I will post this one in the morning, after I've given it a good read through to flush out the many errors I suspect it's littered with at the moment.