Europe - July 2017
T-0 - getting there
Thursday 27th & Friday 28th July
We're about two hours into our first flight, with another six left to go. Lunch has been served, which was actually a lot better than I expected it to be. I had the chicken curry and rice, along with, I'm slightly ashamed to say, most of the fruit platters that both kids largely thumbed their noses at. So much for arranging those special bloody meals. I did read recently that fruit is actually the best thing to eat on a plane, so that has alleviated much of the guilt.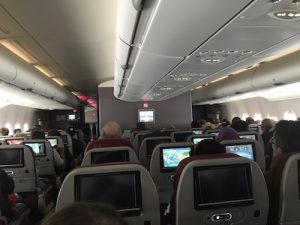 Thus far, everything has gone to plan…almost. It turns out there's no AC in every seat after all – just a USB port instead. Maybe that promise will still hold true on the next leg from Kuala Lumpur to London, where we'll be in a larger Airbus A380 double-decker. We'll see. According to seatguru.com, both this aircraft, an A330-300, as well as the next should both have AV power in every seat.
We left the house at around 9:15 a.m. and had a near enough uninterrupted straight run all the way to the Busy Beaver parking facility just outside the airport. The new TomTom Go app I installed recently seems to be working fine, although we did miss a turn at one point and had to double-back a bit, adding four minutes to the journey. The staff at the parking facility were very good as usual. Though we don't normally do so, this time I decided to pay to have the car detailed and cleaned whilst they were looking after it. Hopefully, we'll come back to a shining exterior and clean interior, devoid of the usual evidence of children strewn all over the back seats and floor. I kind of feel sorry already for the poor sap that draws the short straw and is asked to clean our car.
Since we had plenty of time – deliberately planned – we decided to grab a bite to eat right after checking in our luggage. I was slightly nervous at check-in, since one of our carry-on bags was slightly over the 7Kg weigh allowance – due largely to the inevitable last minute land grab before we left the house. Noticing that everyone ahead of us in the queue were being asked to put their carry-on bags on to the belt to be weighed, we decided to do a bit of last minute, surreptitious shuffling around to try to balance everything out between all the bags we had. This slight of hand would have gone completely unnoticed by everyone else…had it not been for the fact that Sandy pulled the large ziplock bag full of all the chargers and cables…from the bottom end. Half way out of the bag, it opened and emptied the dozens of components into the carry-on bag. I'm not sure whether it was the noise of all the contents emptying from the bag or Sandy's expletives but it certainly made a few heads turn. Nothing like trying not to draw attention to oneself. We're not entirely sure why but they never did ask us to put our carry-on bags onto the belt to be weighed in the end, so it was all unnecessary anyway.
With our bags safely checked, we polished off some brunch and made our way through the security checkpoint. This, too, was refreshingly straightforward and completely uneventful. My biggest concern was the CPAP machine. Not only was I unable to complete all the required airline forms in time, but I had been told yesterday that there was every chance the machine might even be confiscated from me. In the event, they didn't even need to open any of our bags and we went pretty much straight through. Bonus!
The airport and aircraft tailfin bingo games that I drew up for the kids did what they were supposed to do and occupied both sprogs all the while we were inside the airport terminal building. After a little bit of idling around, the boarding commenced. Before long, one of the staff realised we had kids and ushered us into the fast lane and we were soon on-board and comfortable. I've just finished watching Fantastic Beasts And Where To Find Them and I'm now tucked away at the back of the plane in a crew seat, tapping away at the laptop. I've moved to here for a short while since the nice gentleman in the seat in front of me seems to have decided he wants to take full advantage of his seat recline function, leaving me with scarcely enough room to exhale comfortably.
I'm not entirely sure how we'll pass the next six hours…or indeed the thirteen after that…but I'm sure I'll think of something.
So, here we are now at mid-night Melbourne time and Kuala Lumpur has now welcomed us at the end of the very uneventful flight. All of us devoured several movies from the in-flight entertainment system and we each managed a few minutes of ad-hoc sleep, although I wouldn't call it particularly good quality sleep. The truth is we're all extremely tired and irritable. Not a great combination with the kids. We did manage to find a bar that sells passably recognisable food and three of us have eaten. Well, Sandy and I have eaten. Joey didn't really touch any of his food and Jennifer didn't like the look of anything. Sandy has now taken her on walkabouts back to a place that appeared to sell noodles. I'm left here with Joey, who is all but begging to be allowed to go to sleep. We still have another hour and a half before we can board for the next flight, after which we can all sleep. Whether we will actually sleep remains to be seen. I simply cannot sleep in a seated position so I'm hoping I can either get horizontal on the floor in our row or find an empty row somewhere. Being high season, I doubt there will be many empty seats, though. Travelling to the other side of the planet was always going to be tough, and it is.
Despite the announcements about delays due to technical reasons, we eventually boarded the second flight and were soon settled. As predicted, there were indeed very few empty seats and really no hope of getting horizontal. After a couple of hours in, and with my first movie behind me, I did my best to try to sleep in the seated position but it just wasn't happening. Out of desperation, I shuffled myself between the seats and onto the floor. I managed to just squeeze myself in, although I'd hardly call it comfortable. I estimate I was there for around four hours but probably didn't get more than about an hour's sleep during that time.
Since we didn't think the kids would eat the airline food, I ordered fruit platters for them. Unfortunately, this meant fruit for breakfast, fruit for lunch and fruit for dinner – on both flights. Naturally, the kids thumbed their noses at this and so, just as was the case on the first flight, I ate them for the most part on the second flight as well. Time will tell just what sort of physiological effects this will have on me.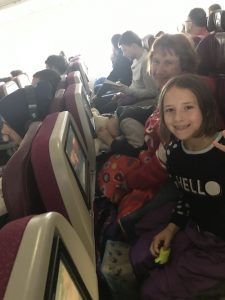 With the hours clocking up relentlessly one after the other, and after a few more movies, the torture treatment of sleep deprivation coupled with sheer boredom was starting to take its toll on everyone. The inevitable irritability set in. Fortunately, and with the family unity hanging precariously in the balance, the thirteen-hour second leg finally came to a conclusion, albeit not before a little extra last-minute frustration. The airplane was forced into a holding pattern to the East of London, which added another 20-30 minutes to the journey.
We disembarked and made our way to the passport control. Travelling on non-EU passports meant being relegated to the oh so very long immigration queue. Luckily, there was a special assistance option, which had no queue. Sandy mentioned to one of the staff that we were travelling with an autistic child and we were quickly ushered into that line. The immigration officer was fantastic and brought smiles to everyone's faces.
In the event, the time saved at the immigration line was absorbed at the luggage carrousel, as it took forever for our bags to show up there. Then there was the confusion at the car rental pick-up. The other day, I printed out all the various documents we would need and arranged them in the order I would need access to them. We made our way to the rental car pick-up spot and spent the better part of fifteen minutes standing next to the Europcar shuttle bus as we waited for the Sixt shuttle bus to arrive. I'm not sure what made me double check but it seems I had not arranged the documents in the right order. The Sixt car rental was for Holland next week. The car rental we needed today was actually Europcar. Luckily, I figured this out before the Europcar shuttle departed, so we made it just in time.
By now, we are tired, cranky and impatient as a result of the sleep deprivation. This made what happened next at the Europcar office all that more frustrating. I had ordered a large station wagon with automatic transmission. This was done through a broker but with Europcar as the provider. When I checked in with them, the very nice man told me that what had actually been booked was a compact manual. What? No, no, no, I definitely remember selecting a large vehicle, since we needed one to accommodate all the luggage. Be that as it may, Europcar only had me down for a compact manual. It was supposed to cost £350 for the week but an upgrade to a larger automatic would mean having to part with over £1,000 – about three times as much. This sent my anxiety through the roof and represented a potential disaster. How could something like this be happening after I spent so much time and effort dotting every last I and crossing every last T? Eventually, and someone out of desperation, I asked them to show me the vehicle that they were prepared to give me for what I had arranged to pay. When they brought it around, instead of the very small car I imagined would be the case, it was actually quite roomy with heaps of space in the back for all the luggage. Crisis averted. Yes, it would be a manual but in the grand scheme of things, that was fine and I could live with it.
The drive to South Ockendon was uneventful and, thankfully, devoid of any serious traffic congestion. We were all starting to experience the onset of hitting the wall but the important thing was to try to remain awake for as long as possible so as to kick the jetlag in one go...and to avoid crashing the car. In practice, this meant both me and Sandy pulling out all the stops to try to keep the kids entertained and active.
We arrived in South Ockendon with sanity mostly still in tact. Dad was home and it was truly great to see him. Hugs abound for all concerned. Mum is still in hospital. As it was now the middle of the day, we all partook in a bite to eat from the local chippy (that's fish & chip shop to you non-Brits).
With some more fuel to keep us going a little bit longer, we headed to the hospital to see Mum, via a detour to a large ASDA supermarket to pick up a local SIM card for my phone. At the hospital, I was pleased to see Mum was looking and feeling better than I was expecting. I spoke to her a few days ago by phone and she didn't sound well at all. She is being started on a CPAP machine to help with her oxygen and carbon dioxide levels but the prognosis is improving and she is expected to be sent home in a matter of days. I have to say it was a relief to see Mum doing so well, relatively speaking. This had been playing on my mind quite a bit lately.
After spending a good chunk of time at the hospital, we took Dad back home and dropped him off. We then headed to Paul's house, where we unloaded and settled in. Yet another trip to the chippy kept us going until nightfall. The kids are now tucked away in bed and we'll be joining them shortly. It's going to be such bliss slipping into a nice, confortable bed, after an extremely soothing and much-needed shower. Day 1 of the trip, as far as how I'm referencing it via this blog, doesn't technically start until tomorrow.