Day 16 – Magic Kingdom
Wednesday 29th August 2018
Nobody was up particularly early this morning. Everyone seemed a bit irritable with each other. Clearly, holiday fatigue is setting in. The plan for the day was to do Animal Kingdom in the morning. Since the Weather Bug app had told us to expect an early afternoon thunderstorm, we'd then find somewhere out of the elements to do lunch and then head to the Magic Kingdom to round out the day. Since everyone was so ratty and lethargic, those plans fell by the wayside. Instead, we all just vegged out for the morning. Animal Kingdom was no longer on the cards.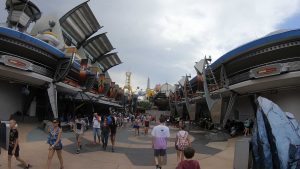 Even with a bit of downtime to help us all reboot a little, it was still a chore to motivate everyone to get ready and into the car for lunch. We couldn't really manage a full sit-down service restaurant this morning. Instead, we drove through a nearby MacDonald's. The kids ate their brunch in the car. What the hell. It's a rental.
Something rather interesting did happen as we made our way through the drive-through. When we got to the window to collect our food, we were invited to pull into one of the bays, as our food wasn't quite ready yet. No problem. This isn't an unusual thing to happen at a MacDonald's, or indeed any other drive-through fast food outlet. The food arrived just a couple of minutes later curtesy of a rather pleasant young man at my window. Along with the bag of food, he handed me a voucher for a free small fries or cone – because of the inconvenience we were put through. I was rather impressed with this. I doubt we'd ever receive that kind of service at an Australian Maccas.
It didn't take long for the kids to scoff down their burgers, cinnamon scrolls and chocolate chip cookies (all the food groups are represented there, right?). Shortly thereafter, we pulled in to the Magic Kingdom network of car parks. It's the luck of the draw as to whether you end up being sent into a parking bay that's close to the tram or not. In this instance, it looked as though we would be right at the far end of the row. That just wouldn't do. Sandy wound down her window and asked if we might be accommodated with a spot that's at least close to the tram.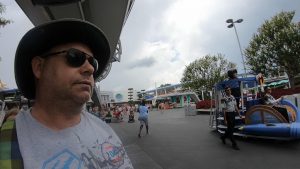 Well, if you don't ask, right? The helpful young lady said to do a quick double-back and she would direct us accordingly. We did that but her colleague them waved us through, as if to send us to another car park section beyond where we were. A little dazed and confused, we followed his gestures and drove forward. The problem was there were no further cast members anywhere to be found and it was by no means clear where we were being directed to. Indeed, we ended up driving down a lane that dead-ended. We had to reverse the car and then do a huge loop to get back to the normal incoming stream of cars again. When we got back to square one, we called out to the attendant and explained the situation. This time, we were directed to as specific slot near the end of the row closest to the tram. I did mention to the man that had previously mis-directed us and explained we had been following the instructions from his colleague. He seemed not to want to lose face, claiming it was our fault for not speaking to him to let him know what we were trying to achieve. I could have argued the point but there was clearly nothing to be gained by doing so. That said, I did have to exercise a fair bit of self-restraint to let that one go, but that's just me being me.
This time around, we made it safely to the tram and then to the monorail. We disembarked at the Magic Kingdom main entrance, cleared the bag check and then touched on at the turnstiles to get through and into the park.
Once again, we all made our way over to Tomorrowland. Jennifer and I went over to the Space Mountain ride to arrange for our DAS return time. It wasn't particularly busy this morning and the cast member wanted to do us a favour by waving us straight through. Ordinarily, this would have been most welcomed. If we went straight in, we'd have kept Sandy and Joey waiting for another twenty minutes or more. I'd have spent the next week doing a full renovation on the kennel if that happened. I thanked the man and said we needed to meet up with the rest of our party for another fastpass time slot first. He tapped a few times on his tablet and said we'd be welcome to come back any time after about half an hour, which was perfect.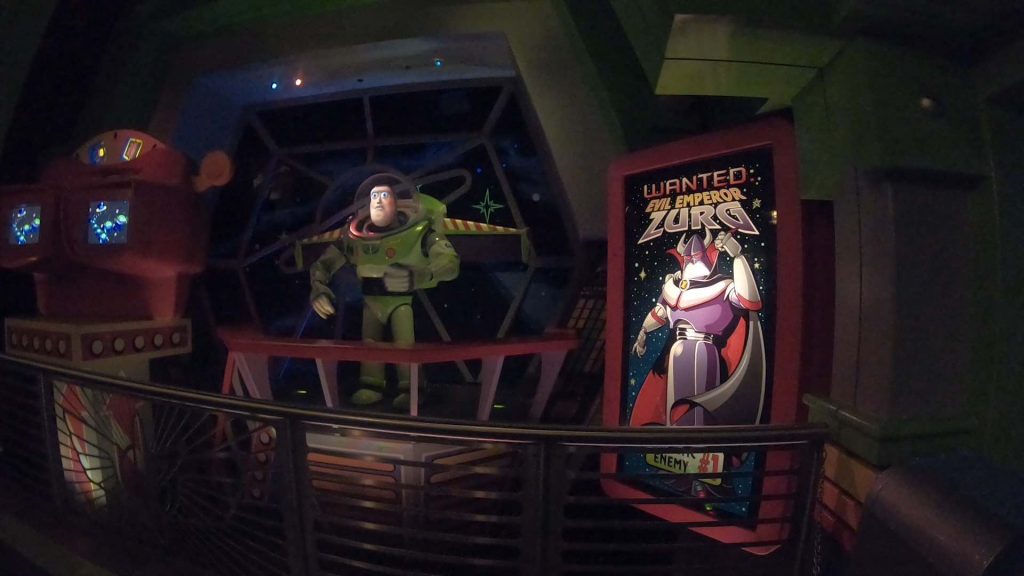 We found Sandy and Joey waiting for us at the Buzz Lightyear Space Ranger attraction. This was the one Jennifer and I just missed out on the last time because Sandy and Joey walked through before we got there. The ride was a lot of fun, but it did take me half the ride to figure out there was a handle on the car that you use to turn the car from left to right. I initially thought ours was just stuck. It seriously curtailed my ability to score points (at least, that's the story I'm going with).
Once we were all kicked out into the street again, via the obligatory trek through the convenient retail opportunity at the end of the ride, we then went our separate ways. Sandy and Joey went off to enjoy the Tomorrowland Speedway course, which is a sort of tame go-kart track. Jennifer and I had a date with Space Mountain again, as our DAS return time had arrived. We went off and did that, albeit via a brief stop at one of the dozens of concessions stands for a $2 popcorn refill and some ice cream.
Once out of Space Mountain, Jennifer and I made our way over to the other side of the Magic Kingdom. The plan was to pick up another DAS return time for something before hitting the Haunted Mansion. The closest attraction to where we were was the Splash Mountain ride, so we picked up our DAS return time from the cast member at the fastpass entrance there. There're nearly always three or four cast members attending the standby and fastpass entrances to the rides. It's pot luck as to whether you pick the one that has the ability to provide you with a DAS return time. You can sometimes spot them if they're assisting someone at the time, but I often end up asking the wrong person and being immediately redirected. Sometimes, you have to contend with other guests muscling in on your interaction with the cast member, as they 'just have a quick question' or whatever. This happened to us here and we ended up losing about five minutes as a result. Very little you can do, really. I got or return time and we were off to kill the half an hour we had to wait before returning.
The heat started to get quite oppressive by this time. We meandered through a few shops to keep ourselves cool while awaiting our return time. A relative of Sandy's had asked me a few days ago about picking up a particular collectable figurine here at Disney. There are two places where it's potentially sold. One is Disney Springs, although we were there the other day and it was sold out. The only other place was the Frontier Trading Post. That just happened to be a few paces from where we were chilling out, so we wandered over there to see if they had any in stock. Alas, no luck. It turned out this particular limited-edition figuring was sold out everywhere by four o'clock on the day it was released. These things are apparently so collectable, a $40 figurine can be traded online for well over a thousand dollars. Seems we were just a few days too late for this one.
With our DAS return time for Splash Mountain now at hand, we went back and duly took our place in the fastpass queue. Sadly, as we were queuing, the ride closed due to an approaching thunderstorm. Shit! Not to worry, there's still the Haunted Mansion, which was a short walk to the adjacent park section. It was an inside attraction, so little chance inclement weather would be likely to affect it's operation. We walked passed the steamboat attraction on the way there through Liberty Square. The entire river there was drained. Evidently, they are renovating that entire section of the park.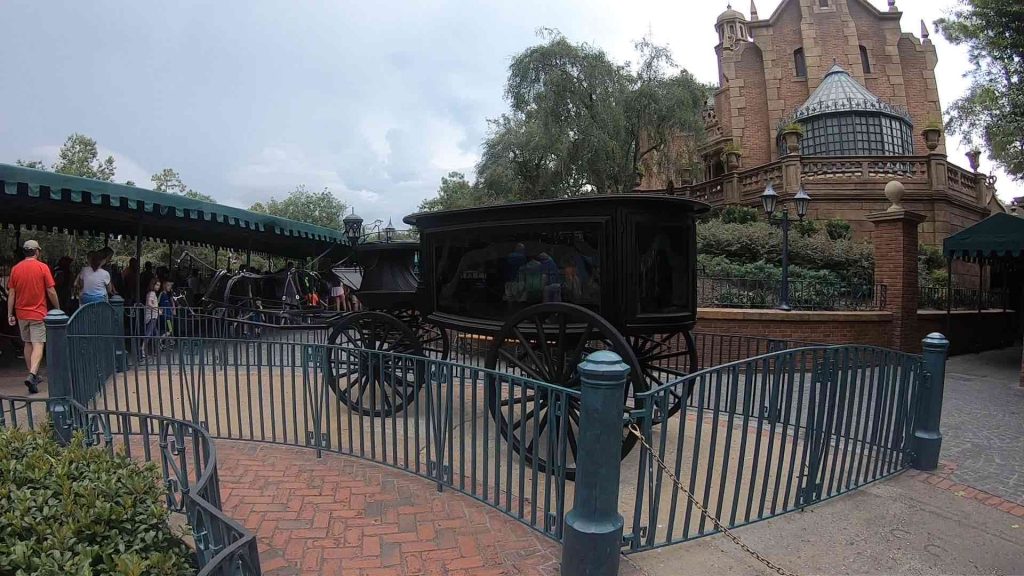 We were a tad early for our Haunted Mansion fastpass time but there was nobody manning the entrance to stop us going in. Even in the fastpass queue, there were enough people in the queue there that our return time would have been reached before we entered the actual building, so we walked through even though the Mickey ears on the electronic reader didn't turn from blue to green when we touched on.
We both completed the Haunted Mansion and exited into the street feeling somewhat underwhelmed with the entire experience. Oh well, at least it was a sit-down ride that didn't require too much energy to be expended.
That approaching thunderstorm had arrived by the time we were outside again. It wasn't raining very hard but enough for us to want to put on our ponchos. Jennifer became progressively annoyed with the plastic clinging to her. By the time we reached Mainstreet USA by the park entrance, she had removed it. Since Mainstreet USA is a collection of retail outlets (many of which are joined together so you can walk between them), we killed a few minutes perusing the Disney merchandise while waiting for Sandy and Joey to arrive. Jennifer picked out a couple of soft toys she really wanted. When we got to the check-out, a misunderstanding on our part revealed the total cost to be twice what we thought. One of the soft toys had to be replaced. Yes, we are spoiling both kids as much as we can on this trip but there are limits, even if they don't always appear evident.
I had been stalking Sandy's phone, following their progress down Mainstreet USA. We met up with them and continued window-shopping together for a few more minutes.
Right at the very end of the street, near the main entrance and train station, there's a character photo shoot attraction. Sandy rarely lets any of these opportunities go by and decided to chance her arm at getting in immediately, as opposed to having to come back for a DAS return time. We've actually done this a few times. With the right amount of social engineering and pleading, you can more often than not convince the cast member to bend the rules for you. We've had around an 80% success rate at doing this. Sometimes you can trim some time off the return time (say from 30 minutes to 10 minutes) and sometimes you can get them to just pass you straight through. The cast member here initially was standing by her assigned 30-minute return time, but Sandy's persistence paid off and the cast member eventually buckled, passing us through straight away. Winning.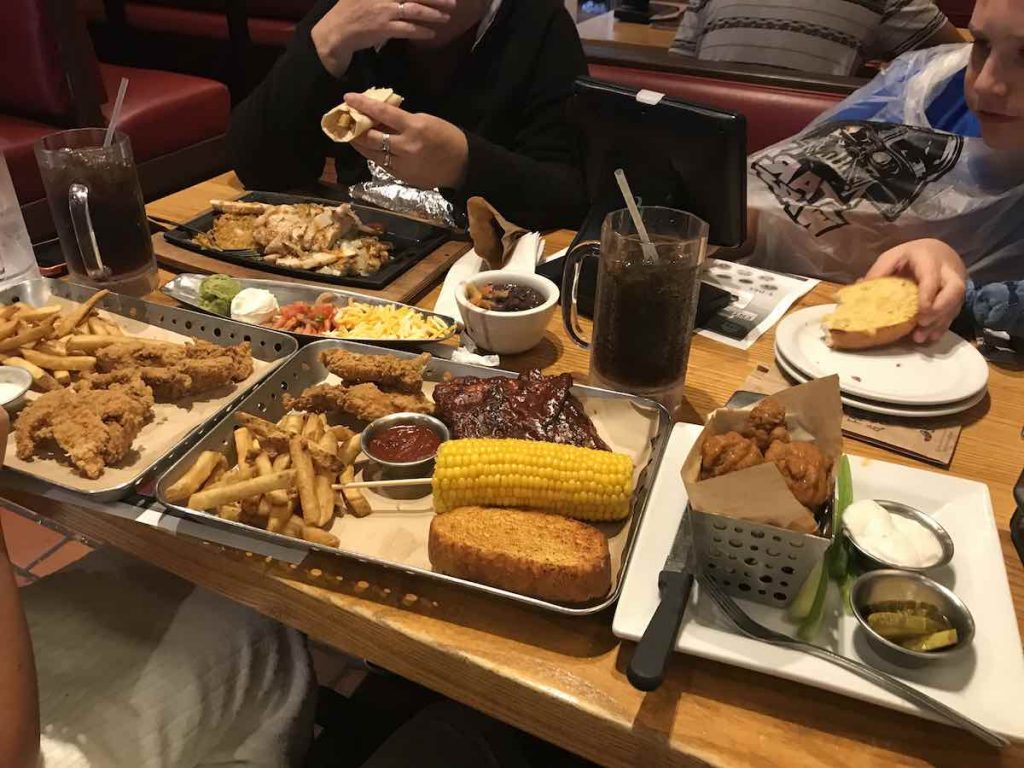 Joey was in one of his foul moods. He wasn't being cooperative at all. Although we had some nice photos taken with Mickey and Minnie, none of them included Joey this time. Oh well.
With the rain still light but still persistent, everyone had a sense that the day was now dragging on a bit. We made it through the entrance and back on to the monorail for the short trip to the tram and car parks.
Dinner for the night was going to be at one of the Chili's restaurants that participates in the Eat & Play discount system we have. We made our way over there and, once again, ate a huge amount of food. The discount just about makes up for the tip.
Back home, I tended to all our digital needs and everyone drifted into their bedtime routines. We're planning an early start for tomorrow, as we're doing Animal Kingdom for as long as the weather holds off.