It never ceases to amaze me that whenever I'm 'on holiday', my body clock always wants to get me up and running at ridiculously early hours – even though I have no commitments and nowhere to go for hours. You'd think that my body would crave – even be grateful for – the opportunity to lay in until at least mid-morning or something. Nope! Wide awake at six O'bloody clock! Sheesh! Jae was a little better than me, although not by much. They managed to remain asleep until around 7-8, which is an amazing feat given they are normally more likely to fall out of bed just in time for an early supper when otherwise left to their own devices at home.
Jae was happy to remain in bed glued to the phone for a bit longer, so I tottered off to the restaurant for a spot of cooked breakfast. There was a sign saying to wait to be seated, but there was nobody around and, well, I was hungry. So, I walked in, went straight to the buffet to load up and then took a seat. And a very nice, cooked breakfast it was, too, thank you very much. I expected someone to come by to take my room number, but nobody did. I 'neglected to volunteer this information' also, so I guess this morning's breakfast is going to be on the house. That's another £13 extra spending money, then. At the rate we're burning through the cash so far, that will definitely come in handy.
In lieu of breakfast in the hotel, Jae had a hankering for some pot noodles – specifically the kind that would require me to drive over to a nearby Tescos superstore to buy. I decided to entertain the request, since I had little else to do so far this morning. I came back with a packet of Jae's favourite beef flavoured pot noodles, and a fork I half-inched from the restaurant. Jae wasted no time getting the little kettle we have in the room going.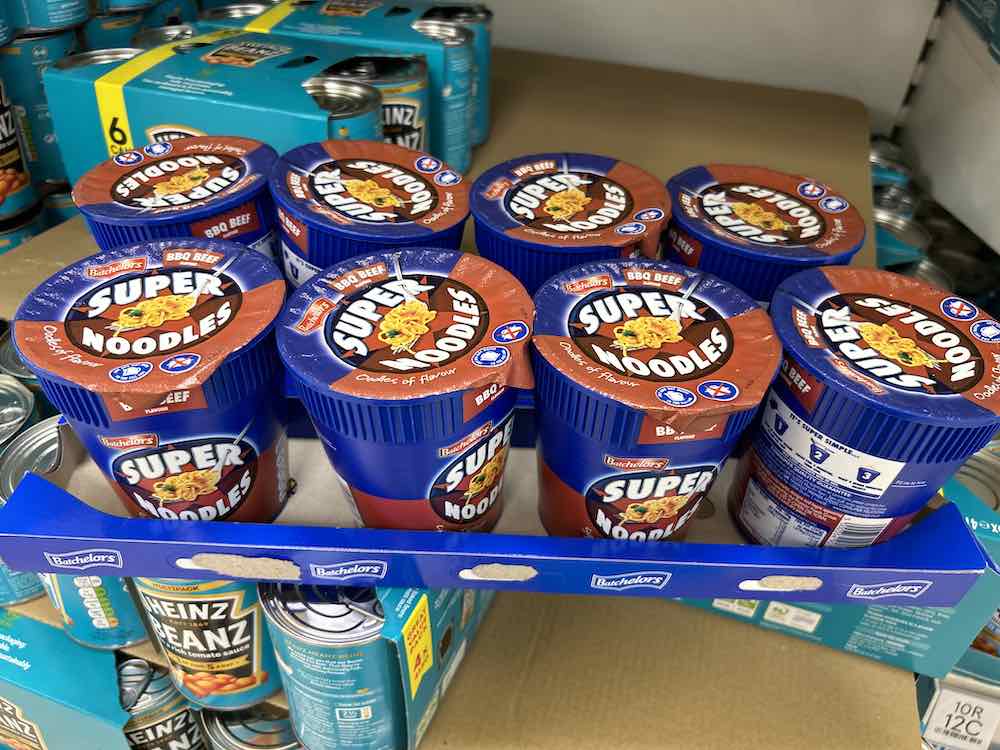 While Jae was relaxing over a hot pot of instant noodles, I went out again to the nearby Smyths toy shop that Joey enjoyed visiting almost daily when he and I were here a few months ago. I had promised I'd pick him out a Lego set while we were here. There was no way I was going to pick out the right set, or figure out which ones he already has, if left to my own devices, so I Facetimed him and we shopped together. With his help, we identified something he would be happy with for now as well as a potential future Lego set for a future visit. As soon as we finished that call, I picked up the second set as well, so he'll have a nice little surprise from me when I get back home next week.
With Joey's Lego sets stashed safely into the boot of the car, I went back to the hotel to collect Jae and we headed over to spend some more time with Dad. Amid the various stories Jae and I were listening to Dad recount (his favourite pastime), I was juggling numerous messages with different friends and relatives about how and when we might meet up during our time here. There are so many people that we 'could' meet up with, but there are only so many hours in the day, and we couldn't possibly visit everyone. That said, the calendar is all but now full, so we have the remainder of our time here largely planned.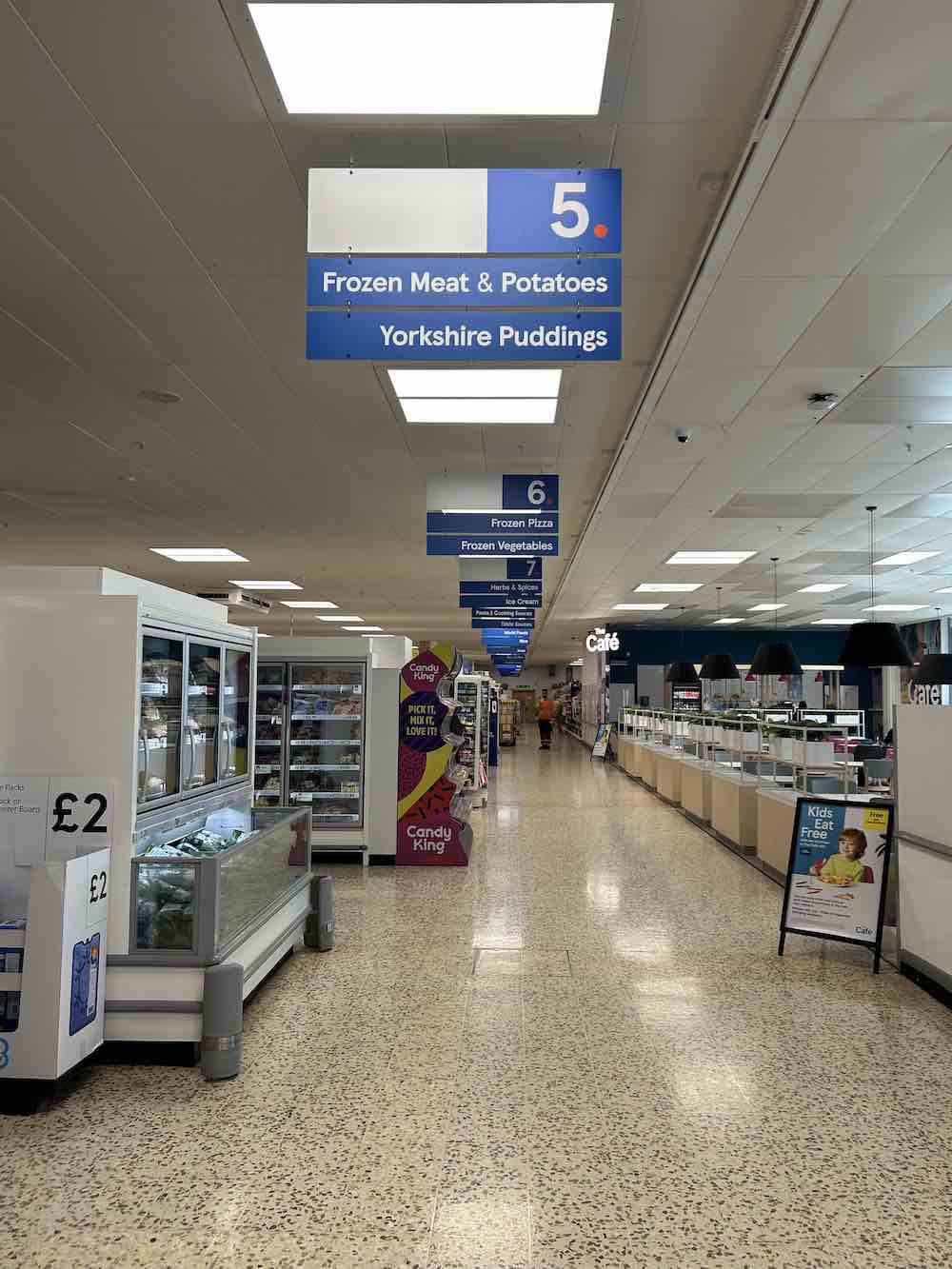 Included in the calendar of event is now another visit to London for just me. I couldn't resist the urge to squeeze in a second West End show – and one I've wanted to see again for many years now. So, this Friday, I will travel into London's West End on my own to see Les Misérables at the Sondheim theatre on Shaftesbury Avenue. Jae has opted to spend more time with Dad (it's amazing how the two of them have bonded this past couple of days). I was first captivated by this amazing and emotional show back in my early twenties in London, and again in my thirties in Florida. The soundtrack of emotive songs also takes pride of place in my music collection. I'm thrilled beyond words to be able to see it again. It was a tough decision about which show to add to my calendar, joining The Book of Mormon already scheduled for Saturday afternoon. I also really want to see The Phantom of The Opera again before that show potentially closes for good. It has already shut its doors on Broadway and is so far extending only as far as March of 2024 in the West End, but it's not clear whether it will continue thereafter. Hopefully, there's plenty of time before I can see that one last time – maybe if I come back to the UK again sometime later this year.
I had a little bit of work I needed to tend to, so I left Jae at Dad's and went back to the hotel for a bit, where I could sit at a desk with my laptop. It was slow progress, since the hotel's internet connectivity is shockingly poor – deliberately throttled to encourage you to sign up to their £5/day 'better internet' option. No thanks.
I did what I could with the work I needed to do, which wasn't nearly as much as I might have been had I been back at home with my 1Gb hard-wired connection to my office computer. Still, I managed to get at least something done.
Back to Dad's again to pick up Jae and organise the rest of the afternoon. The plan was to visit RJ at the end of her shift in the shopping centre along with Paul. We would then all meet up with Ree-Ree and her clan, who have been here in the UK for the past few weeks for a wedding. We parked ourselves in the food court and waited for Ree-Ree and co. to arrive. It was uncomfortably warm – although not nearly as hot as outside – but there was nowhere else we could go where we would all be able to sit together and catch up.
Despite doing my best to supress it, I admit to being a little emotional at seeing Ree-Ree & Tony and Shalina & Paul and their two kids. Shalina has always been one of my favourites. I've had a soft spot for her ever since we first travelled to Australia as a part of our world tour some 18 years ago. There's a funny story about her showing off her new knickers she got for Christmas when we were there that year, but I'll leave that for another day – along with the 'my dad plays chess' incident. Anyway, we instantly fell in love with her – and indeed everyone else in Oz. When we left Australia around 5 years ago, Shalina was only just pregnant with her first child. Now we see her after 5 years with two adorable kids in tow. Shalina is no longer the young girl I used to know. She's now a competent and loving mother to two wonderful kids – and she and Paul are both brilliant parents, which was also evident in how well behaved the two kids were. The past few days/weeks have been a whirlwind for the entire Oz group – made even more challenging by the fact that they were also managing two active and playful children. I was able to completely relate. Traveling to a faraway place and trying to visit as many people as you can is stressful and tiring even when you don't have kids to tend to at the same time.
Sandy got in on the action with greeting our 'Ozzy relies', albeit via a video conference with a mobile phone. Since we were here at Lakeside, Sandy and I decided it would be a good opportunity for us to treat Shalina & Paul's kids just a little, so I took them, along with Shalina and Ree-Ree, down to the Build-A-Bear shop a short walk from where we were sitting to let the kids pick out a new stuffed toy each. Just seeing the kids' faces light up was more than enough compensation for the ordeal we adults were put through.
The 'process' you go through at Build-A-Bear is arguably describable as tortuous for the adults who are running around trying to look after the kids. It's not just a question of finding a suitable animal and then filling it with stuffing. Oh no, that would be way too simple. There are accessories to choose from, like clothes, shoes, leashes, brushes, and a hundred and one other possible items for the new plaything. You then get to choose an audio from a library of audio options that then gets loaded onto a device that goes inside the teddy. Naturally, the kids wanted to test as many of these as possible before deciding which to go with. Curiously Shalina seemed to want to steer them away from the 'Santa' themed audio and the 'Frozen songs' audio. To be honest, I agreed with her on that one, as listening to Frozen songs on repeat fourteen-hundred times a day would likely have pushed me over the edge also. Then, of course, there is the scent you get to choose from – things like cake, bubble-gum, strawberry, etc. Naturally, those also had to be tested – repeatedly. And then there's the little heart that you must choose. Not only do you choose which colour heart, but there's a whole little act of wiping it on your back – so it always has you back, rubbing it on your ear – so it'll always listen to you, and several other such mini pantomimes the staff member was playing out for the kids – exhaustively! The kids were eating it all up, of course, but I think we adults were struggling with the stifling heat and overcrowded environment, all the while doing our best to 'lead' the kids into at least 'a decision' on the endless options put to them both every couple of minutes.
When we finally got everything the kids wanted from their build-a-bear 'experience', which, naturally, was the principle objective of the exercise, we made it to the register. We all thought [hoped?] we were nearing the end. Alas. The next step was to add all the details into the computer…for the stuffed toy's bloody birth certificates! Once those were out of the way with came the next question: "How would you like to take your bear home with you today? In a box, gift-wrapped, or in a little backpack?" Curiously, the option of 'just let the kid hold the damned thing' wasn't one of the options presented. We let the kids decide this one, and they each chose a little backpack, so they could wear their new stuffed toys on their backs for the plane ride home. I would be remiss in not mentioning that the build-a-bear process is a finely tuned one and designed at every step of the way to try to part the adults from more and more money. Each time a new question was posed, it attracted another addition to the price tag. At one point, Shalina said to me that she thought we were finally done. I looked over her shoulder and saw the youngest wandering around with a toy brush hanging out of her mouth. "I think we're taking the brush as well," I said. She and I both chuckled. In truth, I would have paid a lot more if I had to just to see the joy on both the kids' faces.
Once the kids were sporting their new soft toys, along with some priceless grins, we made our way back to where we were previously. Since we were at the food court, we popped into the nearby 5-guys burger joint for a bit of early dinner. Shalina and Ree-Ree wandered into the shopping centre in search of a Boots to do some photo printing. The black hole that is the Lakeside shopping centre absorbed them for the next half hour or so while the rest of us ate. Meanwhile, the rest of us got to watch – and chuckle at – Paul attempting to keep the kids entertained, behaved and alive for a half hour while their mother was out of sight. He very nearly made it, the poor fellow. I really felt for him, having been where he is now. I consoled him by insisting it would only be the first thirty or so years that would be the worst.
It was time to leave the Lakeside shopping centre, but instead of taking our leave from each other, the Ozzies wanted to pop into the nearby Tescos supermarket to pick up some cans of a particular soft drink the kids were keen on – something called Prime. With little else better to do anyway, Jae and I joined them – a bonus opportunity to spend a little more time together. It was only a short drive over to Tescos from the Lakeside car park where we had both coincidentally parked, so it would be relatively simple for Shalina, the group's designated driver, to follow me in my car. Ree-Ree sat in my car for the brief journey. Because of the busy and bustling time of day at one of the country's largest shopping centres, we actually lost Shalina at least 3 times on that short trip. Somehow, we did all manage to make it there in the end, though – not at all stressful!
With the heat of the day, and because it had been so stiflingly hot inside the shopping centre, I think we were all glad to be wandering around inside the wonderfully air-conditioned mega supermarket. Alas, they didn't have the Prime cans of drink anymore. According to the staff, these were discontinued and recalled due to the drink exceeding the limit of caffeine. Oops!
Once my Australian relatives had picked up a few treats to take home with them, we finally had the 'everyone hug each other moment' as we bid our final farewells. I loved seeing them all again – much more than I could ever put into words here. Ree-Ree is contemplating a longer trip next year, so I really do hope that comes to pass. Jae also has her sights on a gap year to Australia once she turns 18 and takes possession of a trust fund that will mature at that time.
I dropped Jae off at Dad's and then headed back to the hotel for a refreshing shower. I've been here for the past couple of hours writing up this blog entry. Just now going back to Dad's to collect Jae for the night. Then I'll wrap up. It was a good day today.