Day 1 – getting there and getting acquainted
Thursday 5th August 2021
So, it's finally the day of departure for our little sojourn to Denmark for a week. For very different reasons, both Jae and I have been really looking forward to this trip. Yes, we're both very much looking forward to finally meeting Julie, Jae's online friend who has become a pseudo part of our family over the past year. Yes, we're also both excited about the prospect of exploring a new country and a new culture. For me personally, however, this trip represents an additional dimension – a chance to connect with Jae and to spend some truly quality time together.
The pre-departure anticipation for Jae must have been immense. I know this because the child who would otherwise remain in bed until well into the tail end of the BBC's mid-day and afternoon day-time TV program schedule was, in fact, the first to stir, popping her head into our bedroom not long after 5 am.
By the time I had roused, a matter of minutes later, Jae and Sandy were both already downstairs with the kettle on. Long gone are the days I would have slaved for endless hours – neigh days – ahead of time trying to organise and pack things meticulously to with an inch of the backpack's ability to contain it all. This time, I rolled unceremoniously off the bed and grabbed a few things to throw into a hessian supermarket bag. That was my packing done – surely a new record at just 15 seconds?
Straining to contain myself from gloating at the Olympic speed at which I was able to organise and pack for our 6-day trip, I sat at the breakfast table and slowly munched my way through a bowl of cornflakes. Jae was practically counting the seconds to when we could leave.
Ahead of us was a potentially gruelling 10-hour trip across three European countries. All we had to keep ourselves occupied for the entirety of the trip were a handful of in-car games we printed previously. We were going to be playing observation bingo, where things we spot along the way, such as electricity pylons, sheep, cyclists, hot air balloons, motorbike sidecars (you get the picture), would be crossed off on a specially prepared Bingo card. Another game was to spot the listed car manufacturers. We had 16 pre-selected names – along with their respective logos – to spot. Finally, there was the spot-the-country-on-the-license-plate game. The aim would be to complete the entire grid of all the available EU country codes (DK for Denmark, NL for Netherlands, ES for Spain, etc).
The last order of business before cramming us and our luggage – enough to sustain an army garrison for a 3-month all-terrain siege – into the car, was to whip up a few sandwiches for the journey. With that last pre-departure task swiftly dealt with, we finally made our way to the car. Uncharacteristically, Joey was by now also up and about, going out of his way to give me extra cuddles before we set off. As it happens, he and I have connected more with each other over the past few weeks as well, with him expressing himself through cuddles and the various verbal stimming we see that indicates his good mood. I was especially pleased to see this behaviour from him again this morning. Of course, it was always going to be too much to expect that he give his sister a cuddle good-bye but he did actually say it verbally, which was a bit of a nice surprise.
With the final wave from Mum, we pulled out of the drive and set off in the direction indicated by the satnav. Our route today was to be split into two main legs. This was done to maximise the time spent in Holland, where my fuel card would still be useable. Once we hit Germany, the cost of the fuel for the trip would be on my dime.
Notwithstanding the effort put into the sandwiches for on the way, we did actually stop off at a Maccas to top up after a couple of hours. In fact, we still ate the sandwiches not long thereafter as well.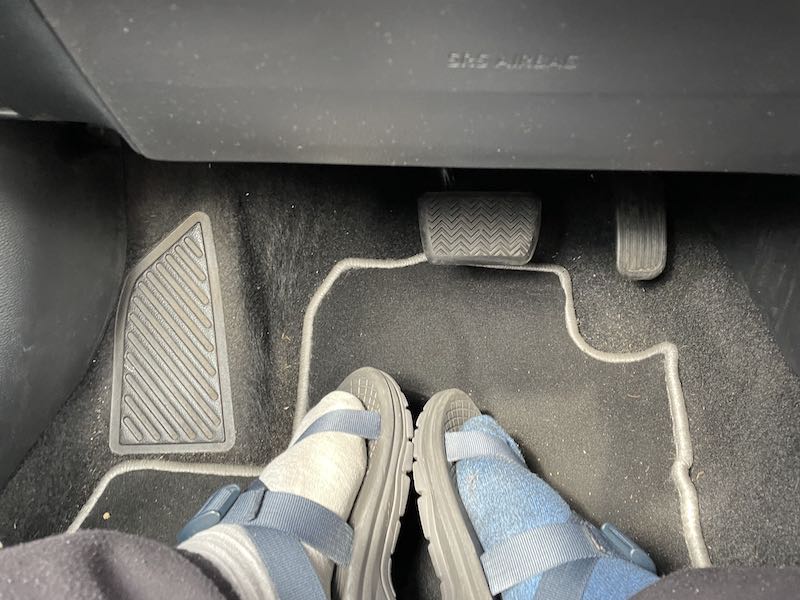 By the time we had reached the end of the Dutch portion of the journey, I stopped and took advantage of the last opportunity to use the fuel card. We then ploughed on and into Germany, where the lack of a speed limit for most of that leg allowed me to put the car through its paces. In fact, I didn't really go that mad with the accelerator (that's gas pedal for my US friends) in the end. I stuck to a respectable 160Kph (100Mph) …mostly.
The German leg of the trip, including the generous sections of flat-footed driving throughout (with the exception of Hamburg – the only part of the journey that slowed us down at all), conspired to burn through three quarters of a tank of fuel, which admittedly was more than I had expected. Since I had previously researched where it would be cheapest to re-fuel, I stopped just short of the Danish border and filled up just a few Kilometres before we ran out of Germany.
At the Danish border, traffic came to an unexpected near standstill just a few meters before the actual border crossing. As it turns out, vehicles were being intercepted at random for control checks – presumably to make sure that those coming in have the proper proof of Covid vaccinations, etc. Not wanting to take any chances in this regard, I had already prepared for just this eventuality. I'm fully vaccinated with my electronic vaccination certificate updated. Jae has thus far only received the first of her two jabs, so she had a PCR test done two days ago per the recommendations on the government's travel advice website. We received confirmation of her negative result yesterday and I fed this into her electronic vaccination certificate on her phone this morning. We were thus fully prepared with all our documentation in order. In the event, the slots were all in use by the time our car reached that point where we otherwise might have been directed to pull in. Were instead wafted through to continue with the journey unhindered.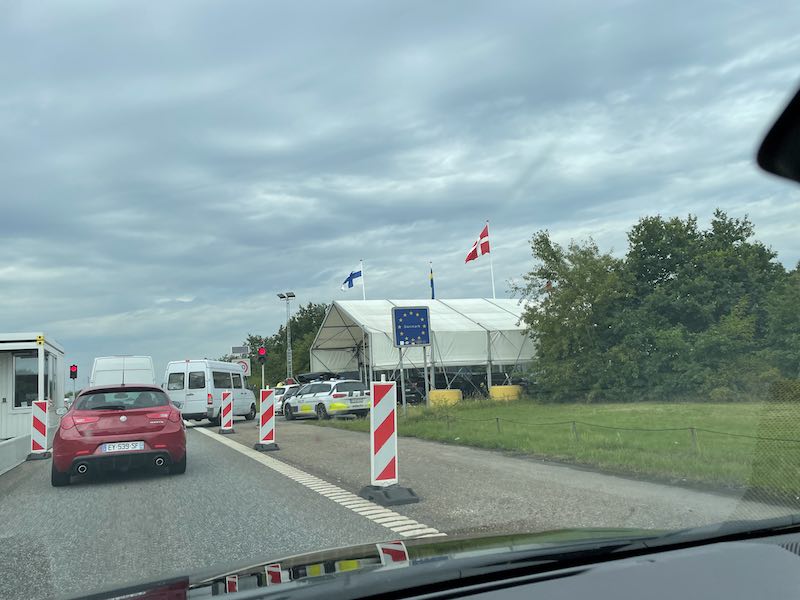 And so it happened. We crossed the border into Denmark. In so doing, I can now count 46 countries I've visited to date. Yay!
Aside from a few minor differences, such as the slightly different shaped electricity pylons, road markings and traffic signs, Denmark is remarkably similar to most other European countries. Perhaps a little more undulating with more rolling hills than we're accustomed to back home, but otherwise not much different from the driver's eye perspective.
From this point, the anticipation of the first physical meeting with Julie was really starting to build with just another couple of hours to go before we completed our road trip. Jae and Julie have developed a particularly close relationship over the past year or so and the excitement in the car was palpable. Throughout the trip, we had chatted and video-conferenced with Julie numerous times. Each time I heard her voice, I could tell the excitement was building just as much for her as well.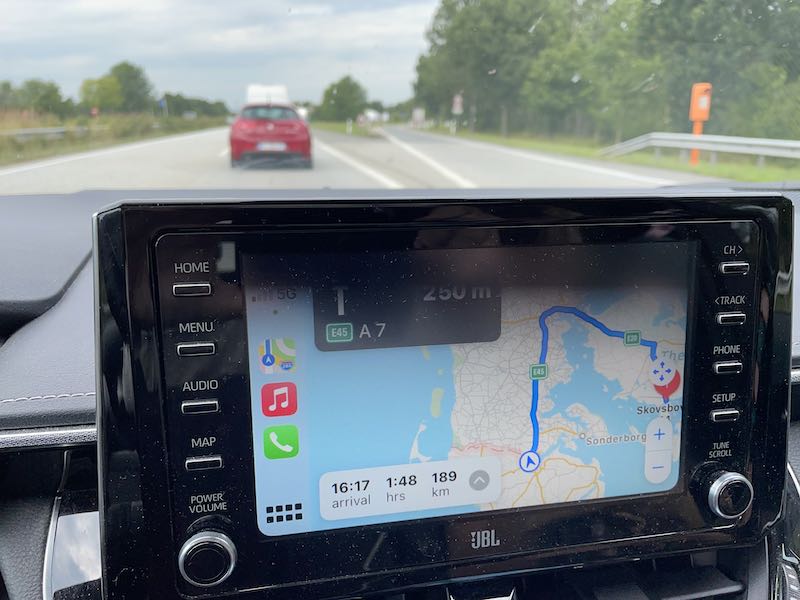 When we finally pulled into the road on which Julie lives, she was already standing outside and practically jumping up and down with glee. I parked the car and Jae leapt out. The kids both threw their arms around each other. It was really quite the emotional moment, which I was lucky enough to capture on video.
We went in to meet the rest of the family. I had already seen Julie's little sister and mother through the computer screen on several previous occasions, but not her father. Over the course of the remainder of the evening, we all got to know each other quite well. Julie's mother laid on a wonderful meal which we enjoyed out in the open air on their recently completed deck. The sun was out, the temperature was balmy, the kids were full of smiles, and we all ate very well indeed. For a first meeting, things couldn't have gone any better. Julie's parents are truly wonderful people. We connected straight away. We talked about the various parenting issues we have each faced with our own children over the past couple of years. What was also clear was that both children have been – and continue to be – an enormous source of support for each other.
Not wanting to arrive empty-handed, Jae and I had raided our local supermarket yesterday for as many traditional Dutch treats that we could find, and so were able to give Julie and her sister each a bag stuffed full of things. Sandy has even managed to slip in a nice Holland T-shirt for each of the kids.
It was a most relaxing time with Julie's family. We rounded off the evening by exploring some of the things we can do while here in Denmark, such as exploring the various options for how best to get to and explore Copenhagen. Before we get that far, however, tomorrow's agenda is already planned with a trip for the three of us (me, Jae and Julie) to the Hans Christian Anderson Museum in Odense. Thereafter, things are a little more up for grabs, but already the kids are planning for the coming days ahead.
We bid our new friends a final farewell and set off to find our pre-booked accommodation in a sleepy village about a half an hour back in the direction from whence we just arrived. The little guesthouse where we would be staying for the next six nights was a small cottage around to the rear of an otherwise nondescript property just off the beaten track in the middle of Denmark's Fyn island (that's the one in the middle). The owner is super nice, and we will be more than comfortable here.
We have since settled in, made the beds, showered and unpacked. I'm just putting the last finishing touches on this day-1 blog entry before I slip in for the night. Today has been a very long day. Tomorrow promises to be similar, so I will need my beauty sleep.
Goodnight from Denmark. Day 1 is in the bag.