Day 2 – Hans Christian Anderson Museum in Odense
Friday 6th August 2021
Compared to yesterday's 5am start to the day, I for one was glad to see the first number on the clock this morning was an eight. Jae and I are sharing a room, which isn't much bigger than the two beds, a nightstand between them and a small table at the end of my bed. We have all our bags, bits and bobs tucked away under the bed, on the windowsill, under the table, etc. It's a small room to be sure, but the beds are comfortable, and we both slept really well. Can't really ask for much more than that.
First order of business for this morning was a supermarket run to pick up some provisions for a packed lunch. We found a Netto supermarket – one of the more common ones here in Denmark – just a few minutes up the road. The kids working there all seemed to speak good English. One of them confirmed they would accept my Euro banknotes should our bank card for whatever reason not work here. As it turned out, the bank card did work perfectly well and I've still yet to find a need to tap into my stash of Euros, other than to give Jae a bit of spending money for just in case. Besides the writing on the packing, the supermarket sported the same array of things you'd expect from any other and was just as easily navigable.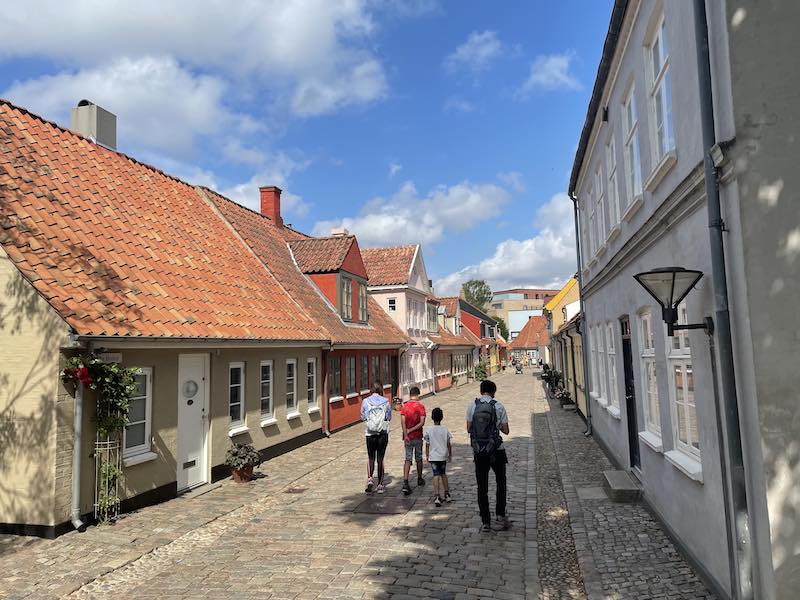 With our loaf of bread, some butter and a couple of packets of sliced ham, we cleared the checkout hurdles with relative ease and were soon back into the car and heading south again towards Svendborg. The plan of attack for the day was a visit to the Hans Christian Anderson Museum with Julie in tow. I'd get to see a bit of Danish culture and the kids would get to spend more time with each other – win/win.
While we were waiting for Julie to finish getting ready, we took the opportunity to convert our provisions into a packed lunch for the day.
With our sandwiches and travel companion now with us, we were back into the car and heading north again towards Odense. With a population of around 176,000, Odense is Denmark's third most populated city, next to Copenhagen (1.3M) and Aarhus (270,000). My general impression of Denmark so far is that it's not densely populated. The roads are largely empty. The towns are bustling to a degree, but you do get a sense that there are fewer people around than would be expected. I have to assume that this is at least in part due to the Corona pandemic.
Once in Odense, a half an hour up the motorway, we made our way into a vast sub-terranean car park facility beneath the town centre. Julie did her best to help translate our way through the process of paying for the parking, although we were not entirely sure that we did everything correctly. More about that later.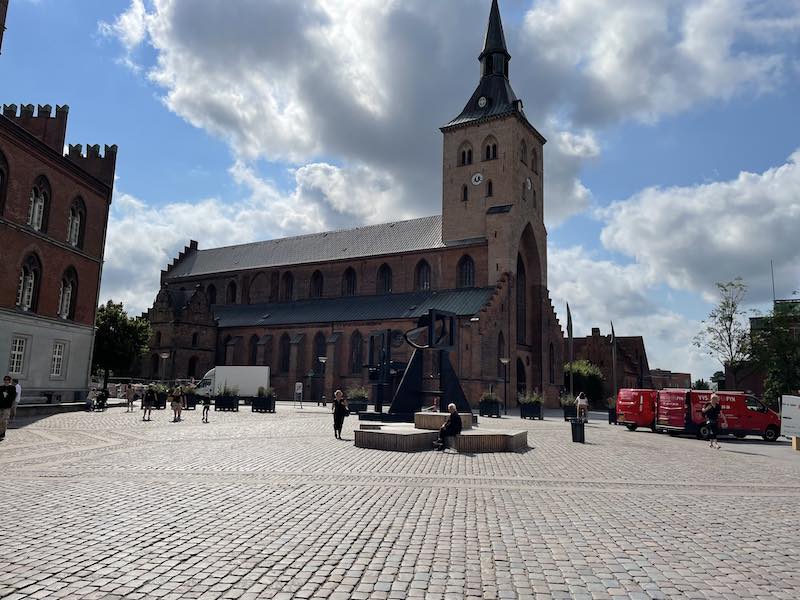 Once we were out of the car park up onto the surface streets on foot, I interrogated my inbox for the confirmation e-mail from last week, which is when I bought the tickets to the museum for the three of us. Crucially, we had been assigned a specific time slot, but we were already ahead of the game with some time to spare. What was less clear was exactly what sort of tickets I had purchased and whether they afforded us entry to the museum, the house or both. Worse still, the satnav struggled to find the exact spot where we needed to be, as there were several H.C. Anderson points of interest in the town. We eventually stumbled into the first of these, which turned out to be the Hans Christian Anderson family home – a small wooden house in the middle of the town centre, which represents a moment frozen in time attributed to the literary genius.
Hans Christian Anderson is the most famous and notable author to come out of Denmark – indeed one of the most recognisable author names of all time. His stories and writings are woven inextricably throughout the very fabric of Denmark's cultural identity. Even though he was a prolific writer of poems, plays, novels, etc., every school child knows the author for his fairy tales, which includes the likes of:
The Emperor's New Clothes,
The Little Mermaid,
The Nightingale,
The Steadfast Tin Soldier,
The Red Shoes,
The Princess and the Pea,
The Snow Queen,
The Ugly Duckling,
The Little Match girl and
Thumbelina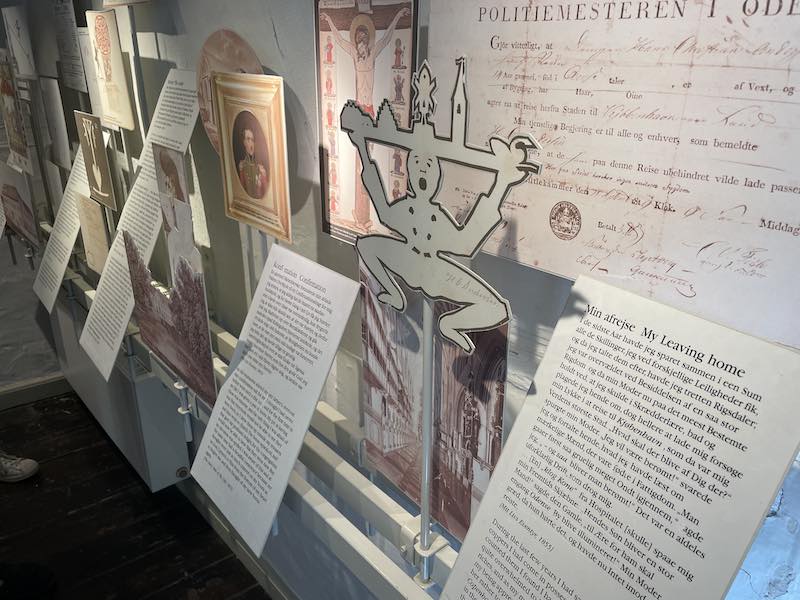 The H.C. Anderson house in the heart of Odense isn't a huge attraction from a physical size point of view. It's actually quite tiny – just a handful of rooms, each of which depicts what you might have expected to see back in the early eighteen-hundreds. The great man himself was born in 1805 and died in 1875. I remember H.C. Anderson myself mostly through the 1957 movie Hans Christian Anderson starring Danny Kaye, although I daresay I will have read many of his stories as a child.
The nice lady at the counter in the tiny house/museum handed us a couple of leaflets and confirmed that our tickets entitled us not only to entry into the house but also to the recently built modern museum just a couple of hundred meters across the city. She gave us directions and sent us on our way once we finished snapping a few shots of the various rooms. When we arrived at the new museum, it looked like the entire place was still under construction. This was a little baffling, as we couldn't even figure out how to get beyond the construction site fencing that appeared to encircle the entire contemporary wooden building.
We eventually found our way into the new building (or one of them, at least). Once I showed the counter staff our confirmation of our ticket purchase, he scanned the barcode on the e-mail, and we were sent inside with a couple more leaflets. I suspected this new museum was still a work in progress even before we arrived. About a week ago, I received an e-mail from the museum informing me that the audio system they had installed wasn't working yet and confirmed I would be receiving a 50% refund on my ticket purchase price as a result. The guy at the front desk also confirmed this was a 'soft opening' of the museum.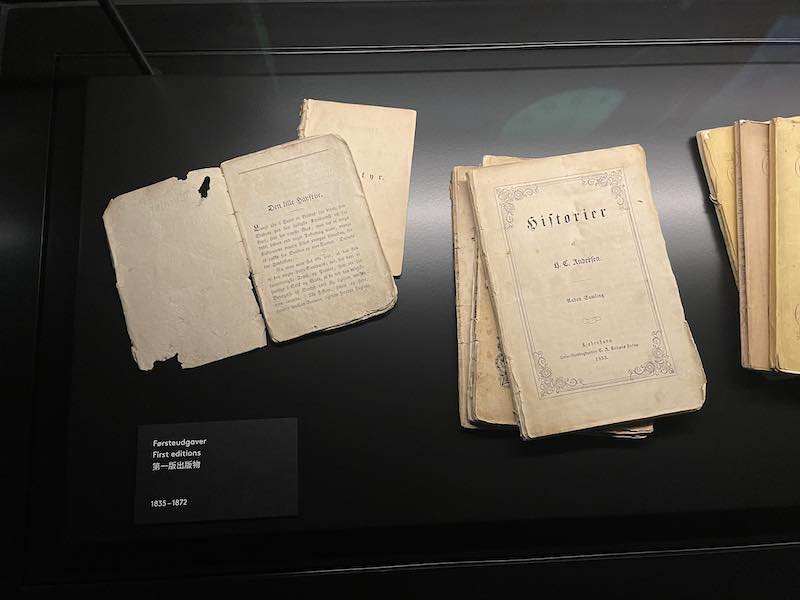 Technical issues with audio walkthroughs notwithstanding, it was a nicely appointed museum all the same. Various rooms depicted various stories or fairy tales with some sporting arrays of display cabinets containing all manner of H.C. Anderson artefacts. We saw manuscripts, illustrations, personal possessions, first edition copies of books, and all sorts of other interesting things.
Whether the kids got as much out of the museum walkthrough as I did is probably up for debate. Still, they seemed to be having fun in each other's company, so that was at least good to see.
Julie was recounting her memories of the various H.C. Anderson fairy tales for me. I have to say that with all the loosing of body parts and other dark elements present throughout his tales, I was a little surprised it wasn't more uplifting.
I think the museum would have been more of a success if we had access to the audio as we were walking through. The museum doesn't rely very heavily on printed texts throughout. There are some adjacent to the exhibits here and there, but a lot of the displays are of a more whimsical and artistic nature. They are clearly designed to work with an ongoing audio narration. The narrated text was printed in the handouts we were given, but the dark rooms made these difficult to read.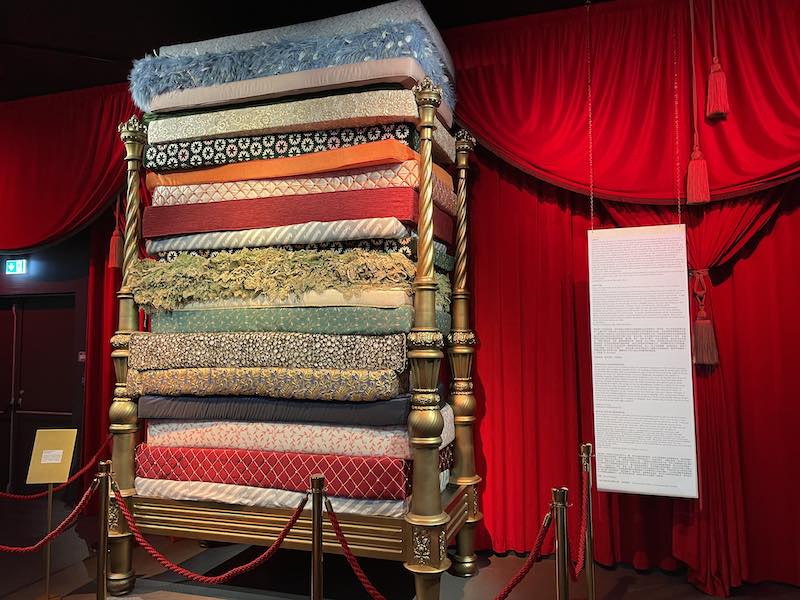 After completing our walk through the museum circuit, we stopped at a nearby bench and wolfed down our sandwiches (those schooled in the art of literacy will I'm sure appreciate the nice avoidance of an egg corn in this idiom!). Then we made our way over to a nearby park (Eventyrhaven) we had spotted on the way to the house/museum a little earlier. This was a great opportunity to chill out for a bit on the lush lawns and to just soak up the tranquil atmosphere. The latter was pierced only briefly by what appeared to be a procession making its way into the park. This turned out to be a group of actors preparing to perform a play in the open park. I would have enjoyed hanging around to witness this (albeit likely to have been in Danish), but the kids were itching to move on, so that's what we did.
We made our way back to the car and tried to navigate the exit procedure. By this, I mean I simply drove out of the car park. There were no barriers or boom gates, so I just assumed this meant that my card would be charged the appropriate amount of parking fee once the cameras detected my license plate passing through the exit corridor (I had to provide my license plate number when we first got the ticket after parking the car initially). It wasn't until we were outside when Julie spotted something on the ticket that suggested we needed to 'check out' of the car park via one of the machines, lest we be charged for a full 24-hour period instead. Not keen on that financial slap on the wrist, I turned the car around and drove back into the underground facility to see what I needed to do to 'check out'. With my hazard warning lights flashing, I parked ad-hocly near one of the ticket machines while I waited for a small queue of people to finish what they were doing. Alas, I had apparently parked on a disabled parking slot, which a passing police vehicle noticed, and I was duly moved on.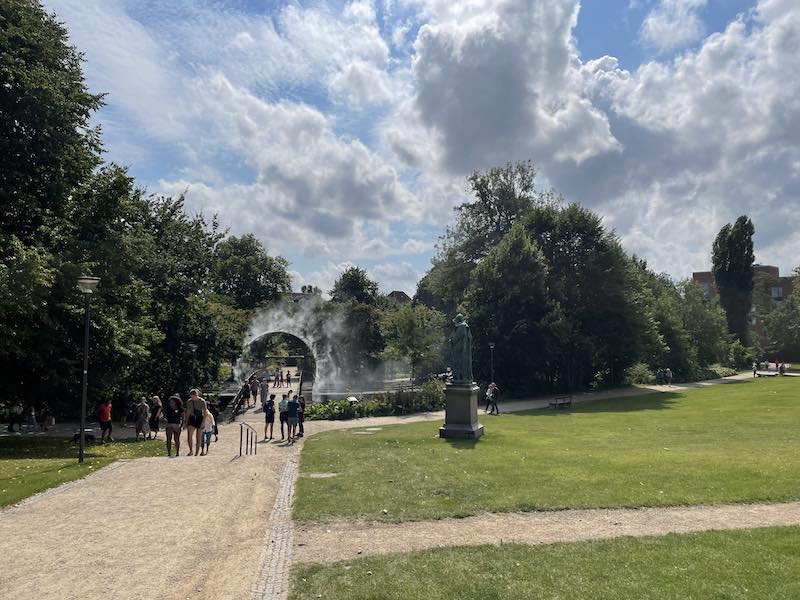 I found a legitimate parking slot and then found another ticket machine. The procedure for finishing your time in the parking garage apparently involved entering the bank card again. I did this, but it kept telling me I had no active tickets listed against my card. Did that mean that leaving the car park the first time around was sufficient to check out? I've no idea. I checked my bank statement online and I haven't been charged yet, so I'm still not sure what's what. Hopefully, I won't get charged for a full 24-hour period but only time will tell.
Notwithstanding the brief period of stress induced by the parking fracas, we made our way back to our little guesthouse so Jae could collect the overnight things she forgot to take with her this morning. The plan is for her to spend the night at Julie's house tonight. This gave us an opportunity to show Julie where we are staying. It also afforded me the chance to give Julie the set of my books I had ready for her. This won me a very nice appreciative cuddle 🙂
We once again set off in the car and headed south back towards Svendborg. Julie has arranged for her and Jae to spend some time together in the town of Svendborg with some of her friends tonight to just 'hang out', as kids do. From what I've seen and experienced of Julie and her friends, they are well mannered, well-brought-up and respectable kids, so I was happy to let Jae spend this quality time with them all. Naturally, no group of teenagers want an adult cramping their style, so I've been sat at a café with my laptop for the past hour or so putting this blog together. A brownie and a very refreshing lemonade have kept me glued to my seat while I've been typing. The weather has, once again, been about as perfect as it possibly could be. I've just had a video call from Jae letting me know they are all heading to the beach. I have to drop her overnight bag off at Julie's house in an hour or so, and then I'm excused and will head back to the guesthouse. At some point, I'll have to negotiate the need to feed myself – Danish style – so we'll see what that ends up looking like.
<pause>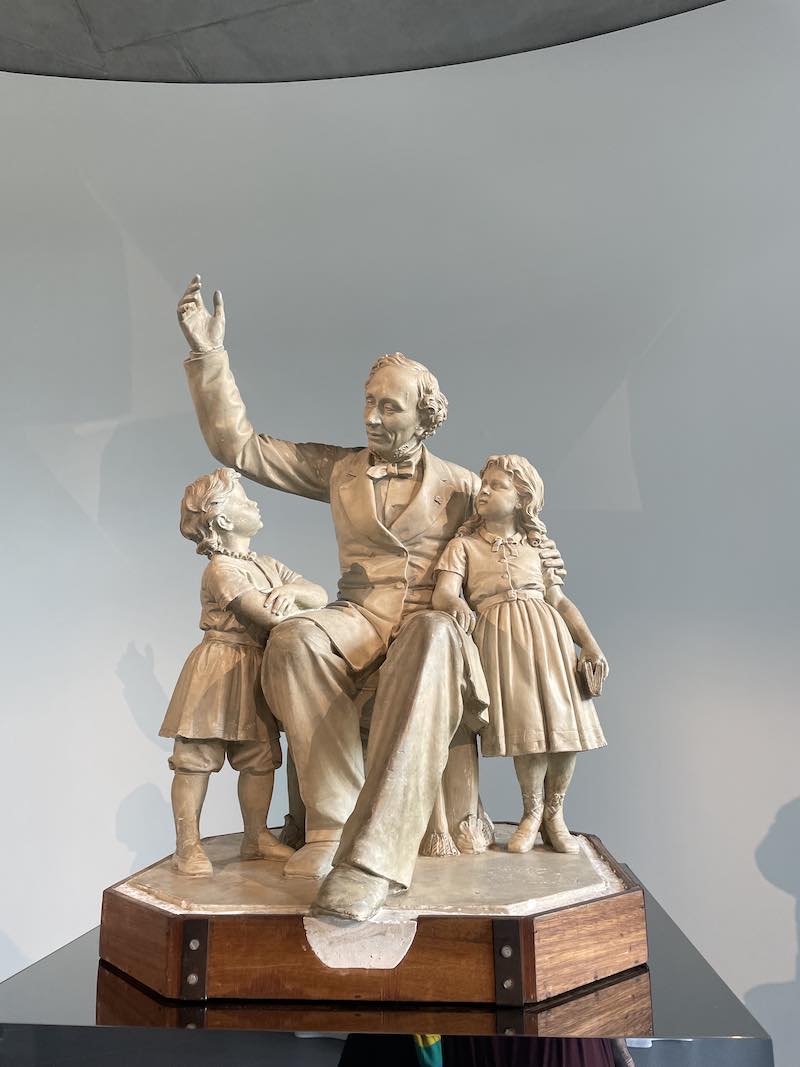 Ok, so I'm now back at the guesthouse. All on my own. Time to catch up with the remainder of the evening's activities. After finishing my writing at the café, I needed to feed myself, so I wandered around a little aimlessly for a while contemplating life…not to mention an empty stomach. My initial idea was to see if I could experience some local on-the-go cuisine, like the Danish equivalent of a chip shop or something of that nature. However, I found myself instead walking up and down what appeared to be Svendborg's restaurant district, which was half full of cafes and stake restaurants. Then it hit me. Although I'm here mostly for Jae's benefit, I'm actually on holiday myself as well. Bugger it, I thought. I'm going to treat myself. So, without further ado, I wandered into one of the better-looking stake restaurants on a mission of dinner for one!
I wouldn't normally splurge on a nice steak dinner at a fancy restaurant, but I figure I can get away with it just this once – especially since we haven't been burning through our daily budget as fast as anticipated so far – even though this is still only day 2. Throwing caution to the wind and paying scant attention to the menu prices, I ordered based on the pictures instead of the numbers. It was all listed in Krone anyway, so that helped to psychologically distance me from the true cost of the event as well.
I plumbed for the spareribs with all the trimmings and a large glass of soft drink (at 750ml, it really was a large glass!). Suffice to say that about an hour later, after polishing off everything in sight – including a cheeky dessert of ice-cream and a hot chocolate fudge brownie – I hobbled out of the restaurant in a food coma induced daze and staggered towards the car park with a blissful grin stretched across my face. I'd eaten enough for a medium sized horse…or two…and a few cows also…and was now bursting at the seams. I needed to get home and into my pajamas ASAP!
I still had Jae's overnight bag in the car, so my trip home was via a quick stop at Julie's house to drop that off. Julie, Jae and their friends would all make their own way home…somehow…hopefully…I presumed.
Fortunately, I made it back to the guesthouse and our little room just in time and have been sitting here polishing off this blog entry ever since. All in all, a blissful day. Weather was again perfect. Kids were again all smiles. I'm now satiated and feeling rather relaxed. I'll slip under the sheets right after posting this blog and photos for the day. Nothing planned for tomorrow, so no real urgency with getting up and out of bed in the morning. We'll see how that pans out. Goodnight all.