Day 4 – Egeskov castle
Sunday 8th August 2021
Notwithstanding the downpour from yesterday evening, not to mention the cracks of thunder throughout the night, the skies this morning are clear and mostly blue. My weather app still predicts rain for today, but it has been doing that every day since we got here and the weather has been consistently sunny, so who knows what we should expect.
The temperature outside the guesthouse is cooler – and much more comfortable – compared to inside, so I left the bedroom door and the outer door open after popping my head out this morning to help cool the room down a little.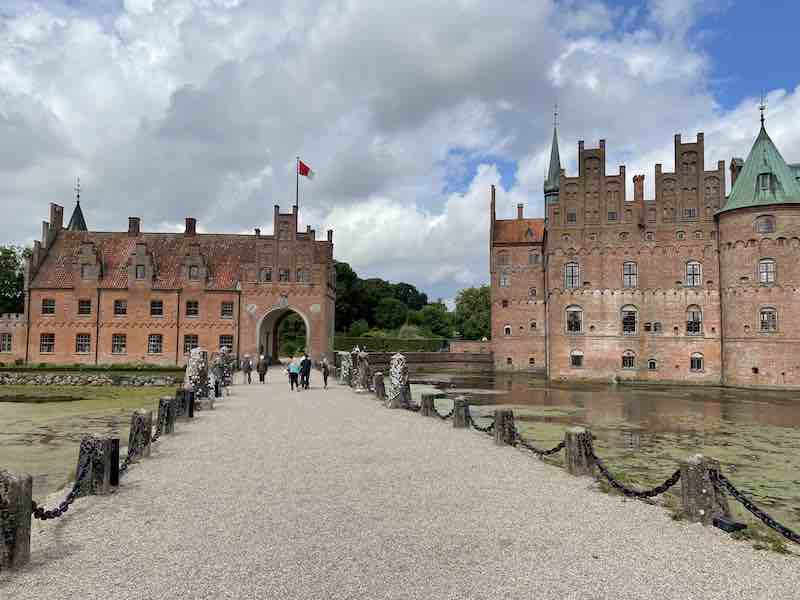 By the time I had finished the last of my dozing after initially waking up, I decided to do a quick supermarket run for some fresh rolls for me and croissants for Jae. We still have some sliced cheese and salami in our mini fridge so I could combine those ingredients into an impromptu packed lunch for us both for today. I asked Jae if she wanted to come, but I'd almost forgotten she's a teenager. If she doesn't get the full sixteen hours of sleep, she's practically a zombie in the mornings. After a bit of prodding, I did get a couple of teenage grunts from her, which I interpreted roughly to mean "Good morning, Daddy. What a wonderful bright new day it is today. Yes, I'd love to come with you and spend more quality time bonding, but you go on alone. I'll stay here and clean up the room for us both."
My satnav took me to a different supermarket this morning, albeit somewhere close to the one we went to yesterday. Fortunately, this one had a small bakery inside, which was a nice bonus. I didn't much care for the loaf of bread from yesterday. It was a little dense for my liking. I paid at the bread counter for my two soft rolls and croissants but decided to meander up and down the aisles just to see whether there was anything else that caught my eye. The only additional thing I found was a bottle of what I assumed to be fresh orange juice. Had I been thinking more clearly, I might have read the label with the aid of my trusty translation app. It has been quite useful actually. You just click the camera icon and point the phone's camera to something that shows foreign text.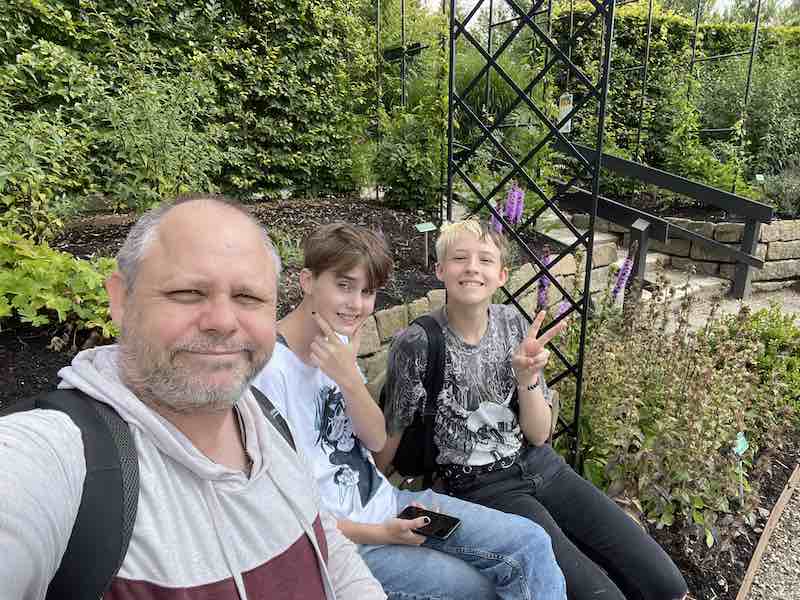 The image on the screen depicts what the camera is looking at but with the foreign words replaced with English words – live and in real time. I put this feature to good use yesterday a few times, such as when trying to read menus and things. It does sort of make it look like you're photographing everything in sight, but that's a small price to pay for the convenience it brings.
When I arrived at the checkout with my bottle of orange-coloured liquid, the teenager at the till (they're all teenagers) grunted something at me. I was still a little dazed from having not long awoken, but I eventually realised he was telling me how much I had to pay, which was 25Kr. I whipped out my trusty bank card and he immediately increased the cost to 27Kr. Evidently, it's slightly more expensive to pay with a card than with cash. I don't recall noticing this previously so I'm not sure if this was just something that this supermarket does or whether this is more commonplace throughout Denmark.
Anyway, with our packed lunch provisions with me, I got back into the car. I had been under the impression that we agreed to be collecting Julie this morning at 10am, so I called Jae to make sure she was awake, dressed and ready to go. There was eventually a voice on the end of the line. Judging by the indecipherable grunts and yawns, Jae was still not ready.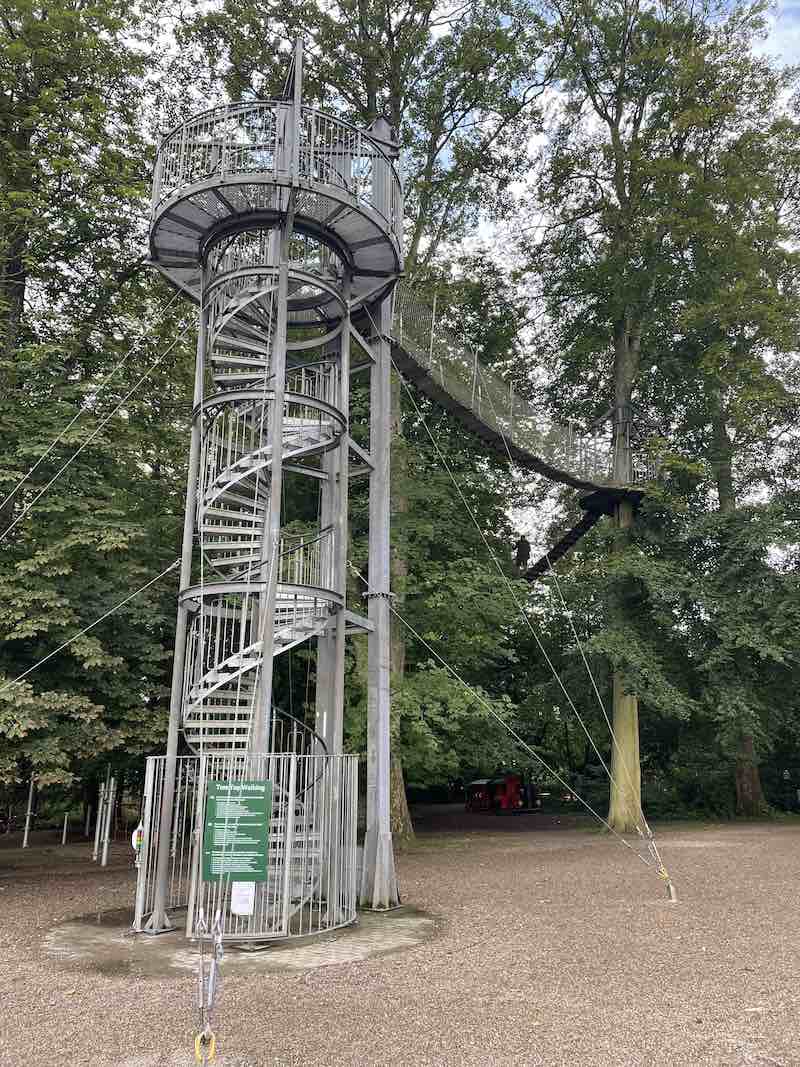 When I got back to the guesthouse, I found Jae still wrapped in blankets but now with a phone in hand and exhibiting the oh so familiar behaviour for this kind of life form – scrolling through endless brief TikTok videos. A brief memory flashed through my mind – something about Jae telling me enthusiastically about cleaning the room…or was that just my mind playing tricks on me? I brushed the thought to one side and went to make the packed lunch.
I told Jae we would need to be leaving here by no later than 9:30am, if we were to be collecting Julie at 10am. It was at this point that Jae pointed out Julie was under the impression we were collecting her at 11am. I furrowed my brow in a distinct 'are you sure' kind of way. Apparently, Jae had messaged Julie this morning and received no reply, a universal means of communication between teens that the child was probably still not yet awake.
Once we did end up connecting with Julie online, that was the degree of comfort I needed before setting off in the car, so Jae and I piled in with our packed lunches and we again headed in the direction of Svendborg. This time, however, I stopped to refuel. I did my best to judge how much fuel I'd need before we made it back across the border into Germany, where the petrol prices would be slightly more favourable. I don't suppose it'll make that much of a difference in the grand scheme of things, but every bit helps when you're on a budget…supposedly. Julie was, once again, outside her house waiting to be collected and, once again, full of smiles at seeing us turn into her street.
Now with all three of us in the car, we set off towards the middle of the island of Fyn to Egeskov Castle. Julie had in fact visited this attraction in years past. I haven't done a lot of research into myself it at all other than a casual Google search. Asking Google Maps for the best tourist attractions in Denmark flags Egeskov as one of the top 10 and certainly the closest one to us, with the obvious exception of all the Hans Christian Anderson attractions in Odense.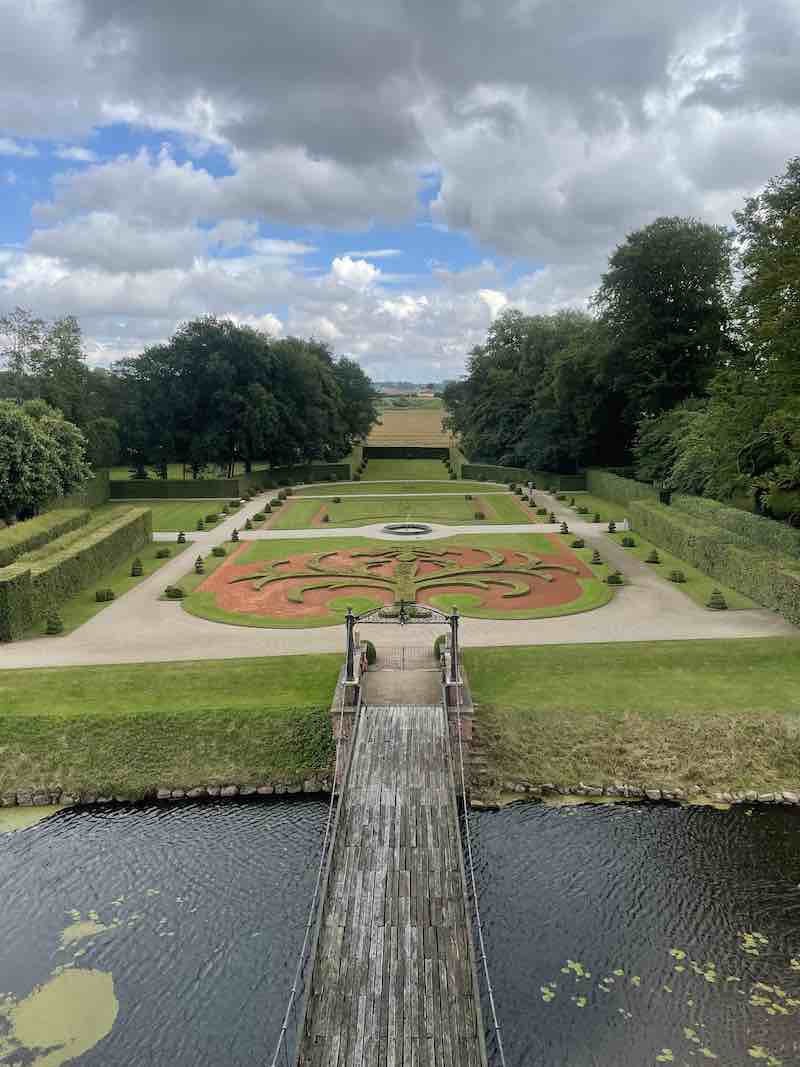 During the short car trip to the castle, we discussed with Julie our plans for our remaining time here in Denmark. Tomorrow is the first day back at school here. Julie is going to check with her school whether it would be OK for Jae to attend the school for a day. She already e-mailed her teacher about this but hadn't yet received a reply – likely because it's the school summer holidays. If the school is OK with it, and if this guesthouse has availability still, we may decide to extend our stay by a day to fit the trip to the school in. As I did a couple of author presentations to this school a few weeks ago, there's half a chance I might go in also to see the students I presented to in person. All of this means that we have tomorrow and the day after (Monday & Tuesday) that we can dedicate to visiting Copenhagen. The uncertainty of the school visit, however, means that today might also be the last time we see Julie in person, so we'll need to ensure we say our goodbyes at the end of today…just in case.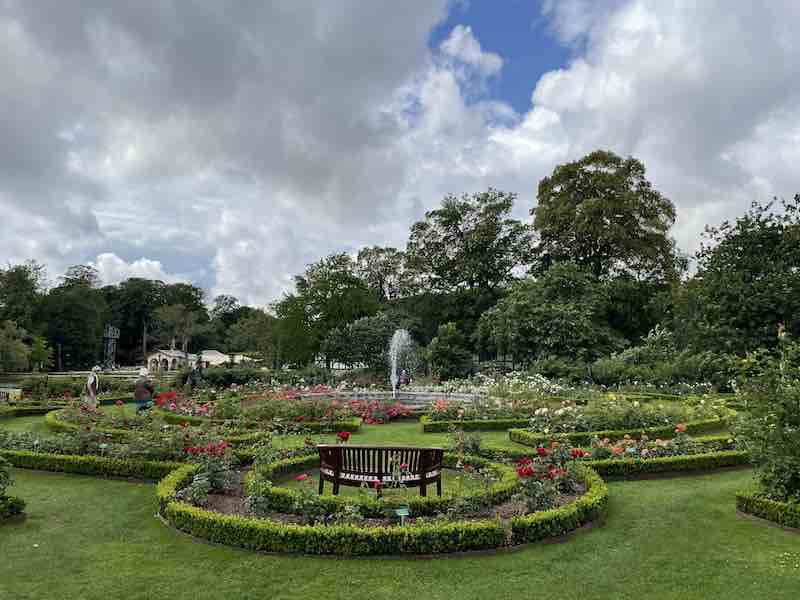 At the castle, we pulled into the car park, which was about half full. Fortunately, the rain had held off so far and it was again glorious sunshine. I was having trouble yesterday trying to book the tickets online, but it wasn't overly busy today and we were able to buy our tickets on the spot. Curiously, there was no mention of Corona passports, PCR tests of anything else of that nature. I paid for 3 adult tickets. Julie had actually offered to pay for hers, but I felt it was appropriate for me to pay, since she's our guest today.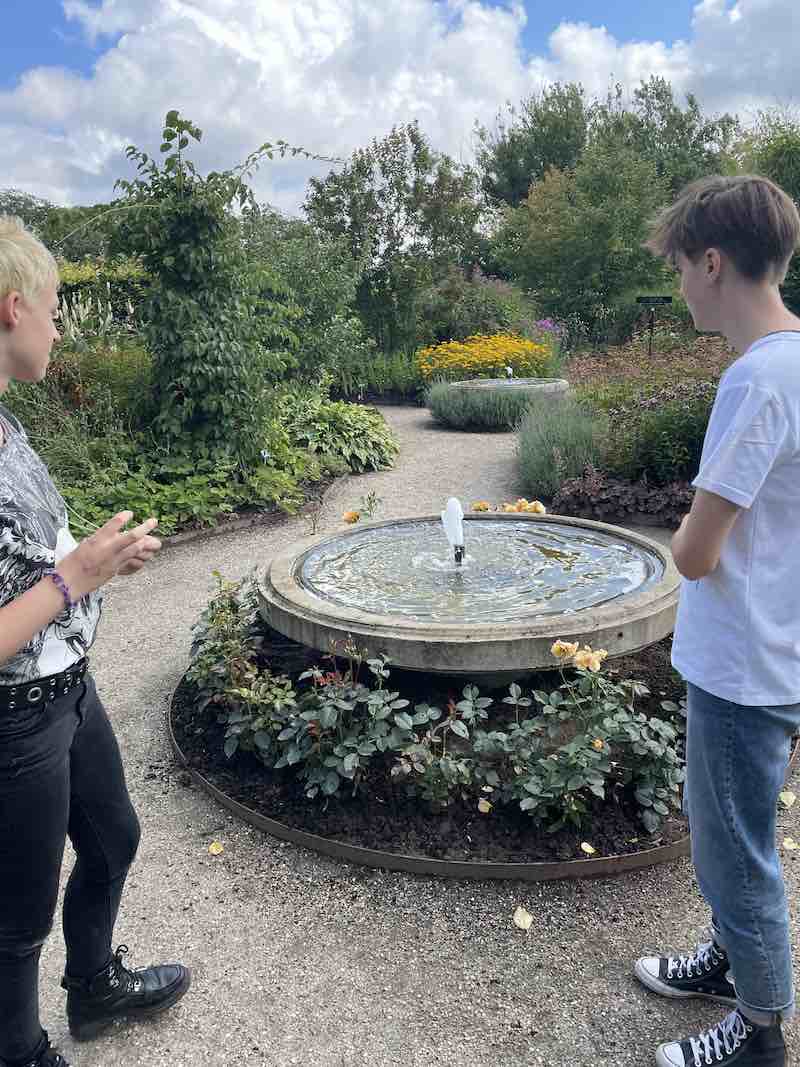 She did insist, however, that she buy us an ice-cream at some point today in lieu. I bought the tickets to the grounds as well as entrance to the castle itself, so we'd have full and unfettered access to all that was on offer today.
Since the sun was still shining, we first set our sights on the castle grounds. Dotted among the trees are a wide range of children's playground equipment, including various things to bounce on, crawl over and slide down. Much of this play equipment was for younger kids but Jae and Julie had fun on various pieces of apparatus, nevertheless.
As we had a reasonably slow start to the morning, it was by now nearing the noon hour, so we found a table and enjoyed some snacks. Some of these we brought with us but some we bought from the nearby snack counter. Of course, I had to mortgage the house and sell part of my liver for the privilege, but I guess that was to be expected from a major tourist attraction. That doesn't make the sticker shock prices any less palatable, though.
In the grounds near where we had parked ourselves was a treetop walk attraction. After climbing a spiral metal staircase a few stories into the air, you cross wobbly walkways between the trees. It was a nice diversion and afforded us some good vantage points to see the castle – which had more of the appearance of a grand stately home than an actual castle as I would imagine it.
Next up was the maze. Jae and Julie took the path to the left as we entered, and I took the path to the right. As luck would have it, the right-hand path led pretty much directly to a stairway up to the final destination, which was a raised and covered deck structure in the middle of the maze. This gave me a great vantage from which to follow the girl's progress as they tried to navigate the maze the hard way.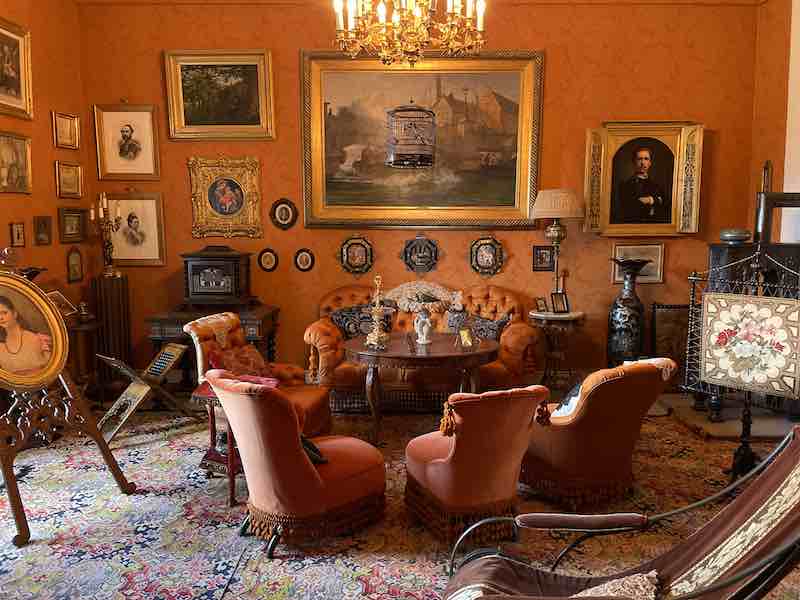 When they eventually made it, we all sat down and polished off the remainder of the slushy drinks we had brought from the snack shop. We all exited the maze structure via the children's slide. I still very much enjoy doing all the kiddies' things like this. I just wish my body would tolerate it more.
Various other attractions around the grounds of the castle included a range of things mostly for smaller children but there was also a couple of museum buildings. There was the camping museum, exhibiting various ways people have enjoyed the great outdoors through the ages. Next to that was the fire service museum, sporting a range of red fire trucks of different sizes and from different eras. There was also a curious motorbike museum, where rows upon rows of motorcycles were dangling from the rafters at about eye-height.
The museums were interesting to a degree, but not really the sorts of things that would capture the girls' imaginations, so we continued our exploration of all that was there around the castle grounds. There were a range of wonderfully manicured gardens, full to the brim with blooming flowers, pergolas, water features and the odd piece of modern art here and there. We all enjoyed these and spent a little more time simply relaxing under the sun on a nice piece of manicured lawn.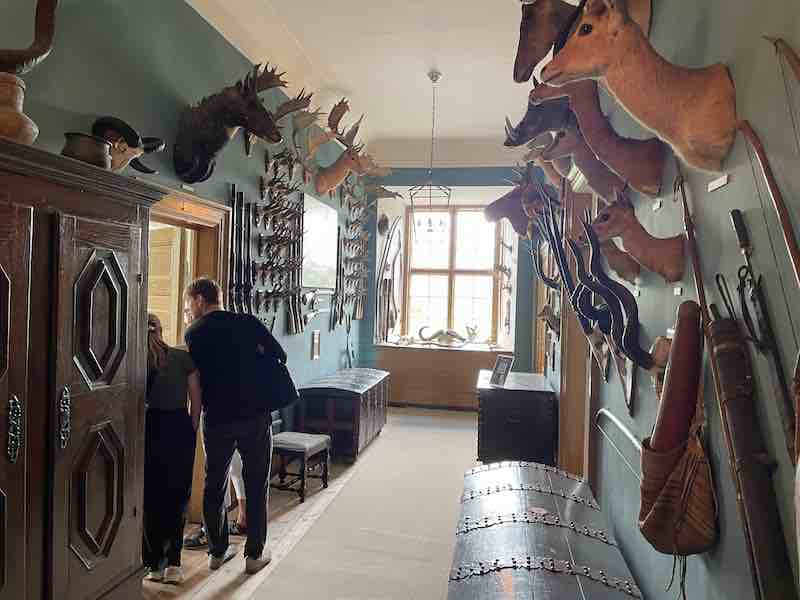 We had been slowly making our way towards the main castle building (there's actually two of them) and were by now ready to take it on, albeit we were all getting a little tired/lethargic by now.
The castle building itself is indeed an impressive structure. It's surrounded by a moat, or I guess you might call them small lakes. The waters were populated with lilies and other floating water plants. This made the entire thing look extremely tranquil and quite pretty to look at. It reminded me quite a bit of Leeds castle in Kent in England. I would guess it to be roughly of a similar size also.
Our entrance tickets were scanned on the way into the main building, and I was instructed to carry my backpack in my hands on across my front. Evidently, carrying a backpack on your back was not allowed. I didn't really get it but complied, nonetheless.
Progressing through the castle was an experience. Each great room we passed through was even more impressive than the last. There were rooms with weapons paraded around the walls, rooms with fine furniture that was clearly from another era, rooms with stuffed animals or animal heads mounted on the walls and so on.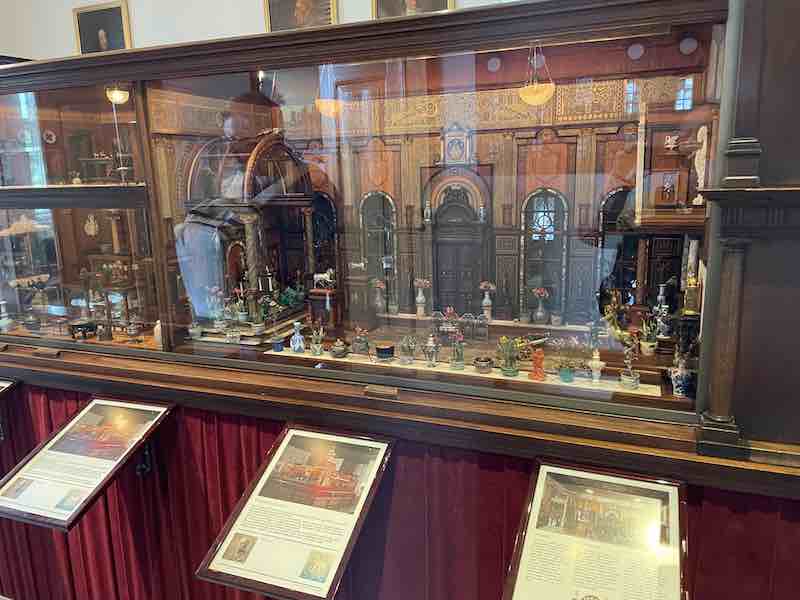 Side rooms, which you could look into but not enter, were also a good source of ogling. The castle has 3 main levels, not including the attic, which housed another museum of sorts – lots of antiek toys on display up there. Evidently, some parts of the castle which are not open to the public are actually occupied.
Perhaps the most stunning part of our journey through the castle was the room that housed the Titania's Palace dollhouse exhibit. The word dollhouse doesn't do it justice. Firstly, it's enormous, filling an entire room. It's sort of like multiple dollhouses put together to form one enormous stately home of a dollhouse. Each side of the exhibit had probably 4-6 rooms or more. Each room looked like it belonged in a grand stately home, just on a very small scale. The level of intricacy and opulence in the room designs, layout and furnishings was just breath-taking. I read one of several exhibit display texts dotted around the room that explained how it took twenty-five years to complete, with fine craftsmanship being brought to bear on making the furniture and fittings in each room from around the world.
My phone camera was in overdrive today at Egeskov castle. I only hope I can find enough space to display as many as possible when it comes time to populate this blog entry later tonight.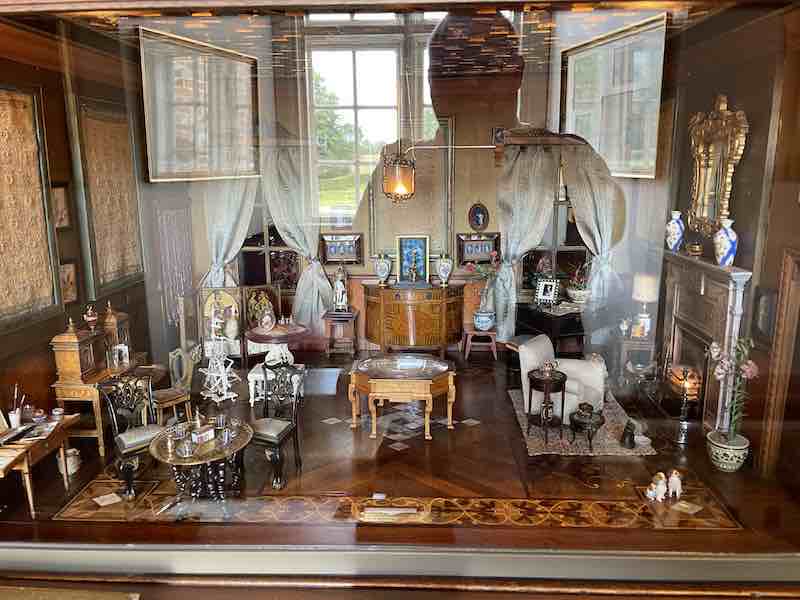 It was a little stuffy inside the castle. Some of the narrow corridors made it seem quite close with other members of the public shifting around. I think we were all glad to complete the circuit and make our way outside again. Julie wanted to make good on her offer to buy Jae and I an ice-cream, but I didn't want her to have to sell part of her liver for the privilege. Instead, I suggested we head back towards Svendborg and pop into the local MacDonald's there, where we could have a McFlurry or something. Neither kid needed any further persuading!
As luck would have it, we left Egeskov castle just at the right time also. The heavens started to open up finally (it had been predicted to rain all day). We made it back to the car just in time, getting a little wet but not soaked.
After a short jaunt back to Svendborg, we all sat at the Maccas and enjoyed some ice-cream for what may effectively be our last moments of quality time with each other. By this time, I think we were all quite tired also. Just in case the Wednesday trip to the school doesn't go ahead, and we drive back home instead, I suggested we drop Julie off and pop in to say goodbye to her parents. This we did, and we finished our time together with one last big hug with me, Julie and Jae together. It was an emotional moment for all.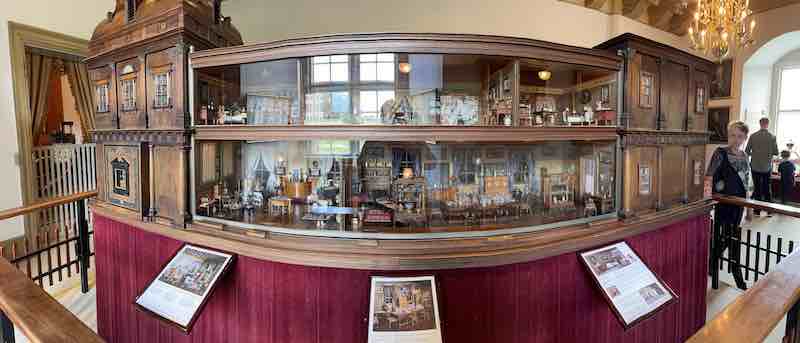 Back at the guesthouse, the last order of business for Jae and I was to figure out what to do about dinner. Before that, however, we both had a much-needed nap. It was gone 7pm by the time I was conscious again. Jae and I then spent some time contemplating our food options, before eventually landing on the idea of popping into a nearby supermarket to pick up some rice or noodles or something else easy to cook back here at the guesthouse. We have the use of the kitchen in the main house, so that gave us some more flexibility. In the end, Jae went with instant noodles, and I went with some boiled eggs with bread and butter. We also bought some things for our packed lunches for tomorrow.
All in all, it was a successful day today. Our thoughts now slowly turn to our day out to Copenhagen tomorrow. I chatted with Simon while boiling my eggs about the option of getting the bus (the bus stop is practically right outside the house) into Odense and then the train from there. The next option is to drive the car to the train station in Nyborg, which is closer to Copenhagen but still on the island of Fyn. This is what we'll probably do, as I otherwise need to buy the bus ticket and have that printed here first. Simon was good enough to offer me the option of doing that but I'm just too tired to bother with that and I still have to proof-read this blog entry and sort out the photos. It's almost 10pm here now and I'm about to drop. I also still need to take a shower.
All in all, another very successful day here in Denmark. I only hope we can keep up the pace for the final few days.