Europe - July 2017
Day 14 - Kerkrade to Center Parcs
Friday 11th August

Once again, a gloriously late start to the day was on the cards this morning. We couldn't leave things too late, of course, since we're checking out of Kasteel Erenstein. We'll be back here for another couple of days after a spending a long weekend at Center Parcs in Lommel, Belgium. For now, though, it was again that familiar routine of re-packing all the suitcases we've been living out of.
The exact same breakfast spread greeted us in the dining hall this morning. There were sine cereals, fruits, cols meats & cheeses and a bit of cooked food, like scrambled eggs, mini sausages & bacon.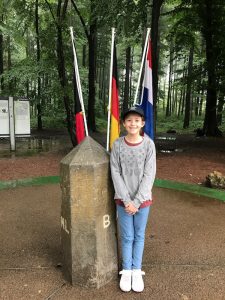 Nothing overly fancy. This being Holland, there was of course the obligatory hagelslag (chocolate sprinkles) and bread – quintessentially Dutch.
After breakfast, Sandy went to collect the last bits and pieces from the hotel room so I went to the reception desk to check out. The same young woman that was there when we checked in was also there this morning – along with the hotel manager. The manager asked me if we liked our room and enjoyed our stay. I mentioned, very politely and diplomatically, that the room was extremely dimly lit, that we struggled with getting the luggage upstairs and the issue with the kids' beds no separating. He was actually very nice about it all. Had it not been for the lack of staff at the time we had arrived, he insisted we should have been helped with our luggage and said that he would personally assist us when we next checked in. He did acknowledge that the particular room we were in was only equipped with a single spotlight and that the nature of the room shape and how this place is built, with narrow windows, lighting was indeed dim. When we come back here in a few days, we apparently have the same room booked. To try to address the issue with the beds, the manager offered us the option of a different room with different sleeping arrangements. Not really comprehending whether what we would be getting would be any better or worse, and also because I was still half asleep, I said that would be fine. They made the change in the system there and then.
With our car now bursting once again at the seems, we drove over to the centre of Kerkrade to collect Frank. We planned to do some driving around the countryside this morning and also to visit all the houses that we lived in here in the south of Limburg. We also planned to visit the drielandenpunt (three countries point), which is where Holland, Germany and Belgium all come together at the border.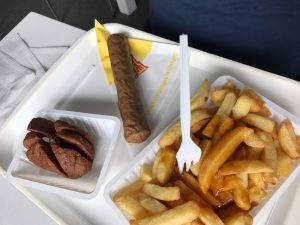 Frank was not working today and agreed to come along for the ride.
To get in everything we wanted to do this morning with the minimal of driving, we set off first in the direction of Vaals, for the border point. Sadly, the weather wasn't cooperating today and it was rain and drizzle for the most part all morning. Despite that fact, Jennifer in particular was keen to walk in three countries in quick succession by walking around memorial post that marks the actual spot. We didn't tell her that the actual political boundary was a bit of a hike through the surrounding forest and that the monument that indicates the spot is actually more of a touristy thing. Still, it's close enough.
Although Holland is extremely flat – and indeed partly below sea level – the south of Limburg is actually quite hilly. Near the border point between Holland, Belgium and Germany, in Vaals, is the highest point of the Netherlands at 322m. As such, getting to and from the tourist attraction meant driving through extremely picturesque rural towns, with hills and valleys stretching out into the distance all around us, providing for some stunning scenery. Perhaps it was the fact that we were enjoying the views so much that I lost track of the satnav directions and we actually meandered inadvertently into Belgium for a bit.
Once we were back on track, we completed our scenic portion of the drive and made our way towards the more populated areas to scope out all the houses we'd previously lived in. First up with Vliegenpool (that's the street name) in Landgraaf. This was where we lived up to the point we left the country.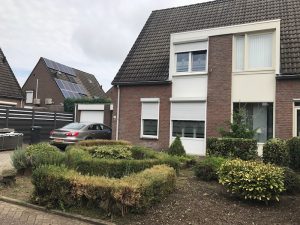 The house was chosen before it was actually built, and we were intimately involved during its construction. By Australia standards, all houses here in Holland are very small and I couldn't imagine us living here now. Of course, the kids had had their fill of sitting in the back of the car driving around and were starting to get on each other's nerves by the time we reached Landgraaf – not to mention ours. When we finally pulled up outside the house, Sandy took the kids to a nearby playground to stretch their legs and let off a bit of steam. That left me with the nostalgic walk along the street to take some photos.
Our next tour stop was the aged care facility where Beppie, Sandy's mother, was cared for up to the time she passed away a few months ago. The Laedthof, that the name of the facility, was on the way to our next ex-house, which is located in the small town of Eygelshoven. It wasn't long before we were pulling into the Schweitzerstraat – another tongue twister of a street name. Once again, I stepped out and took a few snaps.
Our last stop on the where we used to live tour was the house that Sandy grew up in. Cannisiusstraat is in Bleierheider, which is a suburb of Kerkrade. This is the house I used to stay in whenever I visited Sandy during our three-year, long-distance courtship. I also lived there for a very short time after first moving to Holland, before we were assigned our house in the Schweitzerstraat in Eygelshoven. Many of the building around Sandy's old local streets have been replaced with new ones.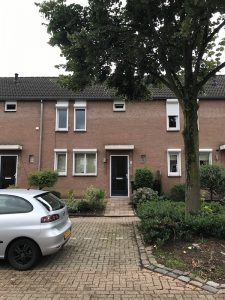 The house Sandy lived in has since been painted a different colour and has new windows and other improvements. Again, a few photos were taken for the sake of posterity.
Having completed our tour, it was time for lunch. We originally had high hopes of going back to the buffet from last night. Alas, it wasn't open for lunch. Instead, Frank directed us back to the Roda JC stadium and entertainment complex, where he and Jennifer enjoyed a nice pizza whilst Sandy, me and Joey elected for a friture (chip shop).
Notwithstanding the irritable kids from the driving around, we thoroughly enjoyed our time out and about with Frank this morning but it was now time to drop him off in Kerkrade again and to head out towards Belgium and our three day stay at Center Parcs in Lommel.
The drive out to Belgium was a relatively peaceful one. The car drives very comfortably and I'm just about getting familiar with all its bells and whistles. We did end up in a traffic jam for about 20 minutes – this was right about at the time Jennifer declared she suddenly needed to use the toilet…urgently. Nice. We were in the outside lane with a huge row of trucks on the inside lane which weren't moving at all. We therefore had no way of stopping the vehicle – not even by the side of the road. Fortunately, our turn off inches towards us and we finally escaped the traffic jam. A few minutes thereafter we found a Maccas, so we stopped there for bio break for everyone…and some Maccas, of course.
As luck would have it, added to our meal was a 2-for-1 voucher for Center Parcs. Since we're expecting some guests tomorrow, these would come in very handy, so we picked up a couple. It wasn't until we'd later arrived at Center Parks de Vossemeren that they explained the vouchers aren't valid until mid September.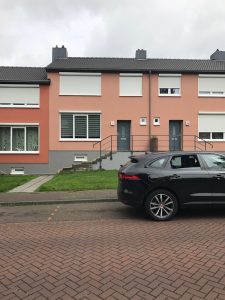 Oh well. Nothing ventured, nothing gained.
Check-in formalities were fairly swift. As the recipient of a VIP cottage, they gave us three vouchers, which can be used towards various activities here. Being a car-free park, we were afforded the opportunity to park up and unload at the cabin but I then had to remove the car to the car park.
I had originally thought there were three bedrooms when I first booked our cabin. On that understanding, we invited some guests to stay with us, since there would be a spare bedroom and we were allowed a total of six people to occupy the cabin. Somewhat embarrassingly, that idea had to be quashed when I checked again on the Center Parcs website. On second glance, it appeared there were only two bedrooms after all. I assumed it was two bedrooms for a total of four people and a further two on a pullout couch or something like that. As luck would have it, the guests we invited were unable to overnight with us after all. I mentioned to them just how fortuitous it was that they had decided this and explained about the embarrassing confusion about the number of bedrooms. When we got into the cabin, we had a quick look around. There are three bedrooms after all. Doh!
Everything was in order with the cabin and we will be very comfortable here for the next three days and nights. There was a light not working in one room, so I called that through and they were going to send someone to fix it for us.
After un-packing, or rather making a huge mess with everything strewn about the place in a deceptively random fashion, I took the kids to the main reception to hire them each a bike and helmet for the duration. That set me back about €45.
One of the main activities here in the park is a huge, indoor swimming complex. With wave pool, slides, a lazy river and even an outdoor river rapid course, it's a fantastic place. It's adorned all over with tropical trees and plants and the water is quite warm just about everywhere. Keen for the kids to take advantage of this, we all set off in that direction after packing all our swimmies. It did take Joey a little while to acclimatise and become comfortable but otherwise everyone had an absolute blast. That was right up to the point that we lost Jennifer and she re-surfaced a while later in fits of tears because she'd lost us. There was never really any danger of her staying lost for very long. The place is hermetically seals, so to speak. Still, from her point of view, it must have been a scary thing to happen. Extra hugs and comforting her eventually calmed her down and she was very soon thereafter wearing a new grin from ear to ear.
We really did have lots of fun in the swimming complex. It has to be said, however, that it has been over 20 years since we last stayed here. Neither Sandy nor I can remember our muscles complaining as much back then as they did tonight. Since the kids' bedtime had already been and gone, we all went to the changing rooms to dry up and get dressed. Once again, Jennifer got lost. Somehow, she got it into her hear that it would be OK for her to leave the changing rooms on her own to go and explore some more fun things on the other side of the turnstiles. That would have been perfectly fine had she told us that's what she was doing. We spent the better part of ten minutes frantically looking for her and thinking she was sitting somewhere in fits of tears and afraid again. Mummy was not pleased.
Before we left the swimming complex building, we wandered around a bit. There are various restaurants, shops, games rooms and all manner of other interesting things to see and do here. There's a convenient supermarket here as well, so we stopped in to collect some provisions for the tonight and tomorrow morning. By now, we're running low on ready cash, so I'll have to remedy that in the morning with shifting some currency around. We had enough for our shopping trolley full of food and made our way back to the cabin.
One of the nice perks of having a VIP cottage is that it comes completed with its very own sauna and we were both keen to give it a try. Despite having switched in on a good 45 minutes earlier, however, it was still stone cold, so I called that in as well. The same guy that came earlier to fix the broken bedroom light showed up to inspect the problem. As it turned out, the problem was human error. Turning the dial too far engages the timer, so instead of coming on, I had set the timer for it to come on in a few hours. Once this problem was rectified, the sauna did indeed heat up and we enjoyed it whilst it lasted before showering and slumping into bed.