Europe - July 2017
Day 16 - Center Parcs
Sunday 13th August

It seems I'm getting into the habit of being the first out of bed lately. Everyone else was still slumbering soundly when I found this morning's batch of fresh rolls in a bag by the front door. Taking advantage of the calm before the storm, and knowing that we now had two extra guests, I popped over to the supermarket by the swimming complex main building in the centre of the park. I picked up some fresh ham, cheese and bacon. People were only just starting to rouse by now so I gave them a bit of a nudge by laying the table with a traditional Dutch breakfast spread – but also including some cooked bacon and scrambled eggs.
Once everyone had his or her fill, I tidied everything away and we all readied ourselves for the fun day ahead. The intention today was for Karin, one of Sandy's older sisters, and her family to join us for the day. Karin, her husband Wiel and son Max, all arrived at around 11:00. Karin's other son, Kay, and his family arrived about at around noon.
As is the routine now whenever we reunite with someone we haven't seen in ages, we all just sat down and caught up with all the latest news and goings on. The kids were all amusing themselves in the woods behind the cabin. All was well in the world.
By around 1 p.m. we had already partaken in some lunch with the daily delivery of fresh rolls, and the kids were now chomping at the bit to get into the swimming complex. Since some of the adults weren't planning on getting wet, we split into two groups. Me, Max, Kay and Anton took all the kids whilst Sandy stayed behind with Karin, Wiel and Sarah. We figured there was at least one responsible adult in our group…although nobody was actually putting their hand up for that.
I already had six tickets to get us into the swimming complex and so just had to pick up another couple of child tickets at the counter when we made it to the swimming complex. With all the visitors and guests in the park today, it was quite busy in the changing rooms. It didn't help that they're not especially well designed of laid out. There's a family changing room, or at least an area identified as such. It has three non-lockable doors and the walls are all made from lockers, so people are walking in and through all the time – in other words, absolutely no privacy. Still, we somehow all managed to get into our swimmies and into the dome, where the kids wasted no time in finding their favourite slides and rides.
With people darting off in different directions all over the place, we did get separated from each other a few times. As I predicted this would happen, I made sure to first reserve a table in a prominent location that everyone was familiar with. It was a useful meeting point on several occasions. Everyone enjoyed himself or herself, exploring all the nooks and crannies the sub-tropical paradise dome had to offer. One of the favourite attractions was the outside river. Water enters the river from a pool at the top level and runs through a series of bends with a few pools here and there along the course. You get swept away in the rapids each time the water courses around a bend and down a hill. It's probably the best water slide I know – and that's saying something given the number of countries I've been to and lived in.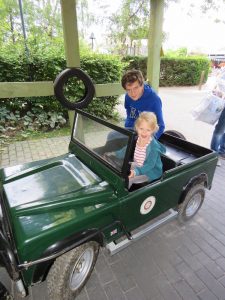 As I was looking after Joey, Jennifer and Elysa's swimming bags and things, I secured two lockers and was wearing the locker keys on my wrist for the duration. At one point, part way through our visit, I just happened to notice that one of the locker keys was no longer there. It had fallen off my wrist, I guessed, some time in the past quarter of an hour. This probably happens all the time and I'm sure it would have eventually been handed in. However, in the off-chance it may have been found by someone less concerned about doing the right thing, I spoke to a member of staff and they arranged for someone with a master key to open the locker in question so that I could relocate its contents to a new one.
The fun under the dome was intense but even fun can have its limits. By around 4 p.m., the adults among us collectively decided it was time to cut and run. After rounding all the kids up, we made our way back to the lockers to get dried and dressed.
As it turned out, the others that didn't go swimming were already here at the central dome complex. They had evidently been watching us from an outside viewing platform and had now stationed themselves at a table at one of the several restaurants here. All of us swimmers made our way to where they were sitting and plonked ourselves down with them. It was another chance to sit, relax and catch up on some chat. Between the company, the summer sunshine and the few things dotted around us to keep the kids amused, it was a lovely opportunity to just unwind a little. Eventually, thoughts turned to dinner and just how little energy we could get away with to organise it all. Fortunately, the wait staff here were more than happy to take our orders and or to allow us to pick something up from any of the other restaurants here and to bring it here to eat. That worked out well, as some people ordered from the menu and some collected from a snack bar (chip shop) just a few meters away inside the main building.
One of the things to occupy the kids where we were tabled was a pair of trampolines. You had to deposit €1 to lower a platform beneath the trampoline mat for six minutes at a time so that you could bounce up and down. Between our kids and the others of varying nationalities around us, the trampolines saw pretty much continuous use for the duration.
One of the inherently nice features about Center Parcs holiday villages is that each one is situated within a nature area, so you really get the sense you are sitting in a forest. Of course, the downside to this is that the nature sometime encroaches on your ability to enjoy yourself. In previous years (and I'm going back probably 20 years or more now), we had problems with infestations of ants in the cabins. We've not seen any ants this time around but we did have problems with some other insects. Where we were seated, there were the occasional wasps buzzing around. At one point, the tranquil hubbub of conversation was suddenly pierced with an escalating shriek from Noah, Kay & Sarah's son. A wasp had stung him on his calf and he had to be taken to the first aid office for treatment. They came back after fifteen minutes armed with a small dish of vinegar solution. This came in quite handy when not half an hour later a girl of around Jennifer's age started screaming on the table adjacent to ours. A wasp had gotten caught under her top on her back and had stung her as well. The small dish of vinegar solution was immediately handed over.
With tummies now full again, we all meandered back to the cabin. It wasn't long thereafter that Kay and his family had to leave, so we walked them to their car to say goodbye. The Jaguar rental car we have has proven quite the tourist attraction in its own right here and we stopped by our car park on the way to show it to Kay.
Due to a slight miscommunication, it turned out that Anton and Elysa had now also departed. A quick phone call between Anton and me and he arrived back at the main entrance a few minutes later so that everyone could more formally take their leave from each other – particularly Elysa and Jennifer, who have grown so close over the past couple of days. It was really nice to see Anton and Elysa again and we will miss them dearly. It's just such a shame that the timing meant that we weren't able to see Calvin, Elysa's brother, this time around.
Back at the cabin, it turns out that the new Lego toy Joey had acquired earlier this afternoon was now missing the all-important instruction manual. This was a major meltdown just waiting to happen. Somewhat in an act of desperation, I quickly cycled back over to where we had just had dinner in the hopes I might somehow still find it. When I say 'quickly cycled', what I really mean is that I somehow haphazardly jerked the child-sized bike in zigzag fashion into a roughly forward motion with my knees banging repeatedly into my chest with each peddle cycle…and scaring the shit out of on-comers (on both sides of the road) all over the place as I careered from one side of the road to the other back and forth. When I got there, exhausted from the inefficient exertion, I half expected to collapse with a cardiac arrest and had to take a few moments to compose myself. Anyway, I had a good look around where we had been seated but, alas, nothing. The tables had by now been re-positioned and occupied by new restaurant guests. In a last-ditch attempt, and given what I had just gone through to get here, I asked one of the wait staff if they had by chance found anything. She had a rummage around and, miraculously, the 20-page booklet was right there on her podium along with some other lost property. Phew! Catastrophe averted.
On Max's request, I stopped off at the supermarket on the way back to the cabin to pick up a few bottles of beer.
Back at the cabin again, after inadvertently nearly killing several Belgian's on the way back, everyone settled in for a final round of enjoying each other's company. The kids were all playing with toys in the wooded area immediately behind the cabin. Once again, it was a precious few relaxing moments for us to enjoy. It was a pity it had to come to an end. As dusk began stealing the remaining daylight from us, we walked Karin, Wiel and Max to their car. Once again, we are saying goodbye to loved ones, which is always tough. Since we're seeing them in a few days time, it was at least not a protracted goodbye...for now.
Back to the cabin for the last time and the usual end of the day closing down routine kicked into gear. I switched on the sauna as Sandy tended to getting the kids all settled and tucked in for the night. Some quality relaxation time in the sauna rounded out what was a very successful day.