Europe - July 2017
Day 17 - Center Parcs to Kerkrade
Monday 14th August

Sandy and the kids were still asleep when I got up this morning. First order of the day, after emptying my bladder, was to see what the fresh roll fairy had delivered this morning. Alas, the assortment this morning wasn't nearly as good as yesterday's. For any normal family, I'm sure it would have been perfectly fine. Many of the rolls had raisins in them and it was mostly hard rolls, as opposed to the soft ones we prefer. Still, between what the roll fairy delivered, the cereal and meats we still had, we were all able to enjoy a nice breakfast…once everyone else woke up.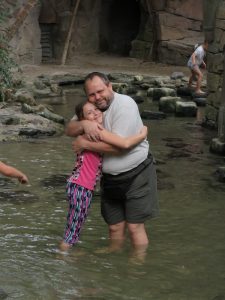 As today is a travel day (it seems like most of them have been), Sandy started packing everything again. Seriously, it takes us just five minutes to unpack everything into a total mess but a good hour or more to figure it all out again and cram everything back into the suitcases. That being said, Sandy is becoming quite adept at it all. The scope of this morning's packing endeavour, however, looked like it was going to take a week. Living out of our luggage is probably the one most draining aspect of family travel.
I left the cabin once the packing was mostly complete with the intention of collecting the car from the car park so we could load up. Twice a week here is when there's a mass check-in/check-out. This coincides with the weekend and mid-week schedules. During these times, vehicles are permitted into the park and up to the cabins so you can load and unload. Each cabin has a designated parking slot. The neighbouring cabin and ours shared a double slot. Unfortunately, it was occupied by a vehicle with a French license plate that had decided to park right in the middle of the double slot. The driver was with the car at the time so I asked, using most hand gestures and body language, if he could please pull his car forward so that another vehicle could get in behind him. To his credit, by the time I had arrived back, he did pull the car forward. Alas, it still didn't leave enough room for the Jaguar and he had by now left, so I had to contend with parking on the far side of the road in another cabin's empty slot. There didn't see to be any movement visible in that cabin so hopefully it wasn't going to cause any grief.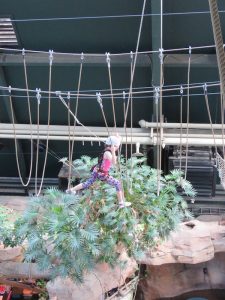 There are clusters of big rubbish bins dotted around the park. It just so happens that one such cluster is right outside our cabin. It's too far away to be of any hindrance and the proximity actually benefitted us today with tossing out the several bags of accumulated rubbish we had.
Technically, we're supposed to be out of the cabin by 10:00 a.m., although it was already pretty clear early on this morning that was never going to happen for us. We simply had too much stuff to pack away and, frankly, I didn't really care if we were going to miss the deadline. I had pre-paid everything and they didn't have an imprint of my credit card. Other than reminding us of the obligation to vacate the cabin by a certain time, I doubt there was really anything they could do to press the issue if it ever came to it.
We drove over to the main reception, where I handed in our two cabin door passes. With so many new guests checking in today, the parking attendant asked me to park the car in the visitor's section, just across the road. I think the car ended up actually closer to main reception from where we parked there compared to where we were in the main section.
One of the perks of being a VIP cabin reservation was being handed three vouchers upon check-in. These could be used for activities throughout the park, renting bikes and so on. I could have used them when I rented the bikes but I wanted to keep them just in case there was something else – some other adventure activity – the kids wanted to take part in.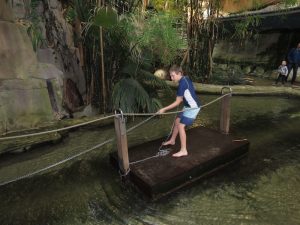 Since we still had those three vouchers with us, we needed to use them or lose them.
Although we didn't need the vouchers for it, we made our way over to the new Discovery Bay indoor play hall. This wasn't here when we were last here (although we were last here over 20 years ago) but it did look pretty good on paper. Our park passes allowed us in. Probably the best way to explain the Discovery Bay is that it's a pirate themed adventure park/playground inside a large hanger. It's all decked out with lots of nooks and crannies for the kids to explore, including a sandy beach, stream, pirate ship, climbing ropes, slides and so on. Just like inside the swimming dome, there are lush trees and bushes growing all over the place, so you really feel like you're marooned on a dessert island. Hanging from the rafters is a climbing course. You strap on a harness, clip on to the guide wire and then make your way around the course, climbing over obstacles, navigating ropes bridges, etc. Jennifer was keen to give this a try so she and I tagged on to the end of a small group of people waiting to get onto the course. It was only after the attendant had tended to everyone else and it was our turn that it became clear this was a separate activity that had to be paid for. No worries, I thought to myself, since I have three vouchers in my pocket.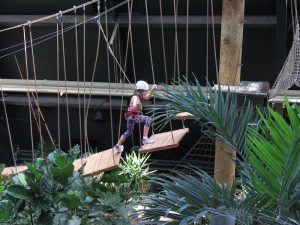 Alas, the attendant explained I would need to visit the bookings desk and the swimming complex, as the activity only ran at certain times and also needed to be paid for in advance. Hmmm.
We walked away a little dejected…although not for long. The kids did a bit of exploring within the hanger and I found a quiet spot to make a quick phone call. I called the bookings desk and explained that we were already here and wanted to take part in the climbing course. Notwithstanding a very dodgy phone connection, which was so bad at one point I had to hang up and re-dial, the woman was very understanding. She suggested I plead with the attendant here to see if he was willing to bend the rules for us. Whilst the kids were still playing…somewhere…I went back to have a chat with the attendant. To be honest, I was a bit cheeky. I told him I didn't want to (indeed couldn't) leave my wife alone with an autistic child but that I had the vouchers and really wanted for my daughter to have a crack at the course. In essence, I played the autism card, as we call it. It doesn't happen very often but every now and then, we have done this. We did this at the airport when we arrived. We played the autism card to try to circumvent the huge queue to go through the immigration checks. We also did it at the catacombs in Paris – again to circumvent the long queue. The attendant was actually very good. He completely understood the situation once I explained it all and he was extremely accommodating. He took the voucher from me and started decking Jennifer out with a safety helmet and harness.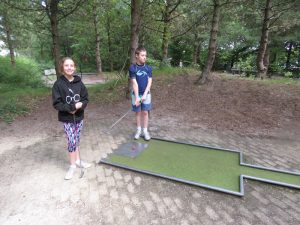 In fact, once she was on the course, he surreptitiously gave me the voucher back to re-use elsewhere. Bonus! J
After an hour and a half, we had exhausted all the fun there was to have at Discovery Bay. Perhaps the most noteworthy thing that happened whilst we were there was that Jennifer got stuck at one point on the overhear assault course. Being so short, there was one point where she wasn't able to get the attached rope up and over a particularly high section of the guide wire. Fortunately, another guest on the wire ahead of her was able to double-back and assist her. Jennifer was stuck for a good few minutes and didn't particular enjoy that at all. We made our way back to the front of the building to head out and find somewhere to have a bite to eat. That turned out to be the same place we ate at yesterday. Still eager to use up our three activity vouchers, we decided we'd give the mini-golf a try. It turns out there are actually two different mini-golf courses here. One is inside a sports hall adjacent to the bookings desk in the swimming complex. However, bizarrely this is not actually run by Center Parcs themselves. It's a different company and entrance needs to be paid for separately. I didn't really get it and neither did Sandy. We chose instead to do the outside mini-golf and duly handed over two of our three vouchers for the privilege.
The mini-golf was, on the surface, a good idea. It was fun for a while but the general levels of enthusiasm for the activity petered out after a short while. It was almost as if we were trying too hard to have fun. If I'm honest, I was glad to reach the last hole so we could call it a day. I think everyone was.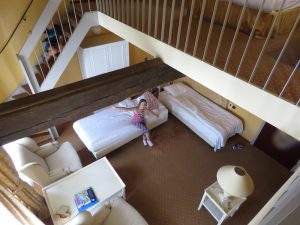 As we'd promised Joey one last chance to have a go on those trampolines from yesterday, we made our way over there to kill a last quarter of an hour. With that, we made our way to the car, loaded up and were on our way back towards South Limburg and the hotel at Kasteel Erenstein.
As with all the trips we've taken with the Jaguar, the trip was comfortable and passed without much fanfare. At the hotel, we checked in. A truck loading hotel laundry was in the way of us getting the car close enough to unload, so I parked myself at a café table out the front of the building for ten minutes whilst I waited. Despite the hotel manager telling me at check-out a few days ago that someone would assist us with our luggage at check-in again this time, nobody was around to do so. Guess who dragged half the house upstairs to our room again?
After getting settled in – and by that I mean we had spent all but five minutes unpacking and making the place look like we'd lived there for the past six months – we drove the few minutes over to Diana & Lei's house, where we would spend the rest of the day enjoying their company.
Once again, we slipped into conversations with Diana and Lei like we had never been away. This time, both Ron & Remon, their two boys, were both there.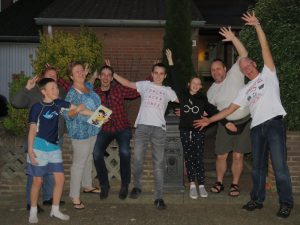 Lei showed us his pride and joy – a tidy little caravan they've been using for brief trips away here and there. Caravanning is very popular here in Europe. I can quite easily see myself driving up and down the country with a caravan in tow should we ever decide to come back to Europe. Remon also showed us the 3D printer that he made himself, which I found particularly interesting.
Thanks to Remon, who did all the cooking, we enjoyed a lovely BBQ meal in their back garden terrace. The weather cooperated nicely and it was a truly relaxing evening - again.
At the end of the evening, we bid our final farewells to Diana, Lei and their kids. After a few group photos in the street, we pulled away and waved one last sad goodbye. Back at the hotel, the routine to get settled and to sleep was largely uneventful, albeit somewhat sombre.