Europe - July 2017
Day 18 - Kerkrade
Tuesday 15th August

Yesterday was a very long day. Actually, to be honest, every day for the past two weeks has been a very long day. Our stay at the Center Parcs holiday park was to be the holiday within the holiday and our chance to recharge our batteries. Somehow it ended up being just as full on as everything else has been here. That's not to say we didn't enjoy ourselves – we most certainly did. It just means we are now extremely knackered…still. Consequently, we all got up a bit later than we would have liked this morning. I went down to the breakfast hall with about thirty-five minutes before breakfast closed thinking I could just park myself at a table and gouge myself on some delicious cooked breakfast. That was to be the first disappointment of the day. Instead of an inviting table all laid out waiting for us, what I found instead was a worker diligently cleaning all the tables clear of everything. Hold on! Isn't breakfast served until 10:00 a.m.?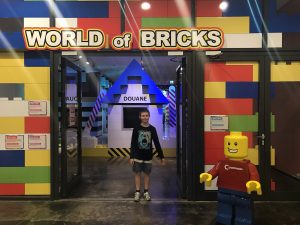 I checked at the buffet table and there was no hot food left. The scrambled eggs tray was empty. The bacon tray was empty. The sausages tray was empty. When I questioned this, I was told, by a rather less than friendly and accommodating member of staff, I should have come to breakfast earlier. When I reminded the bitch her that breakfast was supposed to be served until 10:00 a.m., she said, rather dismissively and snobbishly, that she could organise some more food but that it would take 45 minutes. We planned to be gone within a half an hour so that was clearly not an option. Quite frankly, I was seething inwardly but simply lacked the energy to take on the battle. The woman walked off and continued to clear away more tables. She wasn't just clearing away the tables that guests had sat at and already eaten. She was also clearing away all the undisturbed tables – almost as if to say that we weren't even welcome here any more. I cast an eye around and found two tables at opposite sided of the room still yet to be cleared away, so I took the cutlery from both and repositioned them to a four person table and sat there. When Sandy arrived, she was equally unimpressed with the whole breakfast operation – especially as it was still a long way from 10:00 a.m. In the end, we had to make do with the remains of what was at the breakfast bar, which meant cereals, bread rolls, cheese and ham. NOT a happy camper!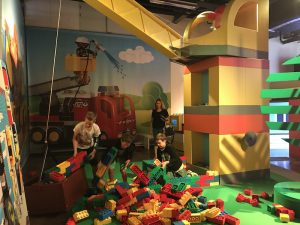 Trying desperately to put the failings of Kasteel Erenstein behind me, the plan this morning was to drop Sandy and Jennifer off in Heerlen so they could meet up with Sandy's sister, Carla, for an hour or two of shopping. This I did. Joey and I then went back to Kerkrade to spend the morning at the Coninium museum and exploration centre. Frank had spoken highly of this and the Lego exhibition section of the attraction was sure to keep Joey occupied for the duration.
Armed with a couple of €2 discount coupons I had picked up from the hotel reception, I parted with €20 for both Joey and me to get in. Inside the building there are several exhibition spaces, all of which are packed with a plethora of fun, hands-on exhibits. One of the larger exhibit halls was a Lego builder's dream come true, with dozens of Lego tables packed with building bricks. Joey was in his element and even I had a bit of a play on some of the tables.
The non-Lego portion of the attraction was mostly science experiments and the like. There were even a few rooms dedicated to hands-on hobby building using things like 3D printers, electric circuits and all manner of other things.
At one point, there was an announcement over the loud speaker that there was a science show going to be starting at 12:15. As this was about half an hour from now, we slowly made our way to where we needed to be.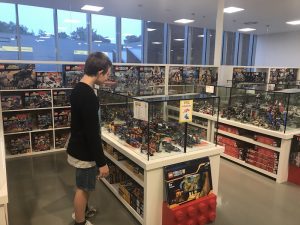 By the time we arrived, there were about 20-30 other people waiting at the closed double doors to the amphitheatre. A steady trickle of people added to the waiting group but the 12:15 time slot came…and went. After about 10-15 minutes of waiting, people were getting antsy. There were no staff around and several people, myself included, were wondering what was going on and when the doors would open. A child pried one of the doors open just enough to reveal the theatre was already full of people and a talk was in progress. Initially, I thought that might have been the tail end of the previous show that hadn't yet finished. Unfortunately, that turned out to be the 12:15 showing already – which was now full. Evidently, for reasons best known to themselves, they had started the presentation ten minutes early – much to the annoyance of the crowd that had now assembled. Once this word spread, the crowd dispersed. Joey wanted to spend some time having a look around – where else – in the shop. There was a wide array of Lego on display in various display cabinets and Joey scoped it all out. Since I was thinking of meeting up with Frank today, I convinced him to hold off on buying something just for now.
As it was now well into the lunch hour, Joey and I left Continium and I drove us over to Kerkrader Center for some chip shop lunch.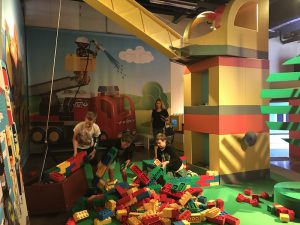 From there, I called Frank to see if he was home. It just so happens that the friturer that I chose was the same one we visited upon arriving here in Kerkrade last week. It's literally a minute's walk from Frank's apartment. As it turned out, Frank was at work. We was able to make time for us but we'd have to visit him there. Since we had by now ordered lunch, I said we'd collect Sandy and swing by a little later this afternoon, which he was happy with.
I called Sandy and she was happy to meet us at the Kerkrade train station, as it's a short ride to there from where she was in Heerlen. This gave Joey and me just enough time to go back to Continium to find a piece of Lego he really wanted. With that purchase, along with a few free posters and stickers he was given by the man at the checkout, we left and went to collect Sandy. When I called again, she had already purchased her train tickets but it was going to be another half hour before her train arrived. Since we could be there in under ten minutes, and given it was now raining on and off, we agreed I'd drive past and collect them instead.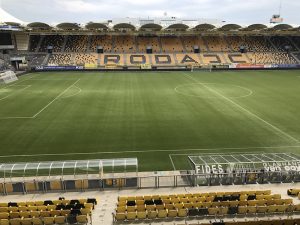 When I arrived in Heerlen, I was trying to make my way to the train station from memory. However, some of the road layout has changed since I was last here and I struggled to figure out where I was goin. As luck would have it, Sandy spotted the car on approach and flagged me down. Now all reunited again, we made our way to the Roda JC stadium to visit Frank again.
As one of the staff at the stadium, Frank has access to all the keys and offered us an all-access back-stage tour of the facility, which we immediately accepted. He showed us the media booths, sky boxes (those rooms at the top of the stadium that businesses pay big bucks for to entertain their clients whilst watching the game, the dugout, the expenses seats section, and just about everywhere else. It was fascinating to see it all. It was also just a little exhausting so we eventually bid farewell to Frank with the understanding we'd swing by again in the morning to see him for one last time.
Wanting to rest and freshen up a little, we made our way back to the hotel. I slipped into something a little less restricting and slumped onto the bed. Had I stayed there long enough, I would surely have dozed off. However, we still had plans for the evening so the rest was short-lived.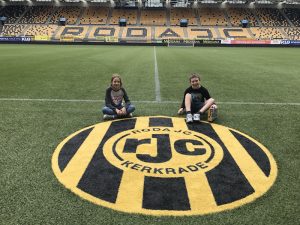 There are a few people I've kept in touch with over the years from the time we lived in the Netherlands. One of those is a good friend and ex colleague called Peter. Based largely on his enthusiasm for the music from Queen and Freddy Mercury, I call him Peter Freddie Williams (his real name is actually Peter Wilmsen). In turn, he calls me Christopher Darren Morning, on account that morgen (with an e) is the Dutch word for morning. Peter and I have enjoyed a friendly rivalry over the years – especially those years we worked closely together in Heerlen. Of course, I'm the more senior, technically proficient, handsome, clever and wittier of the two of us. Whilst in his company, of course, I like to allow him to think he is top dog 😉
Peter, and his lovely wife for that matter, hasn't changed a bit. We spent a lovely evening with them at their very nice house in Brunssum, along with one of their delightful, grown-up, daughters, Amber. I call her grown up specifically, since in my mind's eye, she was still the little girl I remembered when I was last here. Peter, of course, looks a lot older, greyer and less handsome than I remember but I guess time cannot be kind to other people like it has been to me 😉 In all seriousness, it was actually a good laugh and really great to catch up again with Peter.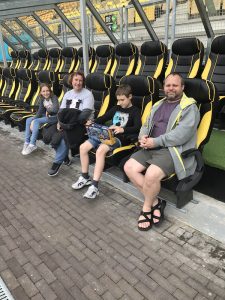 I've missed his humour and our rivalry. It was refreshing to see him and to fall right back into our banter again. I think we will continue to keep in touch.
The meal and company Peter and Irenea provided was lovely. Overall, it was a very relaxing evening and well spent. Jennifer dared to take a dip in the pool for a bit, which she said was good – albeit a tad cold. As I've said a few times now, however, all good things have to come to an end and we all piled back into the Jag and bid a fond farewell to the Wilmsen family.
The ride back to the hotel took about fifteen minutes and we were soon all settled and tucked in. What remaining time there was before falling asleep was spent relaxing and writing up further blog entries.