Europe - July 2017
Day 19 - Venlo & last full day
Thursday 17th August

This will be our last full day before beginning the long, and no doubt arduous, process of travelling back to Melbourne and our former lives. We have no further obligations to fulfil, no further places to go, nothing left to do or see other than to enjoy the company of Karin, Wiel and Max while we still can. The schedule is complete. We're just waiting for the fat lady to come on and sing before the curtain is lowered for the last time. It's a strange feeling to not have to concern myself with yet another pre-planned activity after three weeks of intensive schedule keeping. With nothing to compel us to get up and out of bed, I remained there well into mid-morning. I was half awake, in and out of consciousness, just enjoying the peaceful seclusion of the spare bedroom. It was a rare moment of true relaxation.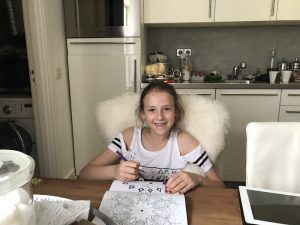 We eventually did all get up and dressed. Mostly we pottered about the house. Because of the late start, breakfast was a brunch affair. We did set the table for outside on the patio but the on-again/off-again nature of the light rain sent us inside – despite it being pleasantly warm. Wanting to enjoy that summer heat, we spent as much time as we could outside – between the short spells of light rain every now and then.
Sandy was doing the last round of packing and re-packing. Most of the suitcase contents won't see the light of day again now until we're back in Melbourne. Despite my ongoing concerns about getting the luggage into the car, Sandy had unfolded the brand new duffel bag. She was keen to expand this with bags of her favourite flavoured chips (crisps) and Nibbits, so she and I set off up the road to the nearby supermarket to see what they had in stock. She not only found the chips and Nibbits but also stocked up on some more liquorice, spices and other goodies only available here in Holland.
By mid-afternoon, we were all still just lounging around when someone had the bright idea we might try some bowling at a nearby bowling alley. It was a nice diversion and the perfect way to fill the remaining time we had. Despite the adults trying their level best, it was Joey in the end that won the game, on account of a couple of early strikes. We made him feel like a champion – even though his technique involved throwing the ball with both hands directly into the side rail and watching it bounce back and forth until it accidentally collided with some pins after a lazy meander.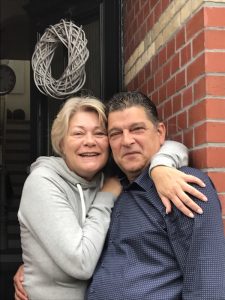 After the bowling, we split up into two cars. Karin took Sandy for one final round of last minute shopping whilst the rest of us made it back to home base. We enjoyed our last friture meal and rounded out the evening with socialising on the patio. Karin's humour was coming through loud and clear, as she kept showing me clips from a Dutch sketch comedy show called Komt een man bij de doktor (A man goes to the doctor). They are absolutely hilarious (admittedly you have to be able to speak Dutch, which I do) and the house rung out with laughter for the whole evening.
We were brought back down to earth this evening with a brief glimpse back at normal life. Probably for the first time since arriving, we caught the evening news on the TV. I'm almost sorry we did now. The Barcelona attack had just played out and the news was replete with reports about what had just happened. Will the madness ever end?
Since we will be leaving Venlo at around 7:30 a.m., tomorrow, I had a shower before creeping into bed for the last time.
Save
Save