Europe - July 2017
Day 6 - Harry Potter
Thursday 3rd August

So, today is a big day as far as planned activities is concerned. Later on this afternoon, we're going to be spending a few hours at the Warner Bros. Studio Tour to see the making of Harry Potter. Other than seeing friends and family, this is the one planned thing that we've been most eagerly anticipating. Butterflies are already starting to form in our tummies.
I didn't eat any breakfast this morning. I wasn't overly concerned about this since we were planning on a big lunch. All week, Sandy has been complaining about repeated just missed opportunities to have a pub-style carvery lunch or dinner. Today, we finally remedy that situation, as we're taking Dad and Cara to a carvery lunch at the Toby in Southend. Sandy will be on cloud nine, I'm sure.
In the meantime, however, we still had to get organised and into gear. The kids and Sandy had already had a bite to eat here at the house. Paul and Marie had left for work, leaving just Rhianna and us. She was going to stay at home for the day. By the time we got our act together it was already approaching 10:30 a.m. so we piled into the car and set off.
Before collecting Dad, we stopped in at the big shops to pick up another Lego set Joey had been eyeing all week. A newsagent shop there, which doubled up as general convenience store, stocked all manner of things – including chocolate! Australian chocolate is just not the same as in the UK. American Chocolate is worse still. Not only are British chocolate bars sweeter and creamier, there are dozens and dozens of variations. Most newsagents and other shops here will typically have a confectionary bar or counter, where you can choose from a plethora of chocolate bars. At this newsagent's, they had two such confectionary bars all laden with all manner of different things that brought back pleasant memories from my youth. One particular type of chocolate bar I'm especially fond of is Galaxy. It's a lovely, creamy, milk chocolate unlike anything else I can find in Australia. Being such a thriving industry here in the UK, competition for customers with a sweet tooth like me is fierce. Consequently, prices are considerably lower here than in Australia. A 500g bar of Galaxy in Australia, for example, would set me back probably more than $10 but a similar bar here costs just £1. Standing there at the confectionary bar in the newsagents, I was eyeballing all the goodies before me and slowly salivating in the process. Suddenly, my eye landed on a stack of enormous Galaxy bars – all prominently marked £1. I was now drooling openly from both sides of my mouth. I started stacking them onto the counter. Before long, the shelf was empty…so I walked over to the other side…and emptied that shelf as well. After adding a few other bits here and there, not to mention Joey's new Lego kit, we left the shop with enough guilt to pack an additional half a suitcase.
Walking back to the car, I made a mental note to pack this particular bag of goodies away somewhere out of eyesight of Paul David when we get home later, lest I only need a quarter extra suitcase for my stash by the end of our time here.
So, with the car boot now stuffed, we drove over to Dad's house to pick him up for the planned carvery lunch. As luck would have it, this finally gave us the opportunity of seeing my niece Stacey and her two kids. Stacey looks just as I remember but this was the first time I had seen Amy-Lee and Russel. Amy-Lee is a rather precocious and outgoing 6 or 7 and Russel is around 5. With suspected ASD, Russel lives in his own world somewhat but was reasonably responsive for the brief time we were there today. We gave Stacey her bags of gifts we'd brought for her kids and also left her with a similar bag for her brother John Ashley's kids. Although we haven't seen everyone this trip, we've seen quite a few people, which has been great.
We said goodbye to Stacey and the kids – getting tired of having to say goodbye all the time – and loaded Dad into the car. He is becoming ever more frail so these types of mundane activities need to be done a little more carefully nowadays. Since Cara didn't have access to a car today, as James and Finnian were at the cricket all day, the plan was that I drop Dad, Sandy and the kids off at the Toby carvery and then drive a few minutes into Westcliff to collect Cara and the two kids she had with her. On the way, I stopped in at a service station to fill the car up with Diesel. Wouldn't you know it but it just happened to be the place where my cousin, Janet, works. Bonus! Not only did she wave enthusiastically at me when I walked in to pay for the fuel but she all but launched herself over the counter to give me a big kiss and a cuddle when it came my turn to pay. It was quite hilarious. Some of the other staff watched on with grins, so I announced in a rather loud voice that I didn't offer this kiss and cuddle service to just anyone.
By the time everyone was settled at the carvery, we were all hungry and so loaded up our plates from the carvery counter. Between Yorkshire Puddings, roast potatoes, gravy, veg and four different types of meat being carved right in front of you, we were all likely going to be experiencing a food coma within the hour. The food was very good and Sandy was particularly pleased to have finally got her wish. Between Dad's relentless story telling and catching up with Cara, we had a fabulous time. Just when I thought it couldn't get better, Kerry, one of Sandy's friends that was at Cara's do yesterday, turned up with her kids. This was a lovely surprise and our table was now absolutely heaving with eight kids and five adults. What was particularly nice was that all the kids were getting on like a house on fire. Jennifer and Erin, Kerry's daughter, have been face-timing with each other ever opportunity they've had over the past couple of days. Joey and Conall just clicked also, which was a real pleasure to see. Kerry and her clan were there in time for desert and just long enough for her, Cara and Sandy to all have a relaxing catch up with each other. This really made Sandy's day and will be an enduring memory of the trip overall, I'm sure.
With time ticking by, the inevitable end of the lunch session arrived and everyone had to all go their own separate ways. It was accompanied by the somewhat predictable emotion-laden good-byes. I drove Cara and her kids back to her house, leaving everyone else a few more precious minutes with each other. I eventually managed to wrench Sandy and Kerry from each other and we set off back to South Ockendon to drop Dad off at his house.
Dad was going back to Basildon later this afternoon with Paul to visit Mum. We still had some time before our 17:30 Harry Potter tickets so this left room in the schedule to visit Mum ourselves. We had originally planned on doing that this morning – having secured permission yesterday to come in outside of regular visiting hours today – but now we would be able to have a regular visit with no special pressures, like only being allowed in one-by-one, for example.
Although she did wonder where we had gotten to (we had told her we would be visiting this morning), she was quite pleased to see us. Sadly, it seems she won't be back home until mid next week now, as they need to do some tests on her heart. Especially pleasing was the fact that she continues to look better each time we see her. We spent a half hour have a good natter before needing to leave. I'll admit it was quite tough saying goodbye to Mum. I vowed to see her again and suggested we videoconference more often once she is out of the hospital and we're back in Melbourne.
We did our best to put on a brave face when saying goodbye to Mum, as it was the last time we would see her this trip. The trip to the Harry Potter studios was an especially quite and sombre one. It took us about an hour to get there with very little traffic to speak of. Upon our arrival, we were asked if we had any special needs by a staff member manning the main entrance gate.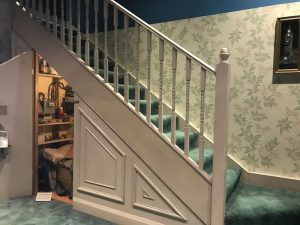 When we booked the tickets originally, I discussed our special needs and was told we could get concessions on our tickets as carers. We had a letter from the doctor and I started mentioning this to the guy at the gate. He said we should drive straight to the front to the disabled parking area, which is directly opposite the main ticket booths. There were heaps of staff all over the place and they were all quite helpful. Although there were a lot of visitors, we didn't have to wait long to buy our tickets, which cost us £63 for the whole family, after factoring in our concessions. We then passed through a security checkpoint, and the staff there rummaged through our bags a bit. Then we were in.
We had an absolutely amazing time throughout the entire experience and burned through well over three hours. It starts off with small groups of about 30 people at a time being ushered into a waiting area with TV screens on the walls. Various Harry Potter actors and movie production staff appear on those screens to provide some running commentary on the general success of the Harry Potter universe. It sort of sets the scene for what's to come.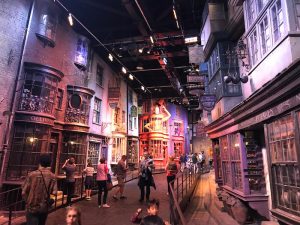 We were then moved into a small theatre auditorium, where we sat and watched some more behind the scenes clips. The five-minute show ends with a shot of the huge doors that lead to the Hogwarts great hall. The movie screen then rolls upwards to reveal…the actual huge doors that lead to the Hogwards great hall. It was very nicely done and accommodated by lots of oohs and aahs from the audience. A guest was then invited to push the doors open and we all moved through into the set of the great hall. It was replete with costumes and other movie set paraphernalia from the Harry Potter movies. We spent several minutes taking copious numbers of photos and exploring every nook and cranny of the great hall. Then we moved on to the next section of what turned out to be one of a couple of huge sound stages. Each sound stage was split into different sections with each section full to the rafters with Harry Potter movie props. Every last aspect of the Harry Potter universe was represented. Everything that was present in one or more of the movies was on display. There were individual props, like costumes or whatever, through to entire sets, like Hagrid's hut and the Weasley's front living room. For Harry Potter fans, it really is the ultimate destination.
At several points throughout the walking tour, there were a number of interactive exhibits. For example, there was the broom that rose to meet your hand when you said up. There was the Gringots vault door, where a button on a panel triggered the movement of the very complicated locking mechanism.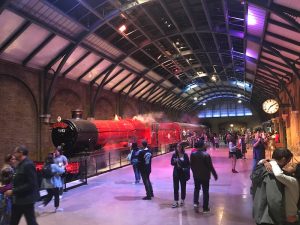 There were also some green screen booths where you could mount a broom and be directed to lean left or right or raise your hands in triumph, etc., as the screens above depicted you flying through the air over the sights of London. These were all opportunities to buy photos or videos, of course. We did most of them but didn't actually buy anything in the end. Joey wasn't in an especially cooperative mood during the visit and so none of the photos were particularly well posed for. He seems to find it hard to adjust to any situation where there's no clear and predictable routine.
About half way through the tour, we found the snack shop and an outside courtyard, where the Knight Bus, No. 4 Privet Drive, Godricks Hollow and a few more outside exhibits were to be found. Jennifer tried – and loved – the butterbeer. Like everything else at the studios, the prices were quite steep but we all had a little something to eat and drink.
With some more fuel, we were all feeling a little perked up and so we continued with the self-paced tour. The next exhibits were all just as amazing, including an enormous model of the Hogwarts castle and grounds, which was encircled by a pedestrian walkway that spiralled around it. We strolled through Diagon Alley, along Platform 9 ¾, through the forbidden forest and so many other places familiar from the films. At the end of it all, and some three hours after we started, we ended up at the shop at the end. Yes, I know everything was expensive and I prepared myself psychologically for it, but it's still a wrench to deal with all the sticker shock.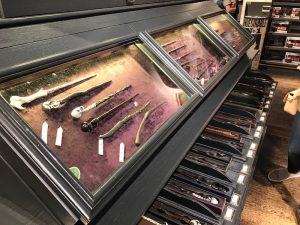 Some things weren't that bad but others were just over the top as far as prices were concerned. That notwithstanding, the kids each picked up a wand and we bought a few bits and pieces here and there. If they survive the journey, I found a couple of little things to bring a smile to the faces of a couple of girls at the office (you know who you are). I also brought a Hufflepuff cardigan/top for me. It isn't that I associate myself especially with Hufflepuff house – it's just that those colours were the ones I liked the best.
With the very real fear of not being able to eat for the next six months if we stayed any longer, we left the gift shop and exited to the car park. All in all, it was a very successful visit and I'm glad we went.
Once in the car and on the M25 motorway back towards South Ockendon, thoughts started to turn to the next leg of the trip – continental Europe. Tomorrow, we bid everyone goodbye and head to Paris on the Eurostar high-speed train. We'll have to start the slow process of packing tonight. Leaving the UK will be a wrench. With the incredibly packed and busy agenda we've had, we've made some fantastic new memories over the past week and have grown closer to people. Saying goodbye will be hard – truly hard.