Europe - July 2017
T-4 - pre-departure
Sunday 23rd July
After weeks, if not months, of meticulous planning and research, we're now into the final few days before departure. It remains a surreal, calm-before-the-storm sort of a situation. As we say here in Australia, just four more sleeps.
Today I transferred some money onto our global currency cards. I loaded some Pounds and Euros. This will supplement the cash I bought the other day and will afford us the option of tapping money locally from the ATM or paying for things on card as needed. I have allotted a certain daily allowance for spending, although it's really just an arbitrary, self-imposed limit. I doubt we'll stick to it. I have a good idea of where we definitively will be spending money but just how much we spend incidentally remains anyone's guess at this point.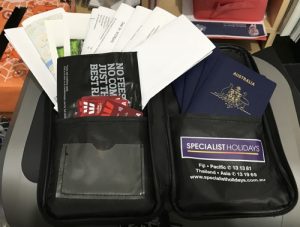 I have an online folder in which all the details of our trip and itinerary are stored for easy access. This contains a wide range of things like hotel and car rental reservation details, booking numbers, copies of the flight e-tickets, a master spreadsheet detailing the itinerary, doctors' certificates, etc. I've also compiled a physical travel document special folder, which contains all the passports and printouts of all reservations and whatnots.
This morning, I spent some time trying to find a smartphone app that would neatly organise all the trip information together. Sadly, none of the available options really tick all the boxes. Being an obsessive spreadsheet constructor myself, I'm pretty sure I've been able to do a better job at collating everything manually anyway. I did manage to find a couple of good apps for tracking the flight journey, including check-in times and gate numbers, etc., so hopefully those will come in handy.
Packing has continued today. I've now packed all of my clothing, which accounts for just under half of one suitcase and around 10kg of weigh. We'll be taking one large suitcase, one large duffel bag (filled mostly with soft toys and other gifts for various little'uns and a handful of my books) and possibly one carry-on. Additionally, each of us will have our own backpacks. These will be for things like laptops, iPads, chargers and cables, colouring books and pens and a range of other things to occupy the endless hours of boredom on the two flights. I've made and printed a couple of find the object type games for the kids to keep them busy at the airports. One is a 4x5 grid containing photos of aircraft tailfins. I've specifically chosen airlines that are known to use the airports that we are flying through. The idea is that there's a small dollar figure attached to each to incentivise the kids to find the different aircraft and tick them off the list. The kids will be getting some pocket money anyway but I thought this would be a good idea to help them earn it instead of just giving it to them. Similarly, there's another checklist of various things to be found inside the airports, from luggage trolleys to escalators to security scanners, etc. Again, the kids can earn money by finding all 16 items. They'll each have a clipboard and a pen to work with.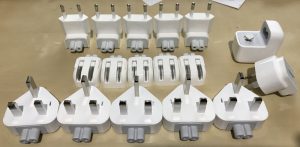 Like most families nowadays, we're all but surgically tethered to our electronics. Rather than fight the uphill battle to reign this in, I've instead decided to embrace it and run with it. To accommodate for this throughout the trip, I've now packed a whole range of cables, plugs, adapters and other paraphernalia to help sustain all of our electronic obsessions.
Something I've been trying to figure out for a while now is what to do about phone and Internet for our plethora of devices whilst away. Roaming charges from the local telcos here in Australia are ludicrously expensive when abroad. Fortunately, however, obtaining a local SIM car after arrival in Europe seems a pretty easy solution. As luck would have it, the EU just introduced, as of July 15th, changes to the law that enforces the European telcos to NOT charge for roaming when you move from country to country. Bonus! Upon arrival, I'll pop in to a local supermarket and pick up a SIM card, which we will then use for the three weeks we'll be trotting around Europe. I'm expecting this to cost me no more than around $30.
Whilst perusing through my online folder, checking and double-checking that I have everything in order, I noticed that there was no confirmation of receipt of my full payment to Center Parcs. The only e-mail correspondence I have from them is the original booking confirmation that took place before I made full payment. As such, it states that payment is still pending. With no audit trail from them of my payment confirmation, I thought I'd give them a call just to make absolutely certain everything was in order. Fortunately, the woman on the phone did immediately confirm that full payment had been received. However, even though she said she'd dispatch an e-mail to confirm this, that e-mail has still not been received. When I tried to reset my password through their website, the password reset e-mail also didn't arrive, so I suspect there's an issue with the mail at some point between them and me. The upshot is that I still do not have an audit trail of payment confirmation so I'll just have to hope that when we get there, everything will be OK. I did check my bank records just to be sure and the payment definitely was made, so it should be fine.
Yesterday, we toyed with the idea of upgrading our hotel booking at Disneyland Paris. We're currently in a budget hotel, called the Hotel Cheyenne. That hotel is undergoing some renovations and it may not be possible to have breakfast there. They may send us into one of the parks for breakfast. I've no idea what renovations means in practice but I'm a little apprehensive it might mean some sort of disruption to us. I did call and speak to them about what upgrade options were possible and there were a few that were reasonably priced. However, the only sleeping arrangements they had were rooms with two double beds. This would mean a double for us and a double to be shared by Joey & Jennifer, which we don't want. After much discussion with the very friendly staff, we decided to stay with what we have, since we at least have three beds in the family room we currently have.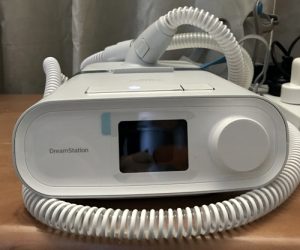 My CPAP trial completed this past week and I have now purchased my own CPAP machine, which I'll be taking with me on the plane. It's advised to continue to use the CPAP machine every night and even to use on-board the aircraft, so that's what I'll be doing. I did call the airline to ask them about power sockets and using the CPAP machine on the plane but the person I reached was utterly useless. His complete repertoire consisted of little more than reading the same script over and over, which essentially was to inform me that I should send an e-mail to customer relations who can help me further. Honestly, sometimes a company is better off not having anyone answer the phone at all. Like any other piece of medical equipment, a CPAP machine doesn't count towards your luggage allowance. Most airline or airport security staff will not bat an eyelid at the sight of one of a CPAP machine but just to be on the safe side, I went to the doctor last night to get a certificate confirming that I need to use the machine every day. That certificate is now tucked away safely with all the other pieces of information in my special travel document stash.
A couple of days ago, my Mother was taken ill and has had to spend the past few days at the hospital with breathing difficulties. Fortunately, the doctors are on top of the situation and she is doing much better now. Sadly, this isn't the only medical bad news we've had to deal with recently. More about that another time.