A delightfully relaxed start to the morning was on the cards today. Unusually, the entire family was sat at the table together for a cooked breakfast this morning. The plan for today was for me and Jae to drive into Zurich, in neighbouring Switzerland. In so doing, I would notch up my countries-visited count by one, bringing me to a total of 49 countries. Sandy and Joey would remain behind, and chill out while Jae and I explored the Lindt Chocolate Museum. This is evidently one of the premier tourist attractions and typically on the various must-see lists for when you've only got a single day to play with.
Before turning to the business of the day ahead, I wandered over to the front desk. Finally, I was able to get the 30% refund processed and returned to my credit card. There, that wasn't painful at all, was it?
Since Sandy was to remain with Joey all day, and with no means of transportation, I popped over the local supermarket to grab a few bits and pieces she needed for their lunch and dinners later. In fact, I went there and back twice – once to get the list of things Sandy wanted, and then again once Sandy remembered some more things she needed. I just nodded and smiled politely. That's all I ever really can do.
The drive into Switzerland and Zurich took around two hours. Outwardly, Switzerland seems quite like Germany, albeit there are some differences in the road signage. Unlike Germany, there are speed restrictions everywhere along the motorways. Although having said that, there were only small sections of the German motorways that led me to Switzerland which were free of speed limits.
One thing that was quite evident in Switzerland is that there were lots of tunnels I had to drive through. Most were relatively short, but a handful were quite long. The closer we got to Zurich, the more we glimpsed of some distant mountain ranges.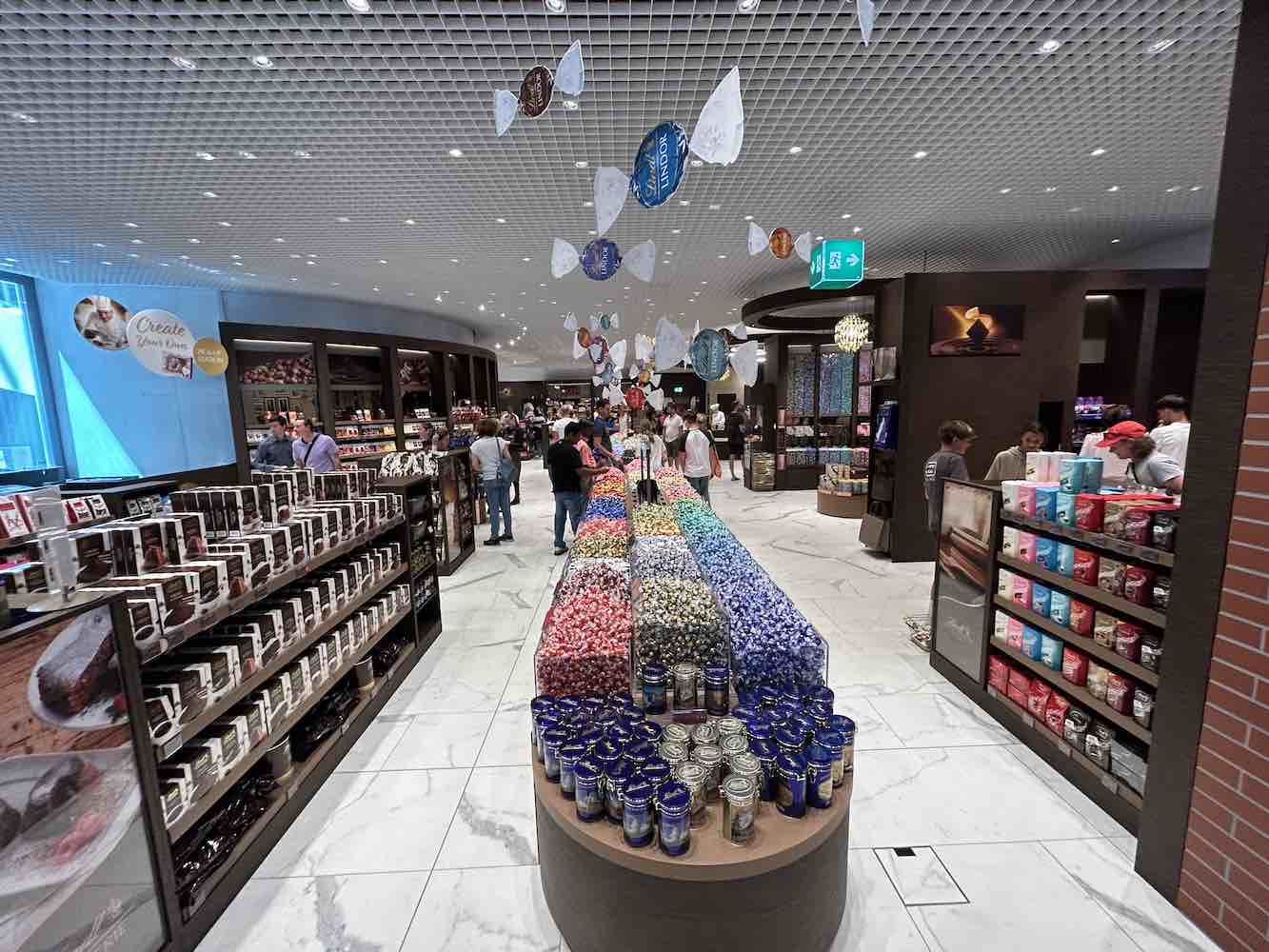 The Lindt chocolate museum is just outside of the Zurich city centre, close to the edge of Lake Zurich. I saw some lovely, picturesque views of the lake as we descended towards the museum. I say 'I' instead of 'we' for a reason. For the most part, Jae had their nose firmly planted on their mobile phone, wasting away the viewing opportunity watching mindless TikTok clips. I suggested they look up occasionally to enjoy the view, but teenagers will be teenagers.
The Lindt complex was clean and well-designed. I especially loved the fact that the underground multi-story car park was laid out with plenty of space to manoeuvre. Every car park space is at least a car and a half wide. You and the cars either side could easily open all doors fully and still not touch. Bliss.
Inside, there is a brightly-lit, atrium complete with an enormous fully functional chocolate mountain some nine meters tall and oozing with real chocolate. It's designed to look like the chocolate is dripping from a mega-sized chocolate whisk that dangles magically in the air. It's an impressive sight, but an even more impressive smell.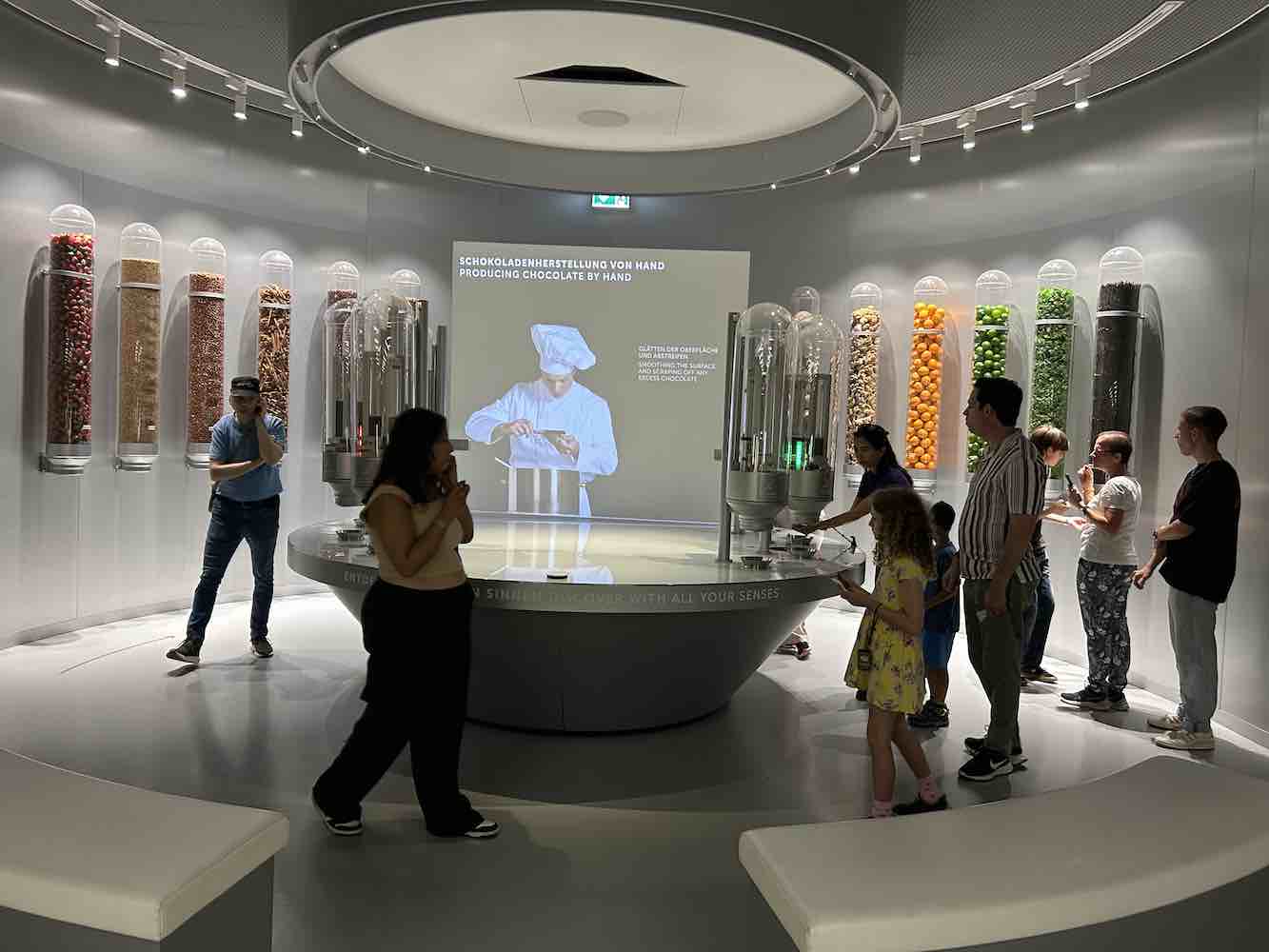 One of the three pleasant young women at the front desk told us about the self-guided tour on offer for just €15. It was actually CHF 15, but the exchange rate from Swiss Francs to and from Euros is practically 1:1. It's slightly more expensive in Euros but the difference is only minor. The only problem was that the next slot available wasn't until 3pm, so we had an hour and a quarter to kill. There's not much to do until you get into the self-guided tour area, but there was a shop where you could buy just about any combination of Lindt chocolate your heart desired, and a coffee shop, that also featured chocolate everywhere you looked.
As a chocoholic myself, I picked up a few things here and there (the advice to lose 10Kg will just have to be postponed for now). I also took the opportunity to select a little something for our friends who are looking after the cats in our absence.
Since picking up Bear Bear in Europapark yesterday, Jae has been clinging to it like her life depends on it ever since, so, naturally, Bear Bear came with us into the museum. Jae also has a fixation with the number sixty-nine (don't ask!). At one point, the attendant pointed out that bags over a certain size aren't allowed into the self-guided tour area, so Jae's handbag, with Bear Bear sticking out, would have to be put into one of the free lockers available. Jae went only grudgingly to stow Bear Bear and her handbag and returned with the key a locker. It was number sixty-nine, of course.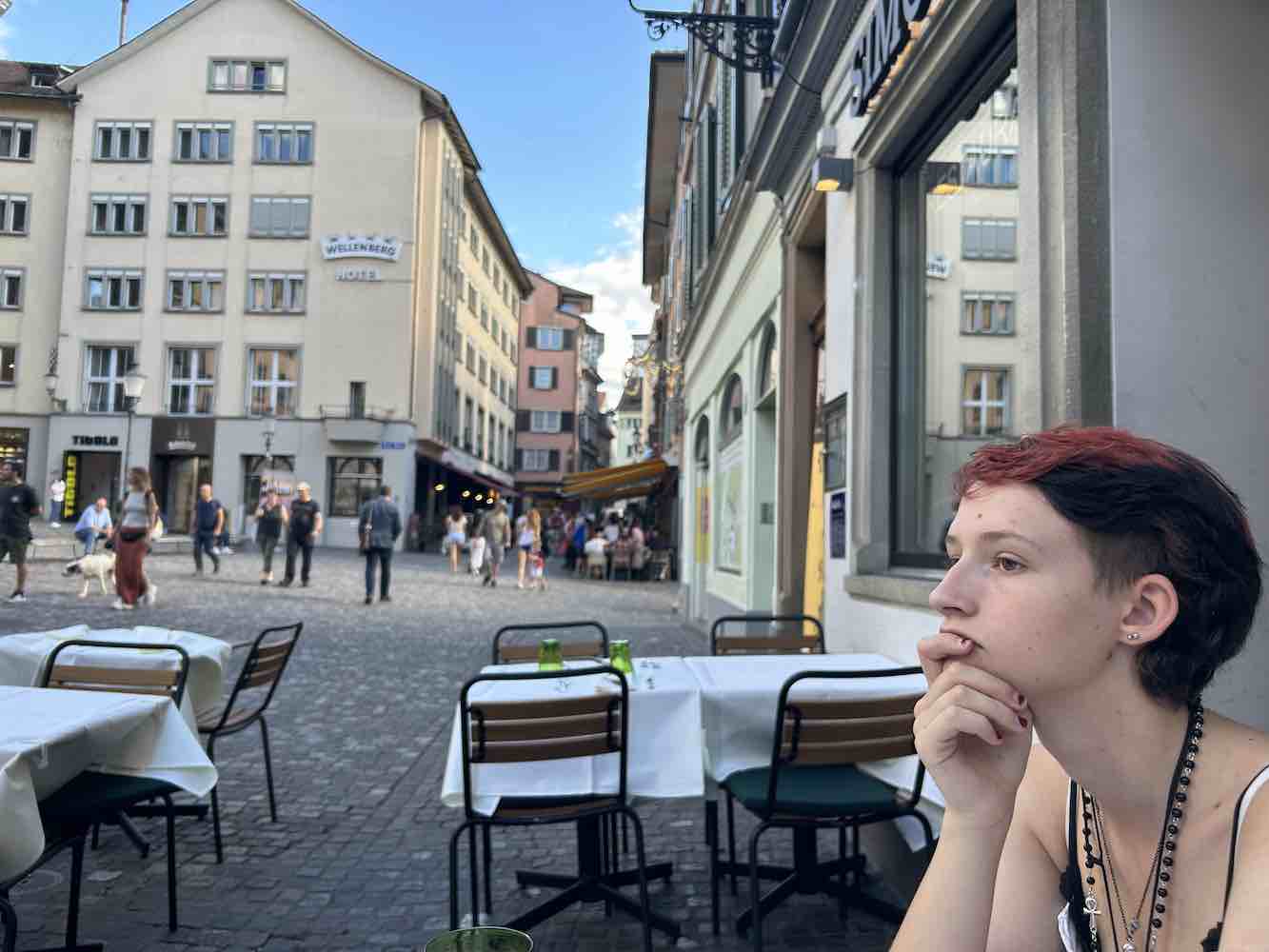 We were finally allowed into the self-guided tour area along with a small throng of other awaiting tourists. We each grabbed an audio device and selected English as the language. Throughout the museum exhibits there are places where you can present the audio device and it would begin to play the audio explanation of whatever it was that was on display at that point. The audio descriptions and explanations were interesting enough. Everything to do with the process of creating chocolate, the history behind it, how the Lindt empire came to be, etc., was all waiting to be explained to whomever tapped their devices at the relevant times.
We've previously visited the chocolate museum on Philip Island in Australia, not far from where we used to live, so there really wasn't anything new for us. There's only so much you can say about the process of making chocolate. The whole thing lacked the wow factor I was expecting given the reviews and constant advice about this being a must-see attraction in Zurich. We exited the museum section within an hour of entering.
Back in the car, and now laden with more chocolate than I can eat (at a single sitting, at least), we set off towards the city centre to see what we could see. I gave the satnav the central train station as the destination, figuring I'd find somewhere near there to put the car before proceeding on foot.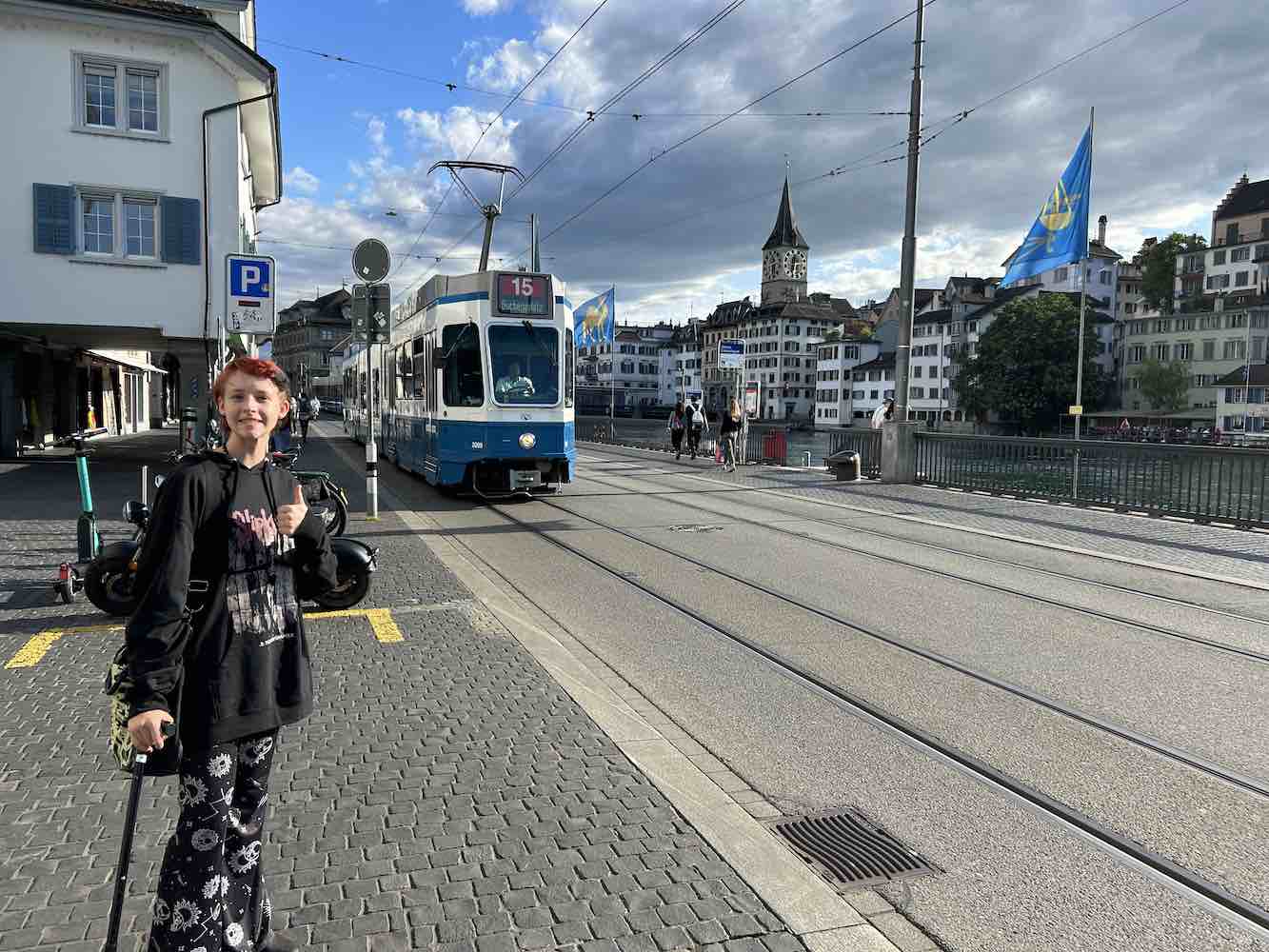 Once on foot, I largely let Jae dictate the general direction and pace of our sightseeing. That plan backfired. We spent the better part of an hour (at least it seemed that long to me) traipsing around a H&M department store we stumbled into. Here we are in a vibrant never yet visited European capital city and my teenager is content to mull around a soulless, nondescript clothing department store that looks identical to any other you might find anywhere else on earth. Sigh.
Jae was looking for clothing of a particular style, like Goth or whatever it's called. I suggested, somewhat mockingly and with a trace hint of sarcasm it does have to be said, maybe checking to see if there was a goth clothing store in Zurich so we could go directly to it. Anything would be better than aimlessly wandering in and out of clothing stores. Earlier, Jae had predicted it would be less pleasant to drag Daddy around instead of Mummy. Mummy is at least willing to wander aimlessly as a natural part of the shopping process. Daddy would rather have his nails ripped from his fingers while having his testicles removed with a rusty spoon. When Daddy goes shopping, Daddy knows what Daddy wants, goes to where it is, buys it, and then gets the hell outa' Dodge.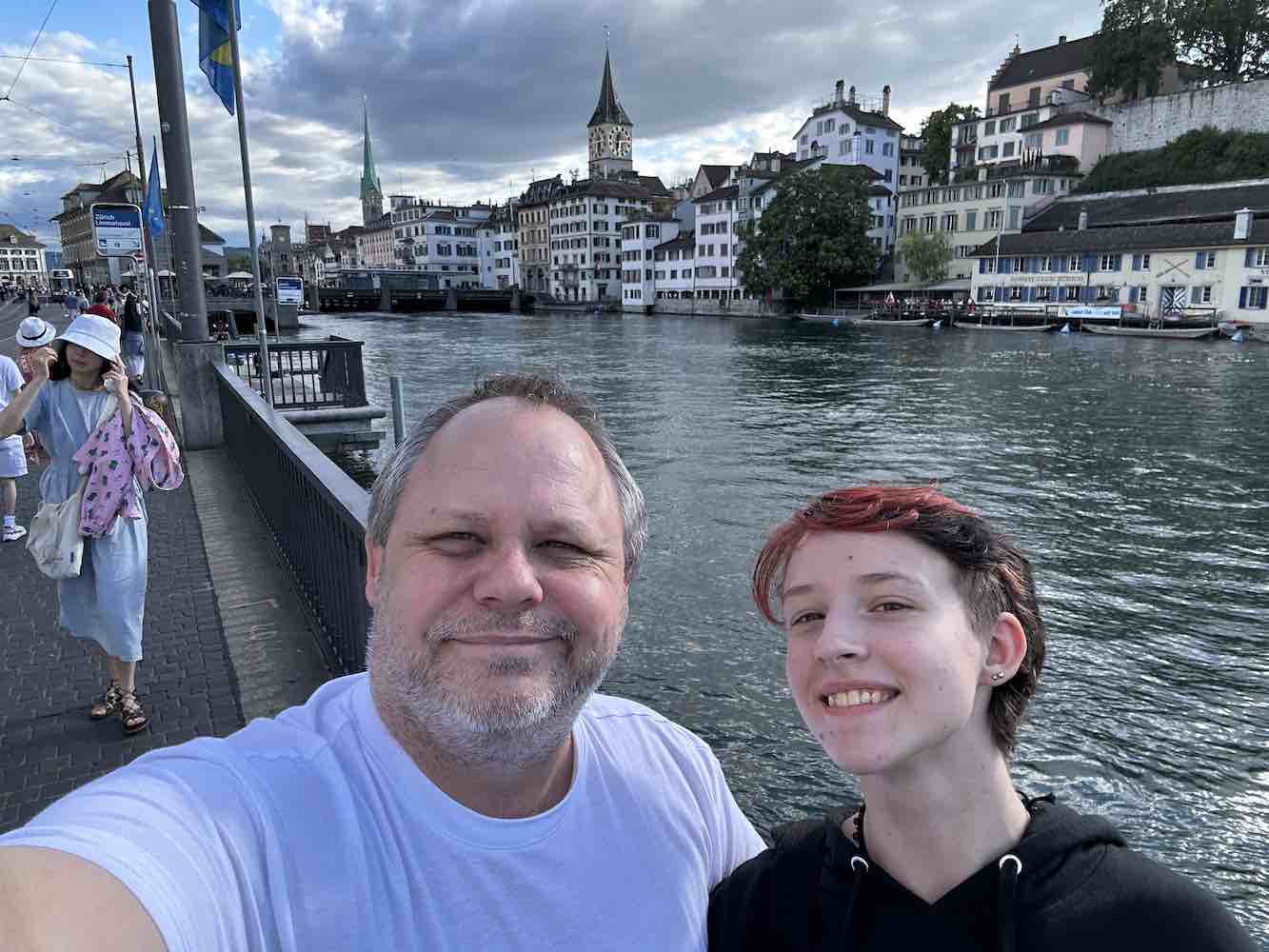 Jae found a goth clothing store on her mobile maps app. It was just on the other side of the river Limmat in the Niederdorp quarter. While Jae was traversing the eleven thousand floors of the department store, none of which had anywhere to sit down, I was looking for restaurants that we would both be happy with. There just weren't that many to choose from where we were near Old Town, but it looked more promising over the other side of the river, so I agreed we should head in that direction.
We made it to the goth shop, passing through a picturesque part of the city, which was wonderous. Jae was happy nosing around the shop for a bit and even came out with a new Slipknot hoodie. As a happy (almost) coincidence, the shop was just a few paces from a couple of good steak restaurants. We picked one and we soaked up the vibrant atmosphere over a lovely dinner.
With tummies now full, we meandered around a little in the general direction of where we parked the car, taking in the stunningly beautiful views, architecture, and quaint back alleys that Zurich has to offer in spades. How much of this Jae absorbed was anyone's guess, but I loved every minute of it. I got numerous grunts and sighs from the teenager each time I slowed up to snap another picture postcard perfect view. The toll this walk was taking on my back and lower legs, however, was tortuous. I think we made it to the car only just in time before one of my body's several aching parts was going to give out altogether.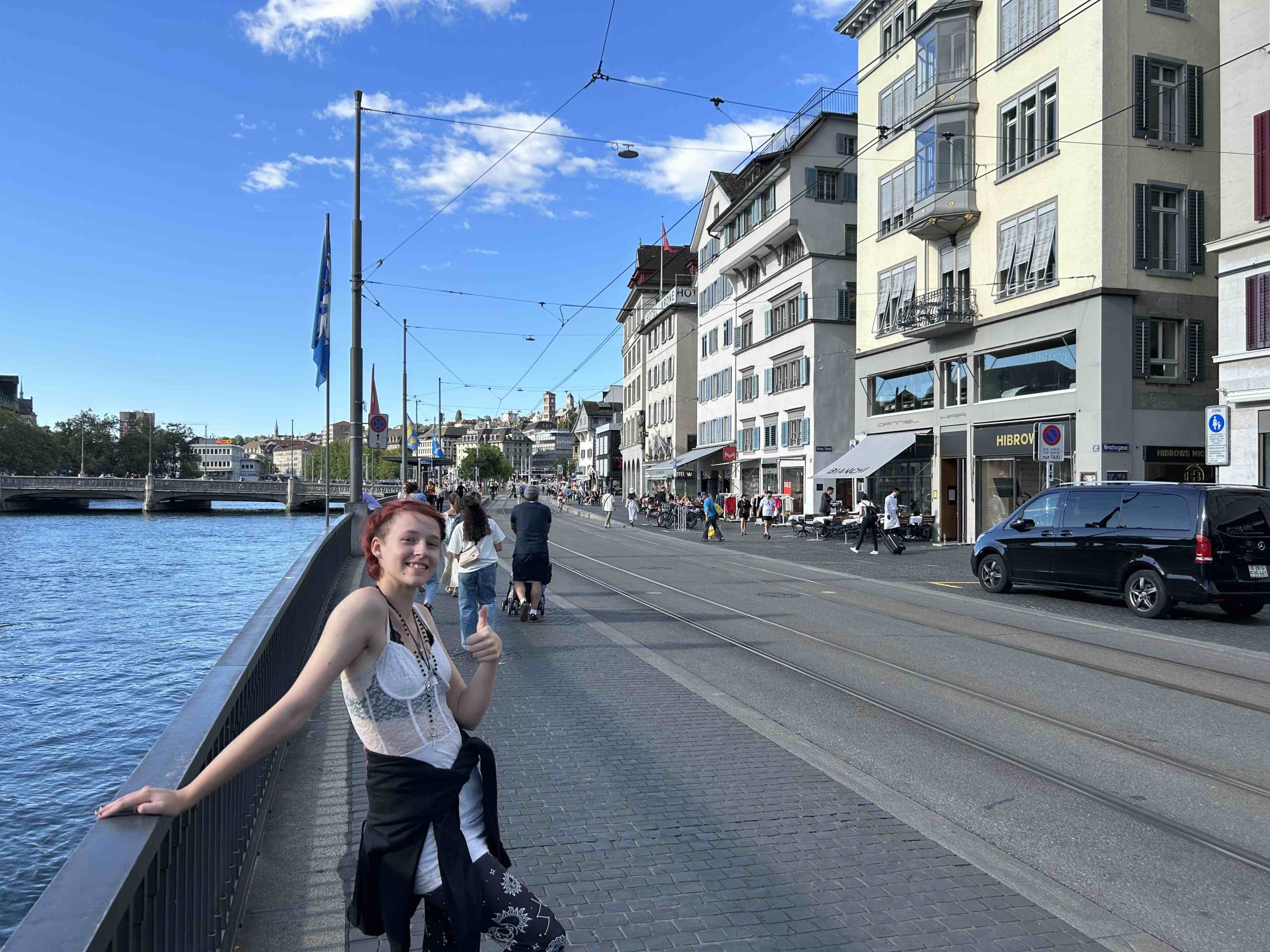 And so our brief trip to Zurich, Switzerland, was brought to a close. I navigated back out of the city and onto the open road. The journey back to Ringsheim was mostly uneventful. I did manage to miss a lane at one point. This initiated a comical series of subsequent missed turnings because of roadworks and blocked paths the satnav was unaware of. It wouldn't have been a problem had I been able to read the road signs instead of having to rely blindly on the satnav. At one point, I was even back onto the motorway heading back to Zurich and had to find a place to double back and try again. That little mishap added a good ten minutes to the return journey.
I'm now done for the evening. Tomorrow is our last day and the day that we travel home, so I'll have one final blog entry after tomorrow to round out this series. For now, I'm off to bed. I'll proof-read and upload in the morning again, just like I did with yesterday's blog.