I was one of the first to stir this morning. I had a secret agenda to get everyone ready and on the road by around 8:30. Actually, that was only my secondary goal. My primary one was to achieve the secondary goal by pushing, encouraging, and cajoling as much as I could but without the rest of the family realising I was, in essence, manipulating them all. I needed to push but without being pushy. My fine balancing act was to get everyone moving but without them realising I was pushing or pressuring. If any of them felt I was being overly pushy, it would have upset the delicate balance, making my objective that much harder to achieve without making anyone grumpy. I had a 2+ hour journey to Legoland today, and the last thing I wanted was a car full of stress and tension.
This being our first morning here, we took advantage of the free breakfast the reception staff offered me last night by way of compensation, for the lack of furniture in the bungalow. Joey and I went into the breakfast hall first, with Sandy and Jae following us shortly thereafter. It's literally about twenty paces from our bungalow. Joey had not slept well for the past few nights. He was functioning mostly on empty reserves this morning, so I had to tiptoe around him quite delicately to avoid problems. It doesn't take much to knock him out of his comfort zone. There are several things that could do this. Stubbing his toe or knocking into something would do it. Being refused something, or anything else that might trigger a disappointment of some kind, is also a no-go area. Anything that causes frustration. These are all triggers that we must always be mindful of. If that does happen, we can sometimes 'lose him' for a good day or two. That is to say, he would retreat into his bubble, be non-communicative or non-cooperative – be moody. Sometimes, there's no recovering from this, other than to leave him be until he re-emerges again of his own volition. That would be a disaster for this holiday, so it was worth the effort to keep him grounded and functional. Fortunately, he managed to eat a little of this and a little of that – even if it was mostly crispy bacon rashers and a bit of bread. I was just relieved he ate 'something' and was mostly functional.
The breakfast buffet was as close to expectations as you might imagine for a nice hotel like this one. A standard buffet spread greeted us, with scrambled and boiled eggs, bacon, continental fare, juice, cereals, fruit, etc. The only disappointment for me was the lack of the promised sausages. After all, it is my holiday as well. The kidney specialist who just this past week insisted I lose 10Kg would likely be happy with this, but it didn't help me with my disposition this morning. Still, I was on a mission to make today a successful one, so I revealed to nobody the inner rage I felt for being sausage deprived. Breath in…breath out.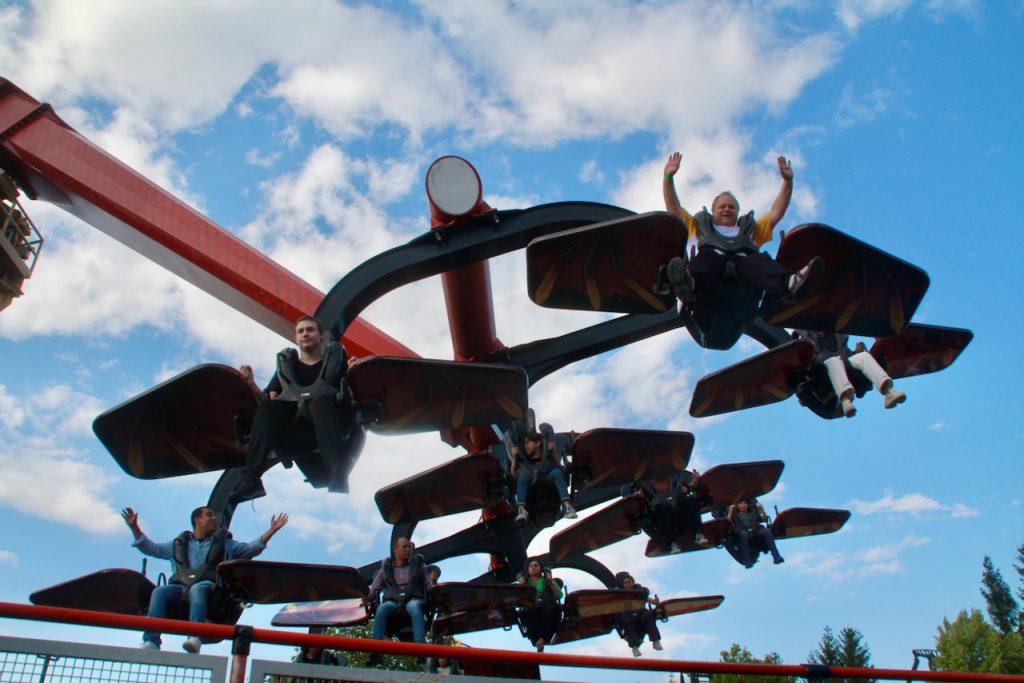 Joey slowly but surely came out of his shell. By the time the girls had joined us in the breakfast hall, and we had all eaten something, he was quite chipper. Things were looking up.
While everyone was pottering about back at the bungalow, getting ready to head out for the day, I contacted the Legoland Germany resort to check which tickets I needed to purchase. I also spoke to them about their process for accommodating children with autism. Most theme parks around the world have different strategies and tactics for accommodating families with special needs children. It varies from company to company, but the general process is similar in most cases. For Legoland, we had to report to a special customer services desk once inside the park. They would then issue us with special wristbands that would afford us priority access to the various attractions. If we were Germans, we would need to present a particular type of disability badge the government here issues to parents of special needs children. Being foreigners, we instead had to provide some other proof of disability, by means of a letter from the doctor or psychologist. Fortunately, we had been preparing for this over the past week or two. We came with those documents ready to present to the park staff as needed.
I went to the Legoland website and navigated the ticket purchase process without fuss. I bought 4 regular 1-day park entry tickets, as well as a car park ticket. I paid a little over €200 for the privilege. Strangely, there was never a question about my e-mail address. Consequently, there was also no e-mail confirmation with the ticket barcodes. Fortunately, this piqued my curiosity enough to make me concerned. I eventually found a slightly hidden way to print the e-tickets to PDF and then mailed those to myself. That way, I could view the e-mail attachment and reveal the barcodes from my phone. My curiosity proved quite fortuitous, which I'll explain in a little while.
We were all packed, crammed into the car, and pulling away from the bungalow by 8:30am. Everyone was in a happy mood. Goals #1 & #2 both achieved – kudos to me! 🙂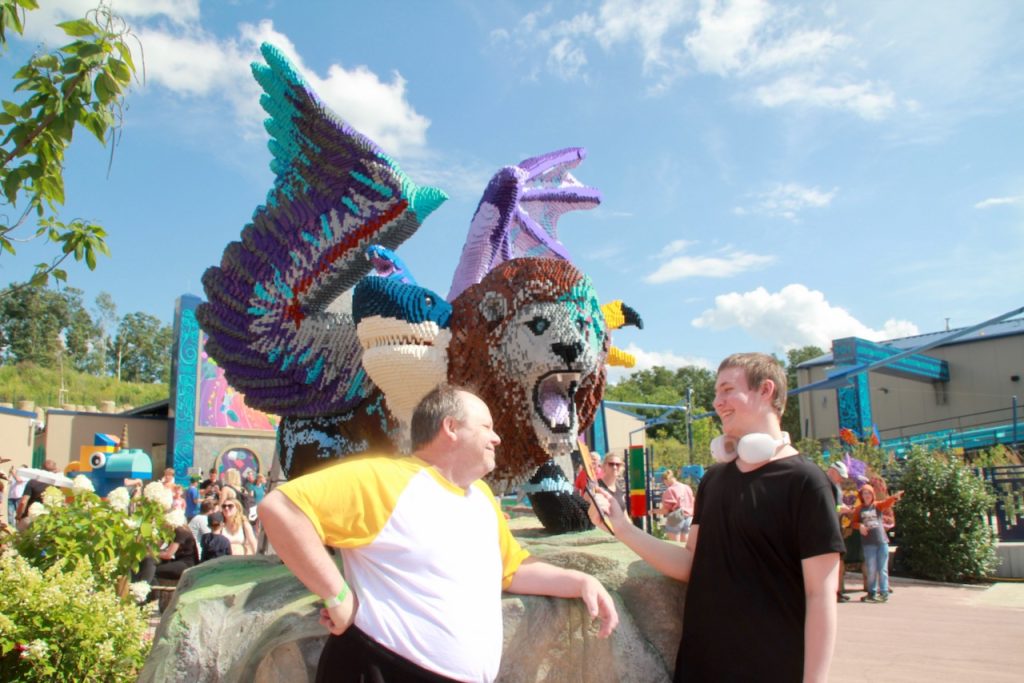 The journey did not go well, alas. It seemed like road works, accidents, lane closures, and even entire motorway closures, were all conspiring to lengthen the duration of the trip. I think we were about an hour into the journey when the realisation hit the rest of the car's occupants that the estimated time to destination was still showing what it showed when we first left the bungalow. Shit! After all my hard work to get the day off to the best of starts, I now had to contend with steadily escalating frustrations in the car. I just couldn't make any significant progress before another bloody bottleneck or detour would show up on the satnav route map. Phrases like "If I had known it was going to take this long, I wouldn't have come," and various such utterances, were coming at me thick and fast. Breath in…breath out. Ok, this is a setback, but the situation was still salvageable. All I had to do was to keep the tension in the car as low as possible until we got there. Good humour, music, car games, stopping for snacks and stretching legs, being more agreeable (less of a dick than normal); these were some of the tools I pulled out at various points to tackle the situation.
We eventually pulled into the Legoland car park at around 12:30pm. We had burned through an extra hour and a half more than anticipated just getting to the front gate, and now half the day was pretty much already gone. Breath in…breath out.
At the turnstile, there were automated scanning machines. You had to scan the barcode to get in. At this point, it dawned on me just how lucky I was to catch the issue with the eTickets not being e-mailed to me. Had I not printed them to PDF and e-mailed them to myself this morning, we would have been up shit creek without a paddle.
Once inside, we made our way to the guest services window and queued for the attention of the next available attendant. The good news was that it took only 10 minutes before it was our turn to be served. The staff member was extremely efficient. By that, I mean they told us we needed to be somewhere else. Shit! So, that was 10 minutes of our lives we'll never be able to reclaim!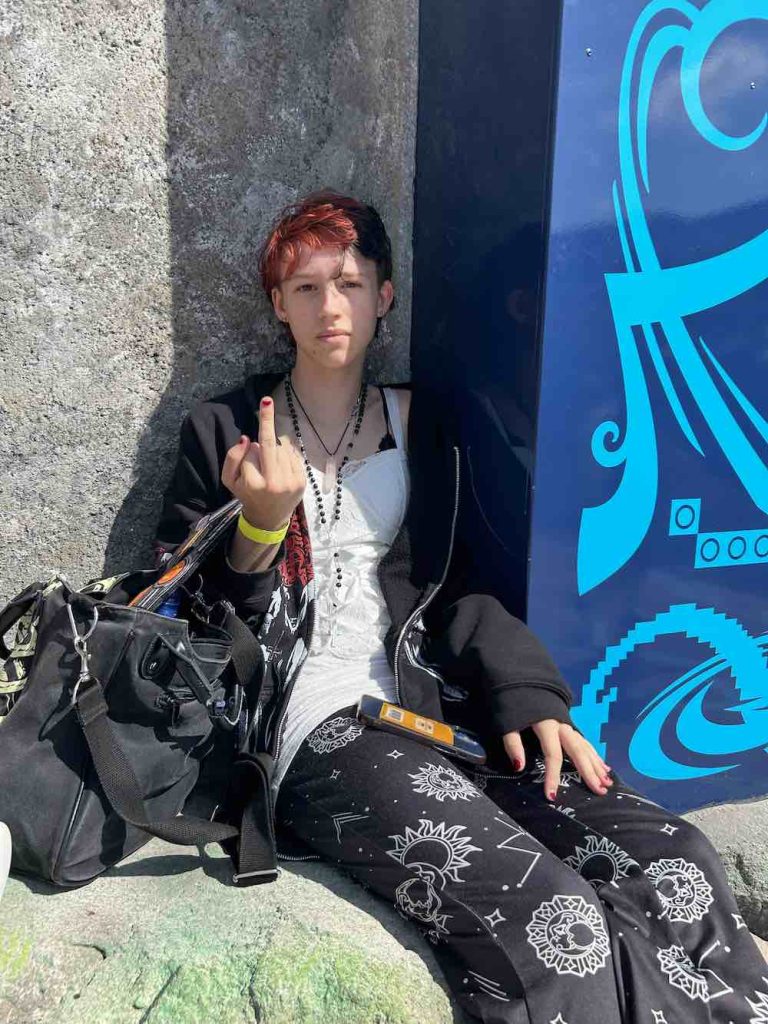 The other location was, as it turned out, in the very next building over. Sandy, who is the only one in our group who speaks German, mentioned we had children with autism and started to shuffle the documents she had prepared. The guy didn't seem interested in the documents at all. Instead, he just launched into what seemed like a very well-rehearsed routine of telling us how it all works and what to expect. He then signed and dated some wristbands and duly attached them to our respective wrists. Both kids got a yellow wristband, while Sandy and I were each equipped with green ones. All we had to do was to locate the relevant entrance (typically the exit) at each attraction and waft the wristband at the awaiting ride attendant and we would go straight on. Simple.
Even though the system seems open to abuse (I remember having the same thought with the Disney special access passes also) the signature and date on our wristbands were checked thoroughly at each attraction we went on throughout the day.
Now armed with instant access to all the main rides and attractions, we meandered into the park and milled around a bit, getting our bearings. Joey is a big fan of Lego. We have tons of it stuffed into every box and orifice in just about every room of the house. Nothing lights up his face more than a new Lego set to build. This being a holiday, and a once in a blue moon opportunity to wade knee deep into all things Lego, I had already resolved in my mind to treat the lad today. He does already have his daily holiday allowance, but I was going to splurge on him today. I told him as much as we were wandering through the main shop near the park entrance, although I didn't reveal the full extent to which I was going to treat him. His spirits were instantly elevated at this news, and he was a happy bunny nosing through the plethora of Lego kits on display throughout the shop. Sandy did have words with me about not taking advantage of this to secure an agreement from Joey to play nice when it comes to having his photo taken today. I guess I missed that one this time around. Oh well.
At this point, Sandy suggested she and Jae might go off to explore and I look after Joey for a bit, which I was fine with. It would give all of us a chance to chill at our own pace while we settle into the park. The idea was to meet up in half an hour or so.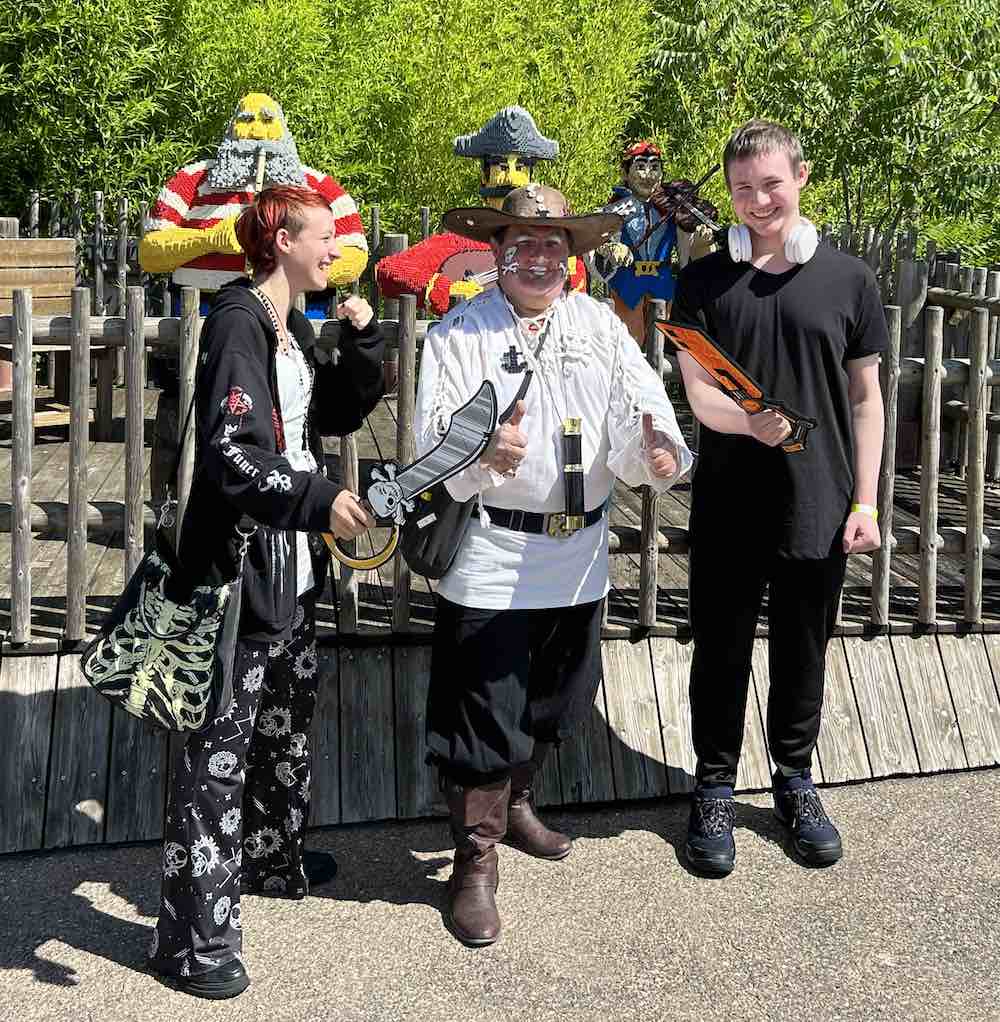 Notwithstanding Joey's positive disposition, he was still recovering from the lengthy and not too pleasant car journey getting here. I decided it would be a good idea to feed him, so we checked a few of the food options as we walked around. Meals are always a challenge for us. Joey has an unhealthily narrow range of things he'll eat. This is one of the reasons we find ourselves at McDonald's so frequently, as that's one of the very few things he never refuses. It's often the option of last resort and it's always available. The warning signs of impending meltdown were starting to surface, so I needed to act quickly to avoid the collision. We found a restaurant that served, amongst other things, some pasta and spaghetti. Joey indicated he might give that a try, which made me almost fall off the planet, so I grabbed that opportunity with both hands. We had to queue for a short while before being offered a table, but the heat of the day, as well as the hustle and bustle and the noisy and busy restaurant environment were all taking their predictable toll. Joey is very quickly overstimulated, and all his senses were being excessively stimulated at the moment. The race was on to get food into him before the meltdown.
I messaged back and forth with Sandy on whether the menu options were going to work. As it happened, she and Jae weren't too thrilled with their choice of place to eat, so they decided they would come and join us instead, much to the chagrin of the staff member who now needed to find a table for 4 instead of 2 at the very last minute. To his credit, he did exactly that.
Jae was brilliant today in helping to manage Joey. Ordinarily, these two teenagers are often at each other's throats. Today seemed to be different. Both kids got on well with each other throughout the entire day. Jae went above the call of duty in being tolerant and accommodating to their brother.
Indeed, we had a tremendous day altogether. I don't know how or why all the planets and moons aligned so pristinely, but good fortune was just on our side today. I only hoped it would last.
With everyone having eaten well, we set off into the park to explore. Our fun at Legoland was now just starting proper.
Sandy and I have visited many theme parks all over the world – and then some. This theme park is not huge, but it's clean and efficient and jolly good fun for the whole family. Catering perhaps more towards the lower end of the age spectrum (kids who are of Lego age), most of the rides and attractions aren't the super thrilling rollercoasters you might expect from other larger theme parks. For our little family unit, it's a perfect mix of something for everyone. There are just enough things of interest to each child to make the whole day a pleasant experience for us all. As you might expect, Lego constructions abound throughout the park.
The wristbands were put to good use. The park wasn't overly busy, although some of the rides and attractions did have signs indicating wait times of up to fifty minutes. Wait times weren't a consideration for us with our special access wristbands.
I'd have to say that our visit to Legoland today was a huge success. At the end of the day, when Joey was let loose in the main shop, he was the proverbial kid in a candy store, grinning from ear to ear. He added several new Lego sets to his stash, as well as a range of smaller items that we accumulated throughout the day.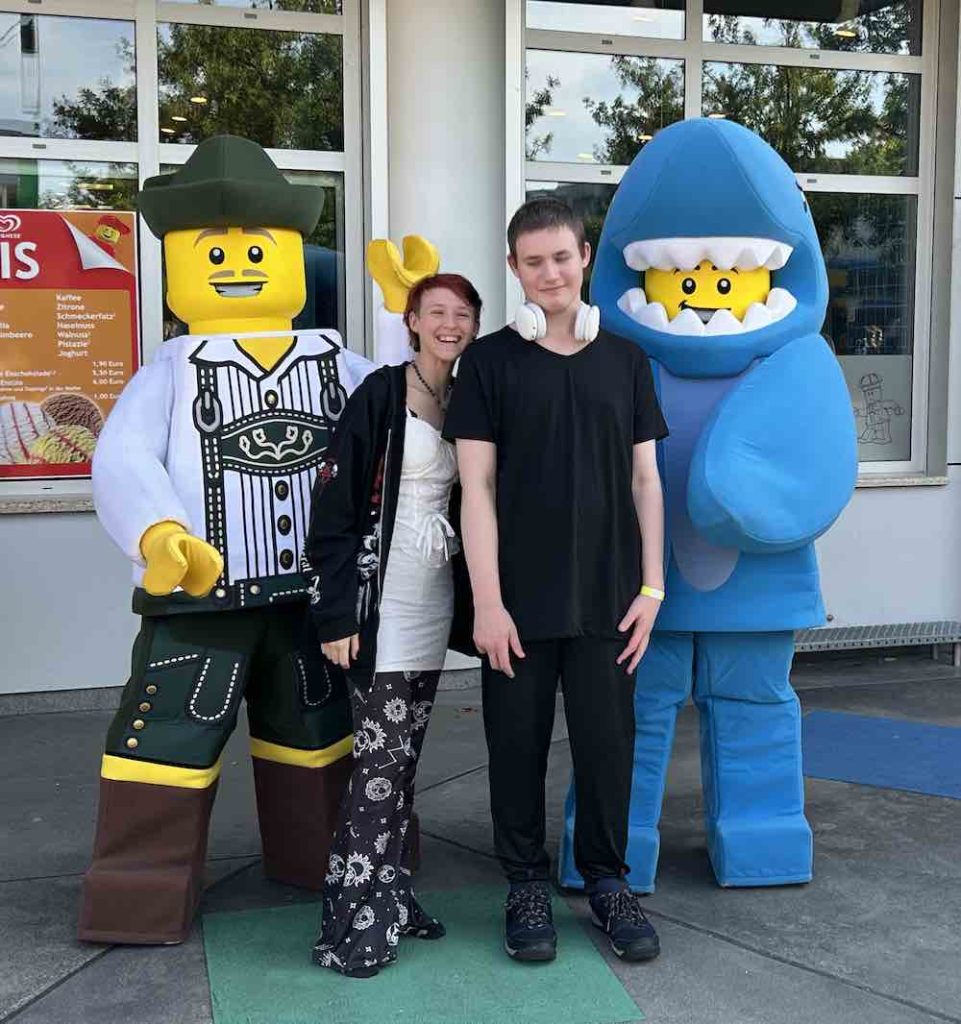 Sandy spotted some characters posing for photo ops at the end of the day, complete with a small queue of parents mustering their kids one by one into the frame. We even managed to get Joey to agree to be photographed with the characters. He normally shuns this idea, but a bag full of Lego sets was evidently enough to help lower his normal resistance to this idea. Sandy was thrilled about this, as she especially dislikes this tendency of his to avoid being photographed.
Everyone left the park with big smiles on their faces. Aside from the delay in getting to the park this morning, nothing went wrong. There were no injuries. Nobody was disappointed with anything. We had as near a perfect, relaxing family day out as we could ever have hoped for. As an added bonus, the satnav indicated a straight run through to Ringsheim, with no traffic jams or other bottlenecks to slow us down.
Once out of the stream of other park visitor trying to also exit the park at the same time, we made it onto the open road and set off into the sunset. I stopped after about an hour of solid driving, so we could all grab a bite to eat, and I could fill up the car. One milestone we did reach part way through the trip home was to hit one thousand Kilometres since leaving our home. I expect to double that before we're all said and done.
The remainder of the drive home was uneventful and, dare I say it, even pleasant. Driving in Germany is not quite the same as driving in other European countries. The largely absent speed restrictions for most of the motorway network gives rise to a slightly different driving style from most motorists. Yes, cars can whizz past at dizzying speeds quite often, but drivers do seem to be more tolerant and well-behaved for the most part. I didn't push the car as hard as I know it can be, since I have the family in the car with me. I kept mostly to a respectable 130-150Km/h, although Sandy clearly preferred me to restrict myself more than I wanted to. I was happy to accommodate her.
I pulled into our parking slot by the bungalow at around 10pm. Everyone is now settled, and I've spent the past couple of hours sifting through photos and writing up this blog. Tomorrow is a big day. We tackle the theme park that we came here for – Europapark. Let's hope tomorrow is as good as today has been.