The very first thing I do when I rouse each morning is to switch off my CPAP machine and remove my mask. According to the digital display, I clocked up just 4 hours of sleep last night. That is, if my failing eyes are seeing the numbers correctly. It's becoming progressively harder for me to read anything nowadays. For whatever reason, though, I was awake and kicking into gear. Maybe my subconscious was telling me we needed to get moving.
The sleeping arrangements here in the bungalow are somewhat unorthodox. There are 2 bedrooms. One master bedroom has a double bed (actually two separate bases with a single double mattrass), which is where Sandy and I are. There's a second bedroom which has two single beds split apart, which is where the kids are. Only, that's NOT where the two kids are. Jae, somewhat predictably, didn't want to share a bedroom with Joey. After all, he's a boy, and boys stink, as far as Jae is concerned. To remedy this, we moved the matrass from Jae's bed into the living room. I mean, why not? It's not like there's any other furniture there anyway, right? After our first night, Jae complained about not being comfortable on that matrass on the floor in the lounge (and I use the word lounge quite wrongly). Wanting to ensure that everyone was happy, I volunteered last night to take the matrass on the floor and Jae spent the night in the master bedroom with Sandy. Joey took full advantage of the now matrass-less second bed in his room, which has since become a massive Lego table.
The upshot of the sleeping arrangements is that I was able to get up and move around the bungalow relatively freely and without disturbing anyone else. I did have to collect some clothes from the master bedroom at some point, which did create a bit of a dilemma. Sandy sleeps very lightly. Even the very thought of touching the door handle could very well be enough to trigger her bolt upright and in immediate search of someone to vent her 'you woke me up' frustrations at – typically me. I had to muster all of my stealth ninja tactics if I were to pull of mission 'find something to wear without waking up Sandy' and live to tell the tale.
I pulled off the mission rather successfully, although it could also have been that Sandy did hear me but decided to save her admonishment of me for waking her up until a little later in the morning. That can sometimes happen also.
Now fully awake and slightly less embarrassed about what I was wearing, I took advantage of the calm by tiptoeing around the kitchen and dining room area tidying things up. Everyone else was still asleep. It's all otherwise quiet here, so I was still trying to avoid waking them up.
We had been gifted a free breakfast yesterday, but it wasn't clear whether that offer was still on the cards for the rest of our stay. I hadn't yet completed the negotiations with the hotel about the lack of furniture, which is relevant in this situation. They initially offered me a free breakfast for the rest of the stay, but I'm holding out for something better. Until that's resolved, I figured it might be a good idea if we had breakfast in the bungalow this morning instead. After all, this was a big part of the reason we opted for a bungalow instead of hotel rooms; we have a fully stocked kitchen at our disposal.
Luckily, there's a supermarket just a minute or two up the road. It's walking distance as the crow flies, although the fencing around the border of the hotel means you have to walk the long way around. The simple act of walking, and sometimes even just standing, has become more of a challenge for me in recent years. The lower vertebrae that are practically touch each other are the primary cause for this. Ten years ago, I would have walked to the supermarket and carried the shopping back. Today I have to take the car.
The supermarket was very much laid out like a Lidl. It took a little nosing around before I found everything I need, but I was successful at locating the bread, eggs, milk, croissants and, crucially, bacon. Somewhat reminiscent of holidays in the distant past, where we packed everything including the microwave oven with us to a Centerparcs holiday, we brought with us on this trip one of our two air fryers. I love these machines. We got them only quite recently and immediately decided that just a single air fryer wasn't enough, so we bought a second. Bacon cooked in the air fryer is a lot less messy (especially given the [lack of] my cooking skills).
Whether it was me moving around or the now lingering smell of bacon and scrambled eggs wafting in the air, the rest of the family were now slowly kicking into action. Sandy was up in time to join me at the dining table for a bite to eat. Jae wasn't long behind and Joey…well, he was having fun constructing Lego in his room. He very rarely eats anything for breakfast. It's a nasty habit he probably picked up from one of his parents (that would probably be me).
With breakfast now settling, I made my way over to the main hotel building and the front desk, ready for another confrontation about the yet to be determined remedy for the furniture situation. Once again, the lady behind the counter was super nice and empathetic – just not the person with sufficient authority to sort the issue out to my satisfaction. I had to speak with Suzanna, with whom I spoke on the phone initially when I was looking to extend the trip by an extra day. Suzanna wouldn't be on shift until later today, but she was going to be here until 10pm, so I could come and see her after we visited the theme park today. I nodded and smiled politely. Mission still not yet accomplished, but the wheels are still turning.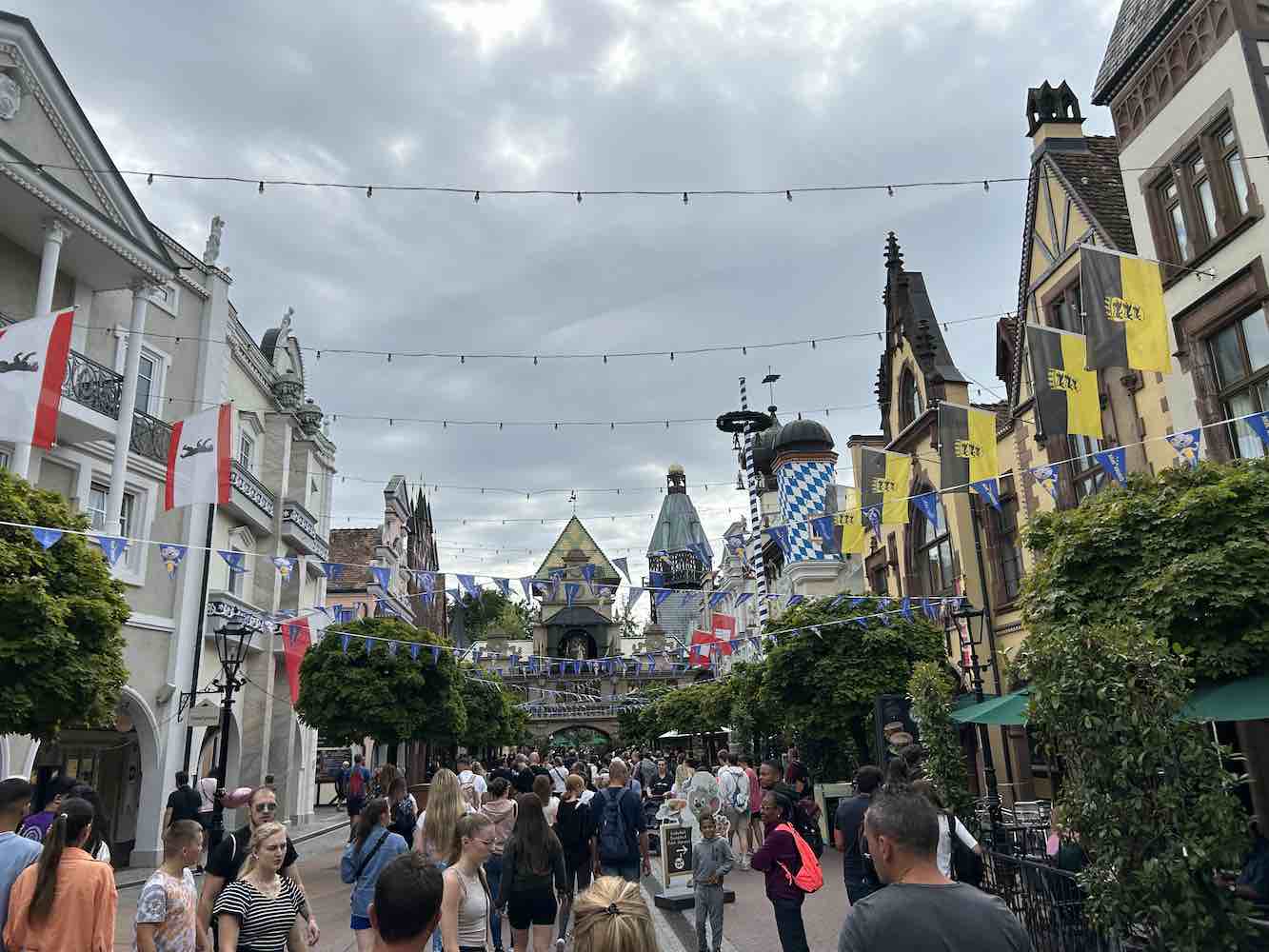 Back in the bungalow, the usual morning lethargy had by now subsided and there was a buzz in the air with movement and noise. Sandy and Jae had read through my blog from yesterday and were giggling at each other. Evidently, they had both clocked my feeble attempts to try to pressure everyone into action yesterday morning without giving it away that's what I was doing. They both claim to have seen right through this, and even exchanged notes with each other on why Dad was doing this at the time – without letting me know they were on to me, of course. The layers of subterfuge run deep and wide in this family.
So, with everyone now firing on all cylinders, and in good spirits, we were all packed and into the car and ready for our fun day at Europapark. The theme park is in the town of Rust, which is just adjacent to our tiny hamlet of Ringsheim. Even with the steady stream of other traffic piling into the area, it took us fewer than 5 minutes to navigate towards the park's premium parking area. For anyone looking to reduce the time it takes to get from the turnstiles to the car or vice versa, the premium parking really does the job well, albeit at €22 instead of the otherwise €8, you do have to pay through the nose for the privilege. It was around just twenty meters from small car park to turnstiles.
I did have a bit of a scare when we arrived at the car park entrance. I had previously loaded all the eTickets into my iPhone Wallet app. I checked repeatedly these were accessible there yesterday. When I wound down the window and at the barrier and opened my Wallet app to scan us through, however, they were nowhere to be found. Shit! The wave of adrenaline that pumped through me at the time subsided only when I realised the tickets were in the 'expired' section of the Wallet. Why they were there was a bit of a mystery to me, but the important thing was that the barrier opened when I scanned the car park ticket bar code.
Since managing Joey can be a full-time job, I had resolved to lift some of that burden from Sandy on this holiday. Consequently, for the past couple of days, my focus has been more towards Joey than Jae. This fact isn't lost on Jae. Today, I wanted to redress that balance and spend a bit more time with Jae.
First impressions of Europapark are very positive. It's a large park, beautifully themed to the minutest of details. In one of the reviews I previously read, someone commented that Europapark does Disney better than Disney. I can easily see why. As an added bonus, each and every staff member we encountered throughout the day was courteous, patient and a pleasure to deal with.

It was quite busy in the park, but not so much that we were adversely impacted. If anything, the hot and muggy weather conditions were our biggest challenge. Your cloths stick to you, and you become lethargic in the heat and humidity. The weather for this week was predicted to be partly cloudy and with a 30%-50% chance of rain. We could have done without the moisture hanging in the air. With that one exception, it was otherwise perfect conditions for exploring a theme park.
Each staff member in the park has a name tag. This also displays flags of the countries for which they speak the language. Lots of French and German flags on display. Fewer British flags than I would have expected, but even the staff that didn't display the British flag still seemed to command enough English to help us when necessary. Curiously, something that we did notice throughout the day was that many of the staff were speaking French to each other. I would have expected German. Maybe it's because we're close to other countries where more languages are spoken generally. We're just a stone's throw from France. As a theme park which attracts lots of international visitors, I imagine you want as many staff as possible that are multi-lingual. Perhaps the Germans aren't as multi-lingual in general as the French.
We made our way to the special guest services pavilion, a short walk from the main entrance and located at the base of a huge observation tower. We explained our situation. Although extremely pleasant to deal with, this time they did actually want to see our documentation and they examined them carefully. Fortunately, the letters from the doctor were sufficient for purpose and we were again afforded the flexibility of priority access to all park attractions. Despite my previously reading that the special access passes would only grant us access to 6 attractions per day, this didn't seem to apply to us. I think it was because we were a group of fewer than five. Either way, we weren't complaining. The staff member wrote a few things on our documents and highlighted certain words. He did this for both Jae's and Joey's doctor's letters. All we had to do was to flash either of these at the staff member at the exit (Baby Switch) door and we would be led onto the attraction. For most rides, this resulted in a wait of fewer than 2-3 minutes, sometimes even less. On only one occasion was the wait closer to 10-15 minutes, but there were a lot of other people at the time who also had special access passes. That ride was Arthur, which was probably one of the best rides in the park – not quite so much for its thrill level, but because of its uniqueness as a ride. More about that later.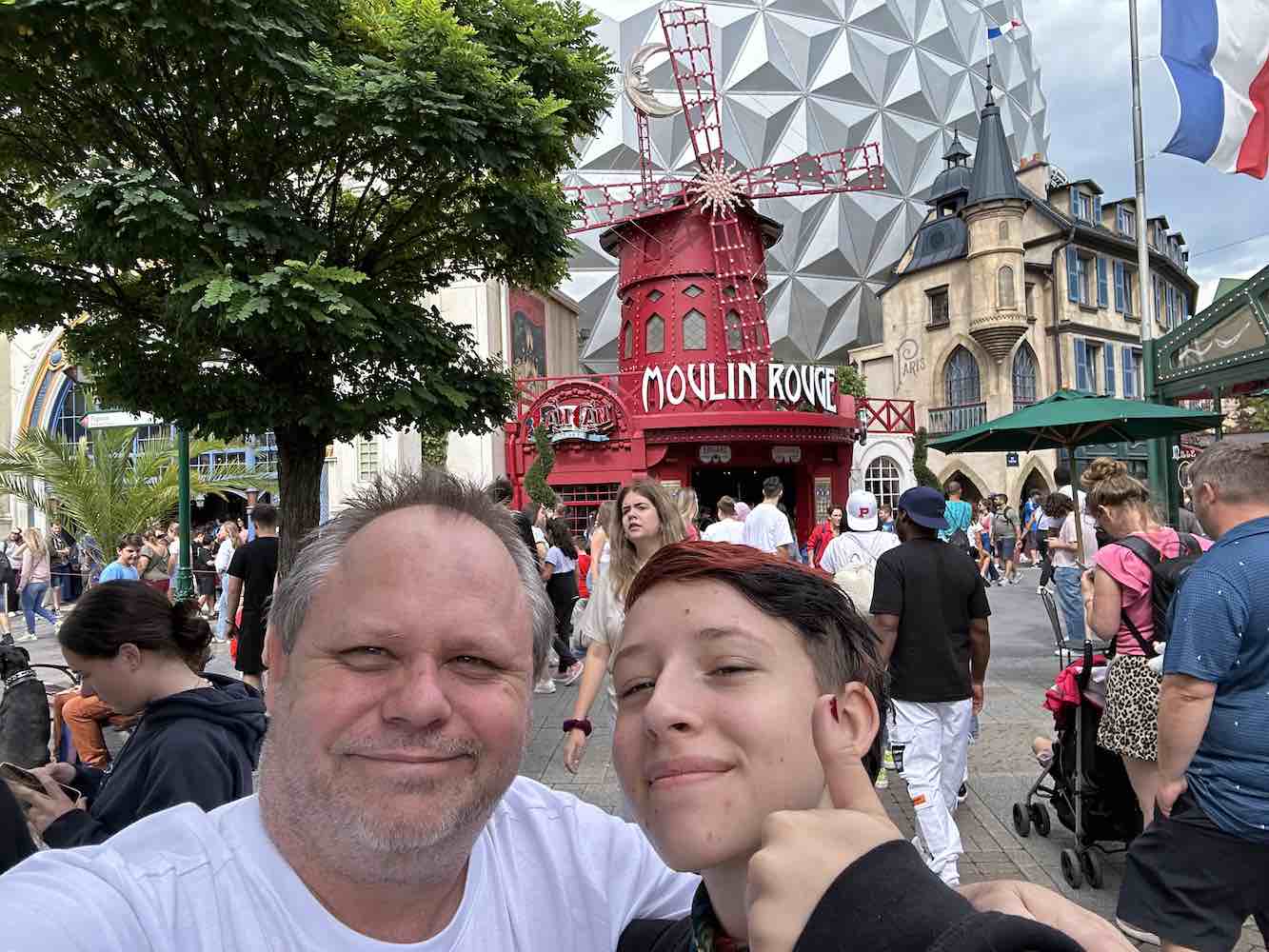 As per our previously agreed strategy, Sandy and Joey wandered off into the park while Jae and I made a beeline for some or the more thrilling rollercoasters, of which there are more than enough to choose from.
Europapark is divided into themed countries – about a dozen or so in all. Each country is themed very stereotypically. England is more English than the real England, France more French than the real France and so on. The park itself is quite beautiful – stunningly so. The landscaping and trees are in many places simply breath-taking. In some instances, it seems the trees and rollercoaster or other theme park elements intertwine with each other so naturally, you'd think the park design and layout was conceived a hundred years ago when the trees were first planted. There are plenty of places to sit and relax, dozens and dozens of food options, and, of course, you can't walk far before finding a place to spend money on souvenirs. Many people don't consciously realise this, but most major theme parks are actually giant retail shopping centres in disguise. You very much get that sense in a Disney theme park, but it seems a lot less in-your-face here at Europapark. They got the balance just right.
Since the guest services pavilion was in the French section of the park, Jae and I explored France a bit first. The most immediately visible attraction is what looks like a giant golf ball – very much like EPCOT's Spaceship Earth. It's called the Eurostat Can Can Coaster, themed like the famous Parisian Moulin Rouge and complete with a functional Moulin Rouge windmill out front. It's basically an indoor rollercoaster. What we liked about it was how the coaster car gained height initially. Instead of the usual uphill trundle, the coaster winds its way up a spiral. On the inside of the spiral is a rotating structure. It turns at the same speed at which the coaster car is spiralling upwards, so the center structure is stationary relative to the car with the exception that the car is climbing relative to the structure. This cool trick was evident on several of the coasters in the park today. Quite nice.
Jae and I had lots of fun trying out a few things here and there as we burned through the remainder of the morning. We found our way to some place called the Minimoys Kingdom, where the main attraction must surely be Arthur. This is a roller-coaster of a sort. The coaster cars with three rows of four people side-by-side hang from a single rail and the car travels under its own power, as opposed to using gravity. It's an incredibly smooth ride, with none of the unpleasant jolts and lurches you normally associate with a classical rollercoaster, but there are portions where there is some thrilling acceleration or freefalling. The car moves through whimsical fantasy scenes, goes both inside and outside, and at one-point circles overhead around the main atrium hall that you must walk through to get to the ride's point of entry. One of the outside sections takes you through the landscaping of mature trees and even over a river or creek. You fly right over the heads of people walking through the park going about their business. One wonders how they managed to get the superstructure of the ride built in such a natural environment and yet kept it all so pristine. It really is quite unique and a wonderful ride. While Jae and I were nearing the front of the special access queue, Sandy and Joey arrived, so they did the ride one or two cars behind us, and we continued together thereafter. Naturally, this was after we spent some time in the shop at the exit to the ride. Both kids were spoiled to a few more souvenirs at this point as my treat. Again, fuck it.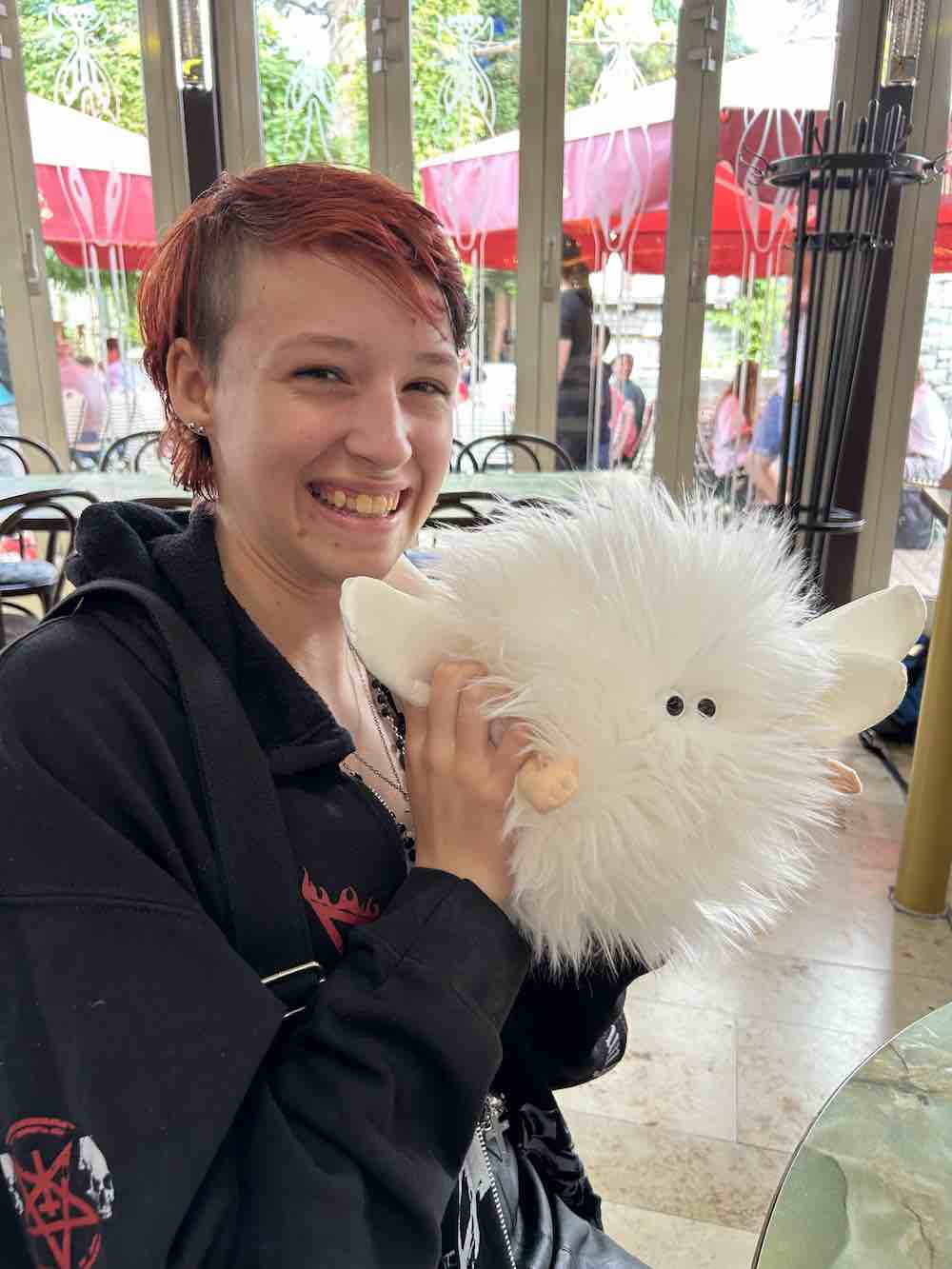 Sandy had previously spotted a nice place to eat – also in France, as it happened – so we made our way there. The food in the park restaurants, at least those we experienced, was very good. Plentiful and surprisingly reasonably priced. Soft drinks here in Germany are typically served in either 0.4l or 0.5l portions, which I really like. You don't get the sense you're being fleeced for meagre portions. In times past, I would have been grumpy Dad whenever we ate at a theme park restaurant. In such situations we're typically on a budget and I'm often disgruntled at the futility of having to accept being fleeced for every penny. For this trip, however, we have a more generous budget to play with, so this might also explain why I've been much more relaxed about spending money so far. Indeed, it has felt like I've been spending money with wanton abandon so far, paying scant attention to prices or how much I treat the kids to souvenirs. It certainly does make for a more relaxing holiday. I'm sure my credit card and I will have a deep and meaningful reflection on this after we're back home and the dust has settled. For now, however, it's very much a sense of 'fuck it'!
Once the lunch food coma was well into full swing, we decided I'd take Joey off Sandy's hands for a little while she and Jae went off to have some fun together. Joey and I doubled back to Arthur again. I'm not sure if it was more the ride or the shop at the ride's exit that he was most looking forward to (UPDATE: he has since told me it was because of the ride).
Now equipped with another two wooden swords, to add to the previous one he picked up the first time around, Joey and I wandered around the park a little aimlessly, before Sandy suggested I take him to The Netherlands. There is a small pancake snack bar there with a tiny inside section that's out of sight and, with a little luck, devoid of people. This did wonders to ground him, as the heat and humidity was affecting him like it was the rest of us, and I needed to find a low-stimulation environment for him to recuperate a little. We were indeed the only ones to find the little out of the way section of the pancake restaurant, so that worked out well.
After all meeting up again in the middle of the afternoon, Jae and I went off to tackle all the bigger rollercoasters. Thanks to our priority access passes, we knocked them off in quick succession one after the other and had an absolute blast together in the progress. How I avoided losing my lunch, I will never know.
At the exit of the last ride, I picked up another couple of souvenirs for both kids. By now, the effect of theme park trekking, heat stroke and sleep deprivation were all starting to kick in with a vengeance.
Everyone agreed it was time to make our way back to the car. Sandy and Joey had already done so. Jae and I hopped onto the monorail that circumnavigates the park. We were just a couple of stops from the main entrance.
Our tickets would have let us back into the park, should we have felt foolish enough to attempt it, although I was a little annoyed to discover this didn't apply to the expensive parking ticket. That turns out to be a one-time use ticket.
Back at the bungalow, we mulled over dining options. To cut a long story short, given I was likely going to be too tired to write up my blog, much less eat, Sandy and Jae walked over to an adjacent hotel which has an Asian food restaurant. Joey opted for a Maccas, of course, for which I was too tired to complain about.
The filling and pleasing (and I use both those words quite wrongly) evening meal at least gave me enough of an energy boost to write up the notes for this blog. It's now mid-morning the following day and I've only just now polished it off proper. It was a good day.