Kent, UK - April 2008
Day 2 - Camber Sands
Monday 28th April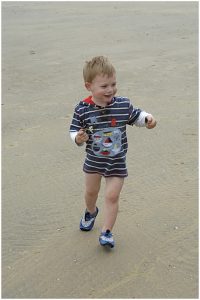 Despite the kids settling in well last night, Sandy's sleep was cut short this morning when at around five in the morning Jennifer started a fit of coughing and Calvin fell out of his bed and ended up trying to sleep under his sister's bed, having lost track of where he was and where his bed was. After trying to squeeze in a few more winks in the downstairs bedroom, Sandy eventually had to concede to the fact that the kids were up and about early. Even though she's much more of a morning person than I am, she eventually came back to bed and turfed me out with a short sharp exclamation of 'Shift change!'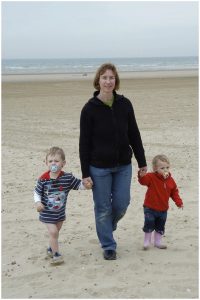 So, here I am, groggy and barely aware of my surroundings and in control of 4 kids running around the place. Still, I managed to keep them entertained for a couple of hours - though admittedly this was mostly with bribes of food. By somewhere around nine thirty, all four adults were eventually up and about and we were tucking into breakfast - again. I had already tried to feed the kids breakfast cereals a while earlier, which most of them polished off I should point out.
Around the breakfast table, we pondered what to do for the day. Fortunately, the weather still looked good so we decided to forgo a trip to Dover Castle, which could be done when the weather was not perfect, and head to the beach instead. Camber Sands is a short jaunt from here and I still have fond memories of having spent many a trip there when I was just knee-high to a grasshopper. Mum still recounts the story of me getting lost in the dunes and causing a mass missing child search, only to find me some 2 hours later having decided to make my way to the car-park and onto the bonnet of Dad's car. Clever kid I was ... back then.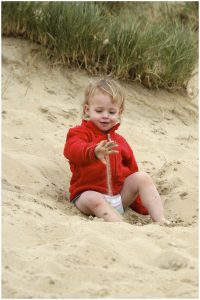 The kids were in their element just as soon as we hit the beautiful golden sandy beach and they had a ball running up and down the dunes - just as I once did. The tide was a long way out and there was a bit of a wind but everyone seemed to be enjoying him or herself nevertheless. The camera was in overdrive for most of the day with photo opportunities galore.
After a while, we decided to stroll down to the water's edge to paddle in the very shallow water. I found myself trying to juggle holding hands with 3 kids at one point and it wasn't long before one of them inevitably tumbled backwards into the water. Oh well, all part of the fun.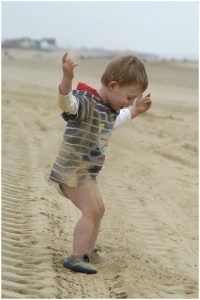 Camber Sands looks exactly as I remembered it all those years ago. Even the car-park and the couple of small buildings selling plastic buckets and spades looked eerily familiar. All in all, we had an enjoyable couple of hours getting sand into crevices I never knew I had but by around mid-afternoon, it was starting to cool of a bit too much and we made our way back to the cars.
Since we still needed to arrange for some food for tonight's dinner and the rest of the week, we headed towards Ashford, where a Tesco's superstore would still be open. We didn't make it far out of the car park before all the kids, perhaps somewhat predictably, were all fast asleep.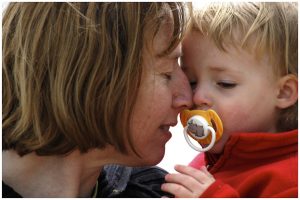 Back at the house, we settled into the routine of the evening meal. The kids ran around for a bit more before going up to bed. With a bit of luck, all that fresh, sea air will help them sleep a bit more soundly tonight and we adults can get a bit more sleep as well.
We rounded off the evening with a slideshow of the day's camera takings and some very amusing stabs at some of the Nintendo Wii games we brought along with us. With a full day's excitement now behind us, I'm sure that bed will be a much-welcomed sight this evening.