Day 10 – Down time
Thursday 23rd August 2018
Once again, we all enjoyed the sheer bliss of having nothing to do and nowhere to go this morning. Consequently, everyone was up and active well past rope drop for all the parks. I have to say it was a well-needed suspension of the busy schedule of activities. For the next few days, we have very little we need or want to achieve, so there should be much chill time enjoyed by all.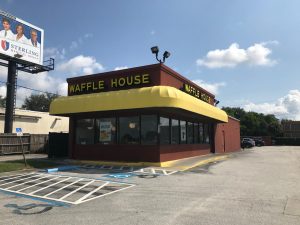 We still have to feed ourselves in the meantime. We have a fully-equipped house and kitchen here, of course, but we only have a limited stock of things. I asked Joey if he wanted something to eat this morning and he asked for bacon. It just so happens I still have some in the fridge, so I whipped a batch up for him. I'm not especially partial to the streaky bacon that's more typical here in Florida. Something a bit more filling was needed. I asked Joey if he wanted to go out for breakfast. Wouldn't you know it, he immediately wanted me to take him to a Waffle House. Well, what's a chap to do?
Sandy was going to take Jennifer out a little later for a bit of girly time, so me and Joey took the car and headed out for a bit of quality boys time. We made it to the Waffle House that's closest to us on SR 27. Joey was especially thrilled to be able to sit at the counter, as opposed to a table that we usually take. He sat there with his LEGO (yes, the lesson is proving hard to sink in) and was in his element. When Joey is happy, everyone is happy.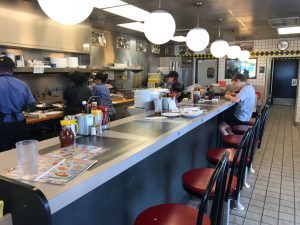 After breakfast, we moseyed on over to the nearby Walmart. I had to return a cable that we bought a couple of days after we arrived, as it had the wrong shaped end, and so had to go to the guest services counter before anything else. Joey latched on to the LEGO aisle in the toy section faster than you can say the word LEGO just as soon as we were through the front door. He was away faster than shit through a goose. Once I had finished with guest services, I went to see whether they had a GoPro in stock for Jennifer. It would be an early birthday present and I was keen to pick one up before we go to the next water park, since that's the whole point anyway. They did have the one I was looking for, but it was in a display cabinet and I was told it wasn't for sale. I would have to order one and wait a day or two for it to come in. I wasn't happy with that and we ended up leaving empty-handed.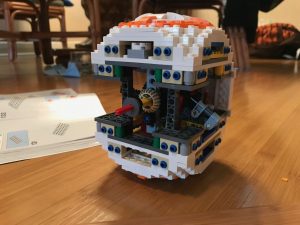 Back at the house, I handed the car keys to Sandy. Joey and I pretty much relaxed for the rest of the day while Sandy took Jennifer out for a bit. While they were away, we spent some time continuing to build the BB-8 LEGO set Joey had already started to construct a day or two ago. In between sessions, I continued to write up the blog from yesterday's fun and frivolities. I also posted the video of me and Sophia in the slingshot ride. A few others shared that post and the damn thing went viral. By the middle of the afternoon, there were well over a thousand hits. As I type this here this evening, it's up to over 2,500 hits.
I did have a couple of things I needed to attend to today. I called our good friend Patti in Jacksonville. We've been trying to connect for the past few days. Alas I wasn't able to reach her, having to content myself with leaving a voicemail. I also had a Dragon Realm Press client that I needed to speak with, so I tended to that as well.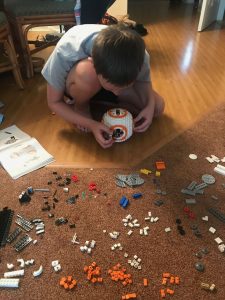 All the while Joey was building his BB-8 LEGO set, I was snapping the odd photo here and there. This was so I could create a collage showing the progress he has been making over the past couple of days. Indeed, I need to go back to all my blogs and add some photos to them. So far, I've only included a single photo at the start of each entry. I'll remedy that before too long. I also managed to get a couple of fun videos of Joey and the heaps of LEGO that's now sprawled out around the house.
By the end of the afternoon, there was still no word from Sandy and Jennifer. I tried to not disturb them but needed to know what Sandy wanted to do for dinner, so I stalked her phone. Sure enough, it revealed their location to be the Walmart just down 192. When we eventually contacted each other, Joey had asked to stay home for dinner, so Sandy brought him home a MacDonald's. The rest of us would head out to somewhere for something to eat.
Sandy and Jennifer eventually strolled through the front door. Amazingly, in a stunning feat of self-restraint, they spent almost nothing between them the whole time they were away. Winning.
After some haggling, we eventually settled on the nearby Chilis for dinner tonight for Jennifer, Sandy and me. It was next to a different Walmart to the one Joey and I explored earlier in the day. We had high hopes of finding a GoPro Hero 6 there.
The dinner at Chilis was a bit of a mixed bag. Unlike the one we were at the other night with Andy, Kirsty and the girls, this one didn't want to allow certain substitutions, which annoyed Sandy a little. It also took a while for the food to come out. Like the one the other night, the tables at this restaurant had those portable tablets with games on them. A little surprise at the end of the meal was a $2 charge added to the bill for the privilege. We hadn't expected that. Our bill came to $40 and change in the end.
Although the food was good, we left the Chilis feeling just a tad disappointed with the overall experience. I think we're settling in a bit. We seem to be finding fault where we previously mightn't have.
Over at the Walmart, I did ask whether they sold guns, since a friend of ours, Ken, had been asking for me to post some photos of guns being sold at a department store. The man I asked explained that although many Walmart stores do in fact sell guns, the ones here in the touristy areas, don't.
As luck would have it, this Walmart did have one remaining GoPro Hero 6 in stock. Along with a couple of choice accessories, we took it and duly made Jennifer happy with her early birthday present. So as to not dent our daily budget too much, I put the purchase onto our Oz credit card. I plan to pay that off from my Oz bank account just as soon as it posts. I can't abide the notion of paying interest.
Sandy did a bit of window shopping while we were there and eventually picked out a few T-shirts for Joey, as they were made from the sort of material that he tolerates.
We managed to reach Joey by phone after leaving the store (we've had no success with reception inside any Walmart to date). He of course wanted us to bring him in a MacDonald's burger and a couple of cookies, which we did.
On the drive home, we chatted to Kirsty and Andy via a Facetime call (although they couldn't see us as we were in a dark car). We've agreed to meet up with them for the day again tomorrow at Blizzard Beach. We're really enjoying spending time with them on this trip, so we're looking forward to tomorrow now. I will have to stop in at a Target or somewhere first thing in the morning to pick up a memory card for Jennifer's GoPro. Walmart were out of stock of the ones we needed.
Back home, the shutdown routine happened without incident. It was a relaxing day today and we expect that to continue tomorrow also.