Day 2 – settling in
Wednesday 15th August 2018
Thanks to the comfortable beds, we all slumbered serenely through the night. I woke up at around 09:00am and gently tried to get everyone else up. If we are to stand a chance at kicking the jetlag, we'll have to adhere to the local day/night cycle as soon as we can.
With the others all slowly rousing, I decided to pop out to the nearby Publix (supermarket). I have to say that the sights and sounds here are all bringing the memories of the six years Sandy and I lived in Florida happily flooding back. There really wasn't any pressing need for me to visit Publix but I picked up a few provisions there all the same. It was a useful exercise in building a mental map of the area as well. Besides, it's literally just outside the resort gates anyway.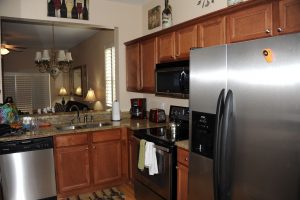 By the time I got back home, the others were all in full swing and finding where everything is in the house. We all pottered about a bit, but it wasn't long before the decision dropped for us to all head over to Walmart, despite this being, as Sandy often puts it, 'dangerous'. What she means by this is that our wallets may take a pounding. Still, we're on holiday and Sandy has more than earned the privilege of indulging in some retail therapy. Besides, we have a few things we need to achieve today, such as picking up some local SIM cards for our phones.
Walmart didn't disappoint. Joey set to work spending some of the money he had been given by various people. Sandy and I had also promised him a particular LEGO set (one of the very big ones), which he found in short order. Giving him LEGO to play with is a way to ground him (provide him with a sense of familiarity to help put him at ease), so we had no issues with it. The psychologist agrees that putting him into 'his bubble' is preferable to having him suffer from anxiety issues at the moment. We are ALL on holiday and now is the time to indulge and let go a bit. Pretty much immediately after walking through the Walmart main entrance, Sandy stopped at a rack of Disney t-shirts, several of which made their way into the trolley. We also picked up some water/sand shoes for the water theme parks (and for the visits to the beaches while we're in Jacksonville in a few weeks).
Walmart, for those unfamiliar, is sort of like an everything store. There's very little you wouldn't be able to find there. This particular one had a supermarket, bank and just about everything else you could think of. By the time we had finished up there, we were several hundred dollars lighter. When we emerged from the massive warehouse, we fell right into the normal Florida routine of darting swiftly from one air-conditioned environment to the next as quickly as possible. 34 degrees Celsius and a 90+% humidity level will do that to you.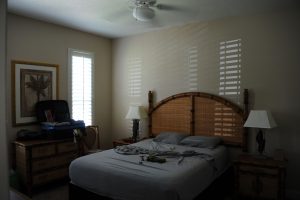 A quick jaunt up the nearby highway 192 and we found our next destination of the morning – a Denny's restaurant. Like Waffle House, it's more of a breakfast place but it's open 24×7. Once again, we all had a thoroughly good time indulging our tummies there. I know my waistline won't thank me for it, but I do love the free soft drink refills thing they do here at places like Waffle House and Denny's.
Back at the Regent Palms, we stopped off at the front car park to spend a few minutes exploring all the amenities, like the pool, kids' playground and arcade, etc. The plan was to grab some things from the house and take a dip in the pool, which Jennifer was quite enthusiastic about. When we made our way back to the house, however, Sandy felt that there was more Walmart retail therapy to be had and so a quick change of plans ensued. After I installed the $45 SIM card and 30 days of data and voice into my mobile to confirm it all worked as expected, Sandy was to head back to Walmart to pick up three more so that all four of us would all have a local phone number on our phones. A week or so ago I bought the kids each a second-hand iPhone 6S just so we all had the ability to call each other while on this holiday.
While Sandy and Jennifer were out getting their retail hit, I sat at the house and wrote up yesterday's blog as well as much of today's. Joey was content in his room with the TV and a heap of new LEGO to explore. For my part, I started to hit the tiredness wall at around 5pm. We planned to head out for dinner tonight, although I was at this point still feeling rather full from the earlier Denny's and I was really trying to stave off the urge to go and lie down. If I did, I mightn't have gotten up again.
Sandy and Jennifer returned just in time to prevent me from indulging in that lie down. In addition to Sandy bringing home a little less money than she took with her, she also came in bearing news about the car. When we collected it from the airport, there was nobody at the car itself. We were sent to a particular bay in the multi-storey car park, where we found the car with the keys in it ready to drive away. That was gone 02:00am.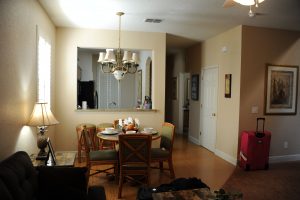 This afternoon, Sandy informed me that there are a number of scrapes along the driver's side rear wheel arch and rear sliding door. How I missed seeing this myself is still a bit of a mystery to me but there it was. Normally, when you collect a rental car, they do a walk around inspection and note any dents or dings onto the paperwork. This didn't happen with us. I checked the paperwork and there wasn't anything there that indicated where any marks on the car could even be recorded. Curiously, there were several white crosses around the area of the scrape, which suggested to us that this was something that had been noted previously. If it weren't for those white crosses, I would have been convinced that the scrapes were made AFTER we had collected the car. I was genuinely stunned I hadn't noticed it all this morning when I took the car to Publix and back. As I had to call the rental agency anyway to speak to them about the $130 I overpaid for unnecessarily adding an additional driver, I mentioned the damage we had detected. The lady on the other end said she noted it on the system and that everything will be fine. Let's hope that's how it plays out at the end of the rental when we hand the car back.
Sandy and Jennifer had returned from Walmart with the extra SIM cards and a few more provisions I had neglected to bring back with me from Publix earlier. Our wallet continues to get lighter.
Jennifer was chomping at the bit to go to the swimming pool complex, so we readied ourselves and made the short drive over to the front of the resort. Joey is still defaulting to initially not wanting to do things (put shoes on, leave the house, go anywhere, etc.) but he's slowly coming around. He is trying more and more things and finding that things are working out well when he does. This is a sure-fire sign he is becoming more comfortable, which both Sandy and I are very happy with.
There were some inflatable rings and things in one of the cupboards in the house, so we took those along with us to the pool. I wasn't enthusiastic about this at first, as it was in all likelihood going to be me huffing and puffing to get them inflated. As luck would have it, however, they had a compressor inside the pool area so that was handy. Alas, two of the three inflatables were already punctured beyond repair, so we only had the use of one in the end.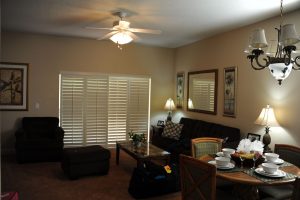 We spent about an hour at the pool. By the standards of the water theme parks we'll be visiting over the coming weeks, it's not huge but both kids loved it and that's all that matters. Don't get me wrong, it's still a fantastic water pool area and the water itself was genuinely warm and inviting.
As a registered resort resident, we are each provided with wrist bands, which must be worn to get into the community pool and resort area. We're allowed to replace them with new ones every day if we wish so we did that and headed back to the house to freshen up before heading out for dinner. Sandy had a hankering for Applebee's, another one of her past favourite restaurants. She was especially looking forward to the garlic bread she remembers from their menu.
The Applebee's we chose tonight is in the same plaza as the Publix supermarket, so it was literally a two-minute drive after leaving the confines of the resort. Alas, when the time came to place our order, our waiter informed us they no longer have garlic bread on the menu, much to Sandy's chagrin. That notwithstanding, the food was good and plentiful. Joey had the kid's steak and even ate it, which surprised us both. In fact, he asked for another. Since he has been so reluctant to eat at all in recent weeks, we decided to accommodate that request – even though it added to the bill.
We're clearly going to need to get into the habit of checking how much cash we have with us on a daily basis. By the time it came to settling the bill, the realisation set in that I actually didn't have enough to cover it. Fortunately, Sandy had a hidden $50 stashed away, which when added to what I had in my wallet just gave us enough. That was a close call.
Looking back, we probably over spent today with respect to our anticipated daily budget (in fact, we did so considerably). In truth that was always going to be the case for the first day or two. Quite frankly, I don't really care either. We're on holiday and be damned the budget for a few days.
Back at the house, we settled the kids off to bed. Andy and Kirsty are here in Florida and we each missed a call from each other during the course of the evening, so we had a video conference with them tonight. They are in Vero Beach but will be in Orlando tomorrow afternoon. We've arranged to hook up with them for dinner tomorrow night.
With the hustle and bustle of the day now drawing to a close, I spent some time installing all the phones with SIM cards and setting up everyone's address books and favourite contact lists. We now all have each other's number on speed dial.
It's now 11:23pm. It's hard to believe we've actually been in the country for just 24 hours. Already it seems like a week!