Day 35 – Universal
Monday 17th September 2018
After the stresses of yesterday, I was glad for a slower start to the day this morning. In fact, I think we all slept much longer than we planned. I woke up early enough but then dozed off again. I don't recall how many times that happened but by the time my body had had enough of laying down, it was noon. Bliss.
We had decided to go back into the Universal parks again today. We still have a few days left on our two-week all access passes. On the way there, we stopped off again at that mega MacDonald's restaurant on I-Drive. The kids both still had tickets left to convert into prizes anyway.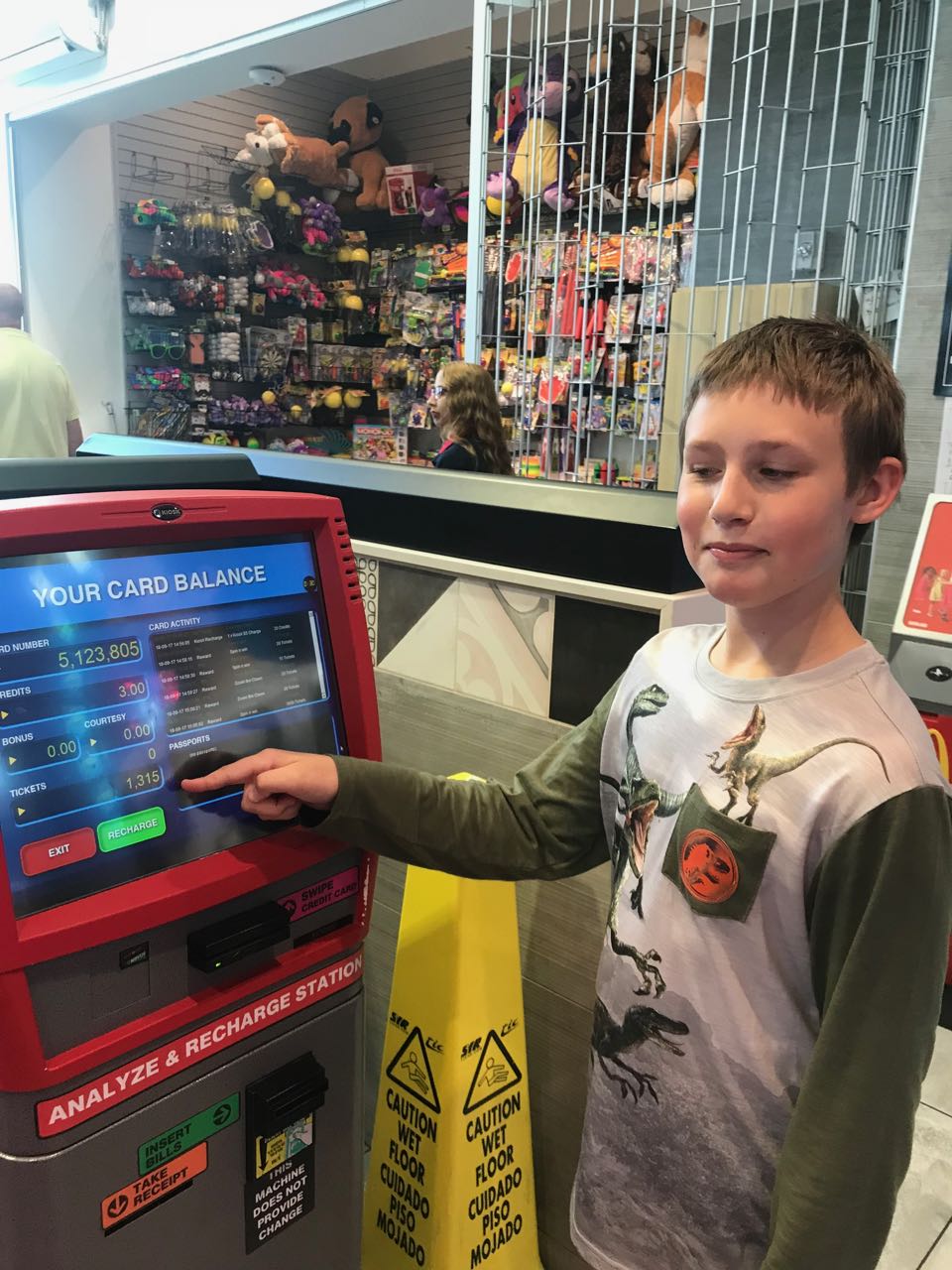 Although this mother of all MacDonald's is great and all, we do tend to come away having spent more than we would expect to at a mere mortal version of the restaurant. Granted it's usually only the kids that have a burger or whatnot whenever we drive through. This time, we all sat down inside for a full meal. Still, it was over $50 at the cash register, which is more than I would have expected. I did check the receipt and it did tally correctly. Either it's just more expensive than I thought at MacDonald's in general or it's just more expensive at this particular one.
Rather than simply cash in their tickets on their play cards, both kids insisted on adding more money and playing more games. Of course, they did. What on earth was I thinking? In arcades and games of chance, I'm desperately hoping the kids will eventually realise you have to spend big to win little. Joey in particular struggles with that concept. I suspect he's pretty much the game designers' favourite demographic – someone easily led by their various lures.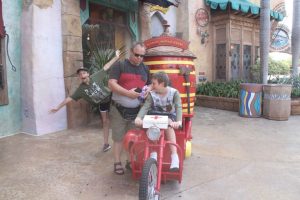 My efforts to push Joey up that hill of understanding took a beating today. Joey insisted on playing one particular machine where the light flashes around the big circle from number to number. You press the button and whichever number the light stops at, that's the number of tickets you win. It's mostly numbers from 1-10 but there is a tantalising green 1,000 number that's surrounded by low numbers on either side. Naturally, the game is rigged to prevent anyone from winning the jackpot, causing 'near misses' each time. This is standard gaming tactics that just eggs the kids on, right? Joey swiped his card and didn't even look up at the spinning lights. He just saw the big red button and slammed it. Wouldn't you bloody well know it? He stopped the light on the green 1,000 ticket jackpot. Both Joey and Jennifer were jumping out of their skin with excitement. In my mind, however, I'm thinking 'Shit! That's just going to reinforce the idea that you can win at these games and will end up costing them [me] more in the long run.' I somehow managed to force a smile, rolled my eyes and walked away.
Joey was reeling from his jackpot winnings for the next half an hour. It practically took that long for the machine to slowly count down from 1,000 to 0 as the machine credited Joey's card with the tickets. Armed now with well over a thousand tickets, he went to the prizes booth to pick out a few things. The one thing he specifically wanted was worth 900 tickets. In fact, he had been telling us over the past few days since we first walked in to this MacDonald's that he was saving his tickets for this particular toy – a Fortnight soft toy. I kept telling him there was no way he was ever going to accumulate that number of tickets and that to do so would end up costing a huge amount of money.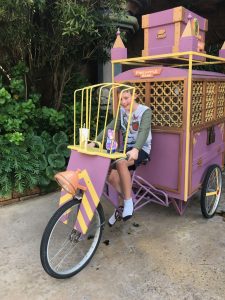 Naturally, I wanted for him to understand he would likely be disappointed. Another bloody parenting backfire for me. Chalk one more victory up for the cash-extracting arcade game designers.
I was of course pleased that Joey won something, but I knew this would make it difficult in the future for me to use the 'you'll never win at those games' excuse ever again. With a mixture of emotions, we left and drove the few minutes over to the Universal car park. Again, we scored a spot much closer to the action than would otherwise have been the case.
Once we cleared the security checks and made our way through City Walk, we stopped off at Lost & Found in a last-ditched effort to see if anyone had handed in the GoPro. No such luck.
Resigned to the point that $500 piece of kit + accessories was now gone forever, I heaved a heavy sigh and we wandered into the park. First up was the Spiderman ride. Joey was still in his socks, but he at least made no arguments about putting his sand shoes on for the duration of the ride. I think he was still in a good mood from winning the jackpot at MacDonald's. I think Sandy packed the sand shoes this time in the hope he would tolerate them more than the sandals. Incidentally, when we bought those sandals, I made Joey wear them for several minutes while walking around the store. He was adamant those were the ones he wanted and didn't develop any aversion to them for at least a week.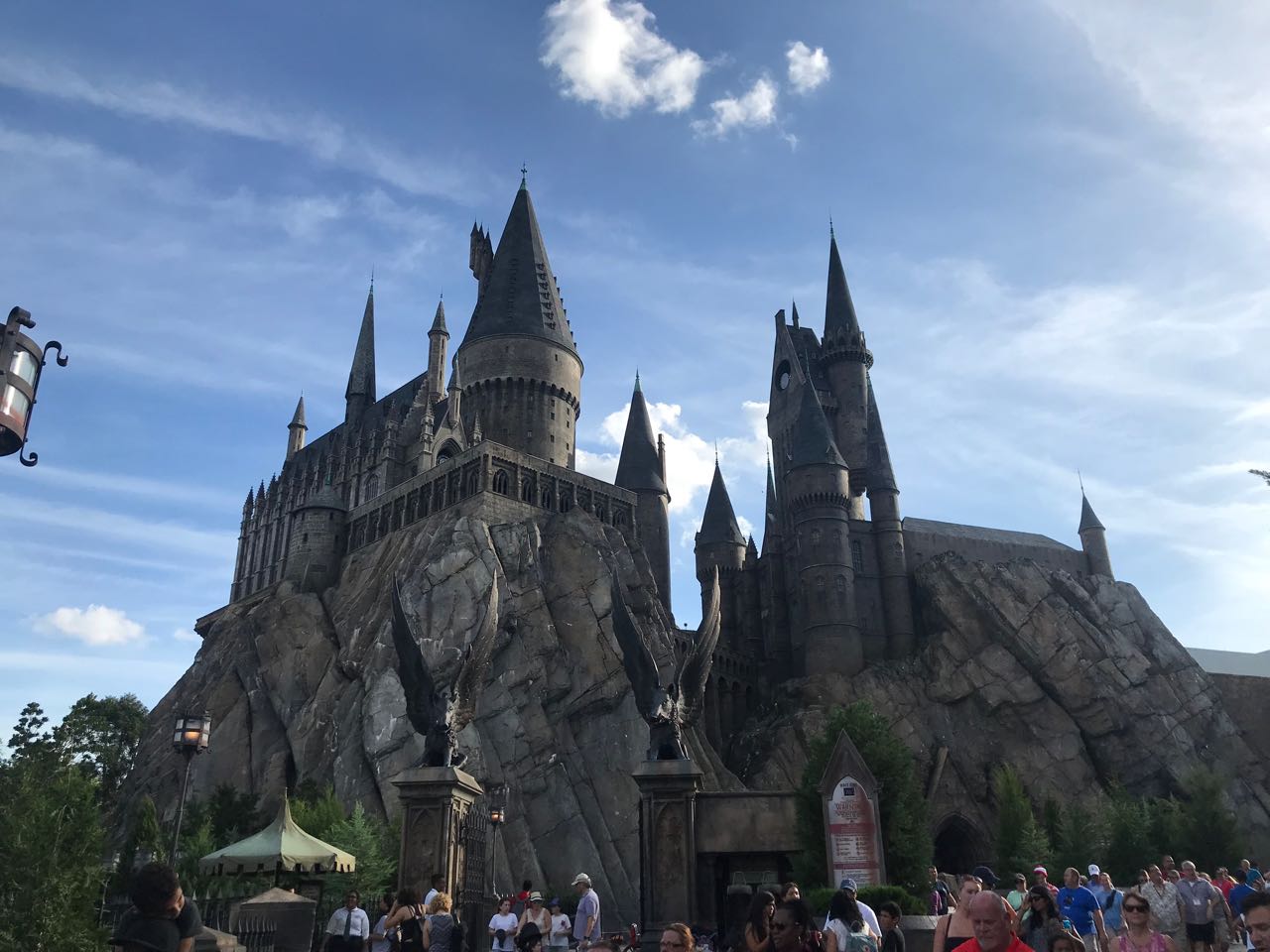 Sandy and Joey stayed in Marvel Superhero Island for a bit. Jennifer and I in the meantime went on to Toon Lagoon. Jennifer was keen to do the Dudley Doright Ripsaw Falls water drop ride. We'd been thwarted a couple of times with this one due to it being closed for inclement weather on previous visits.
When we got there, we were given a return time for the first time at Universal. The ride queue was just at 30 minutes, which triggers the return time procedure. The attendant asked us to return in ten minutes and wrote the details onto the back of our special access pass. Like many of the attractions at Universal, there were a bank of lockers nearby. So far, all of the lockers we've seen have been free to use but here there's a $4 fee. I queried this. It turns out the lockers are free for those rides where it's mandatory to have no loose articles with you. In the case of this ride, they don't have that requirement.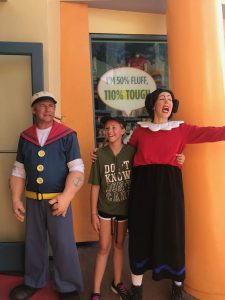 It's optional. You're allowed to take things with you on the ride, albeit they – and you – are likely to get wet, if not soaked. I remember vividly writing my daily blog about this in years past. I hated the notion of being asked to spend money to use the one-time-use lockers. I still do. People pay a small fortune to visit these parks and it's nothing short of daylight robbery to impose this extra fee on people. It's unnecessary and taints the entire day.
I decided to not give Universal the satisfaction of my $4 for the use of their lockers. I simply couldn't stomach it. Instead, I put everything we had into my backpack. It's good for keeping out the worst of the water for a short period anyway.
After killing a few more minutes in a nearby air-conditioned environment, we went through the express pass lane and into the ride. Jennifer absolutely loved it, although she wasn't impressed with forgetting to shut her mouth right at the moment we got very wet.
I scanned our photo pass at the photo booth in the ride's exit shop and the two of us continued our route clockwise around the park. It was hot enough out that I expected it wouldn't take us that long before drying off. That being said, Jennifer next wanted to do the Jurassic World ride, which is also a water drop ride. The dowsing we received there ensured we were now truly dripping, as if we just walked fully clothed out of a shower.
The ultimate objective for today was for Joey to have fun at the Jurassic Discovery Centre, which was closed by the time we got to that part of the park a few days ago. This time, it was open. Jennifer and I found Sandy and Joey waiting there for us. Joey had been lucky enough to be chosen to name one of the hatching dinosaur eggs. He was even awarded a special certificate to mark the occasion. Joey's chosen name for the new hatchling? Joey.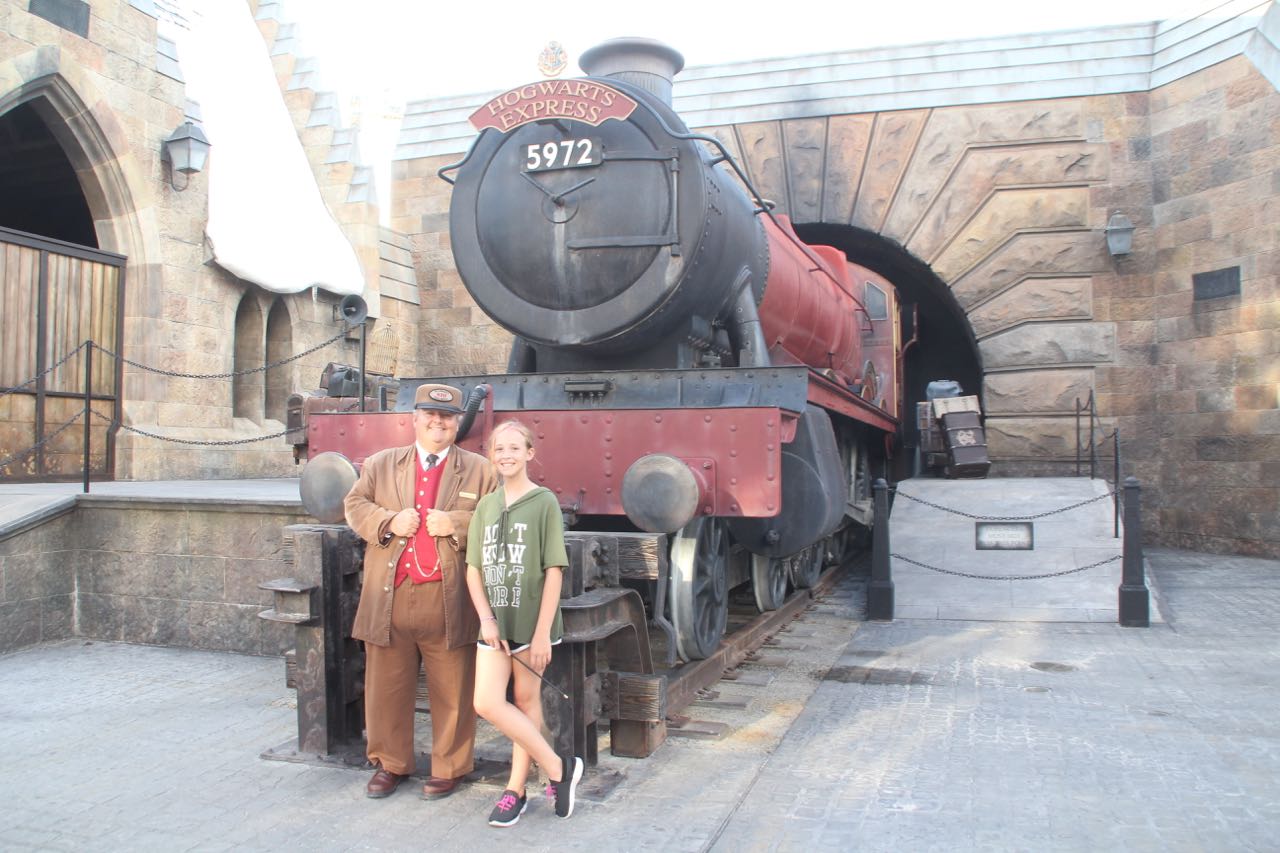 Both Jennifer and I were still rather dripping from the two water drop rides. This meant it was too cold inside the discovery centre building for us, so we went outside to dry off in the sun. There were a lot of physically fit men walking around but my need was greater, so I was forced to embarrass them all by taking off my top and exposing my body. Women all around me were swooning, as is often the case in these situations. What can I say? It's an axe I have to grind.
After my irresistible upper torso was baked to a cinder, Sandy took Jennifer into Hogsmeade. Joey and I spent some time in the Camp Jurassic playground area. Joey really wanted to do the Pteranodon Flyers but there was no express lane for this (it's the only attraction in the park not to have one) and the wait was forty-minutes. There was no way Joey would survive anywhere near that long in a queue, so we had to give up on the idea. The attendant was really good. He picked up on my body language with Joey and explained that Joey was too tall to ride anyway.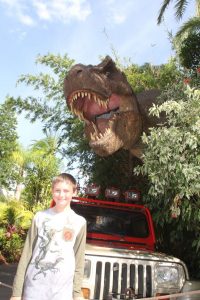 I don't think that was the case, but it was at least a let off for me. Joey accepted that restriction as an unfortunate fact of life and we continued into the climbing area instead.
After about half an hour of me dripping sweat trying to keep up with Joey climbing through the various structures, we decided to leave the playground and have a bit of fun with some of the carnival medley games they have in this section of the park. At $6 a pop, these things aren't cheap, but I figured I needed some damage control to compensate for the fact that Joey won that 1,000 tickets earlier at MacDonald's. He needed to see the futility in these things. I figured I'd let him have a crack at $6. On this particular carnival game, you had to throw three beanbags at balloons. There's a small needle behind each balloon, supposedly. The trick wasn't to throw hard but accurately. You have to strike the balloon right in the middle to stand a chance of popping it. Joey threw his three beanbags in quick succession…and popped a bloody balloon with each one. Shit! I remember thinking that this kid really needs to buy a bloody lottery ticket today. The attendant whipped out a box of soft toys and Joey chose the one he wanted.
Despite his being in a good mood today, Joey was still insistent he was not going to go anywhere near the Harry Potter area. This is classic Joey – oppositional seemingly just out of spite. I really wanted to go into Hogsmeade, so I had to use all my cunning and parenting skills (including the special Joey ones reserved just for him) to make this happen.
I tried various tacts with him until I landed on the one I reserved for the if-all-else-fails scenarios…good old-fashioned bribery. I suggested that if we went into Hogsmeade, so I could meet up with Mummy, I might let him have another try at one of the carnival games. That was enough to get him over the edge. We strolled in to Hogsmeade and found the girls.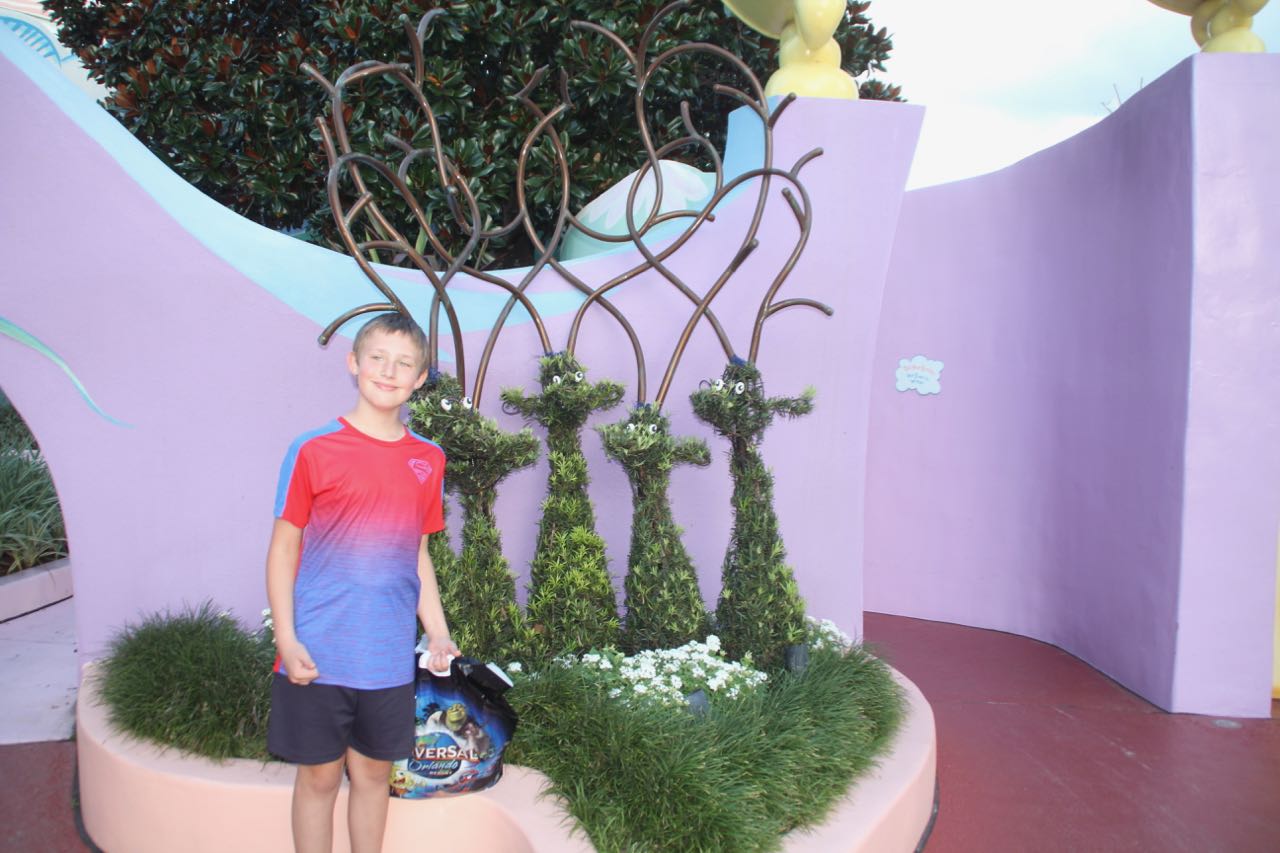 Along the way, Joey caught sight of the Hippogriff ride. It's a kids' rollercoaster with no intense thrills. Joey immediately wanted to have a go so I took him on. Pretty much immediately thereafter, he then agreed to come onto the main ride here in Hogsmeade, Harry Potter and the Forbidden Journey. I decided to ride this wave of compliancy for as long as possible and took him on that as well. There was a bit of a snag getting on through the express lane, however. Sandy and I often swap kids and we go off in pairs for a bit to explore something or other. We don't always remember to swap the express passes. We have two of them. One is for Joey and the other is for Jennifer. I still had the one for Jennifer. Nine times out of ten, this isn't a problem. On this occasion the attendant spotted a girl's name and realised I had a boy with me. I did explain the situation and that my wife had the other express pass, but the attendant decided it was more than his job's worth to permit us to proceed. He was polite but refused us entry. I asked him to please not force me back out into the park to go find my wife, as that would just waste a lot of time and cause me a lot of headache. He stood his ground. I stood mine. Readers of these blogs will know that I can be quite persistent. Eventually, after I was well into my stride of wearing the poor young man down, another staff member tapped me on the shoulder and handed me two slips of paper. They looked like cash register receipts. He said they wanted to help me out this time (isn't that exactly what I was asking for to begin with?) and provided me with two temporary express pass tickets. I thanked them both. Joey and I duly proceeded through the express lane entrance.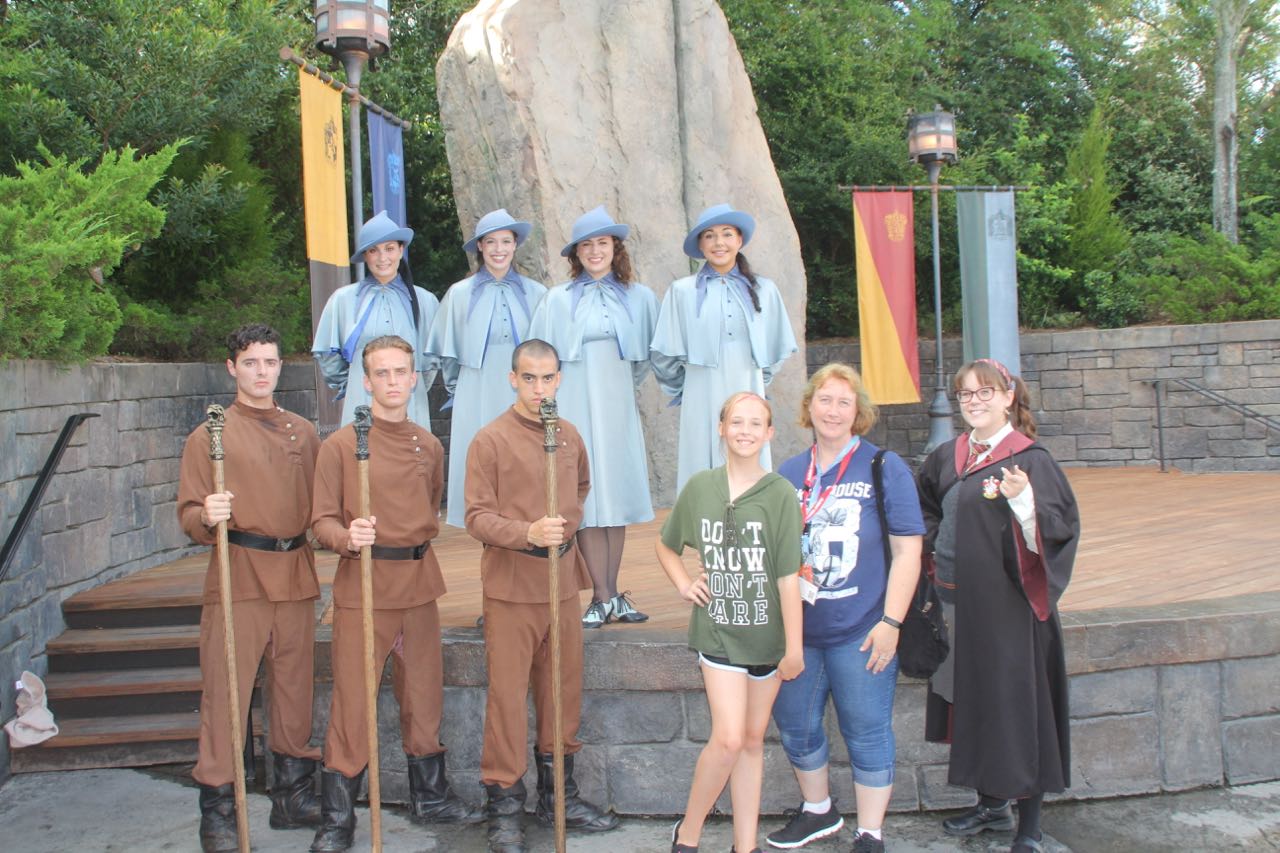 Joey really enjoyed the ride. It is a good one, after all. He even contemplated doing it again and would have if not for the urge to go back to the medley games to try and win more soft toys. He eventually persuaded me to take him back, but this time wanted to have a crack at the most difficult game there was. He had to aim an air gun loaded with a ball in a sock to knock a pile of six cans completely off the shelf. As predicted, he didn't even come close. In fact, he all but missed entirely with two of his three shots. Not deterred, he had another crack at the same balloon game he was so lucky with earlier. On his first go, he scored two burst balloons out of three, which netted him a soft toy. On his next, he got all three balloons popped, which scored him a slightly bigger soft toy. With his cache of three soft toys in all from these medley games today, he was in a really good mood, which we were fortunate enough to benefit from right through to the end of the day.
Now armed with a Joey in a good mood, we were able to go back through Hogsmeade to meet up with Sandy and Jennifer again. All four of us then proceeded through the park towards Seuss Landing. We've all done it in pairs but this time all four of us went on the Sneeches people-mover ride. This is sort of a train that moves along an elevated track throughout Seuss Landing. It's a great way to see much of the park as a whole, and a perfect photo and video opportunity – despite neither of those technically being allowed.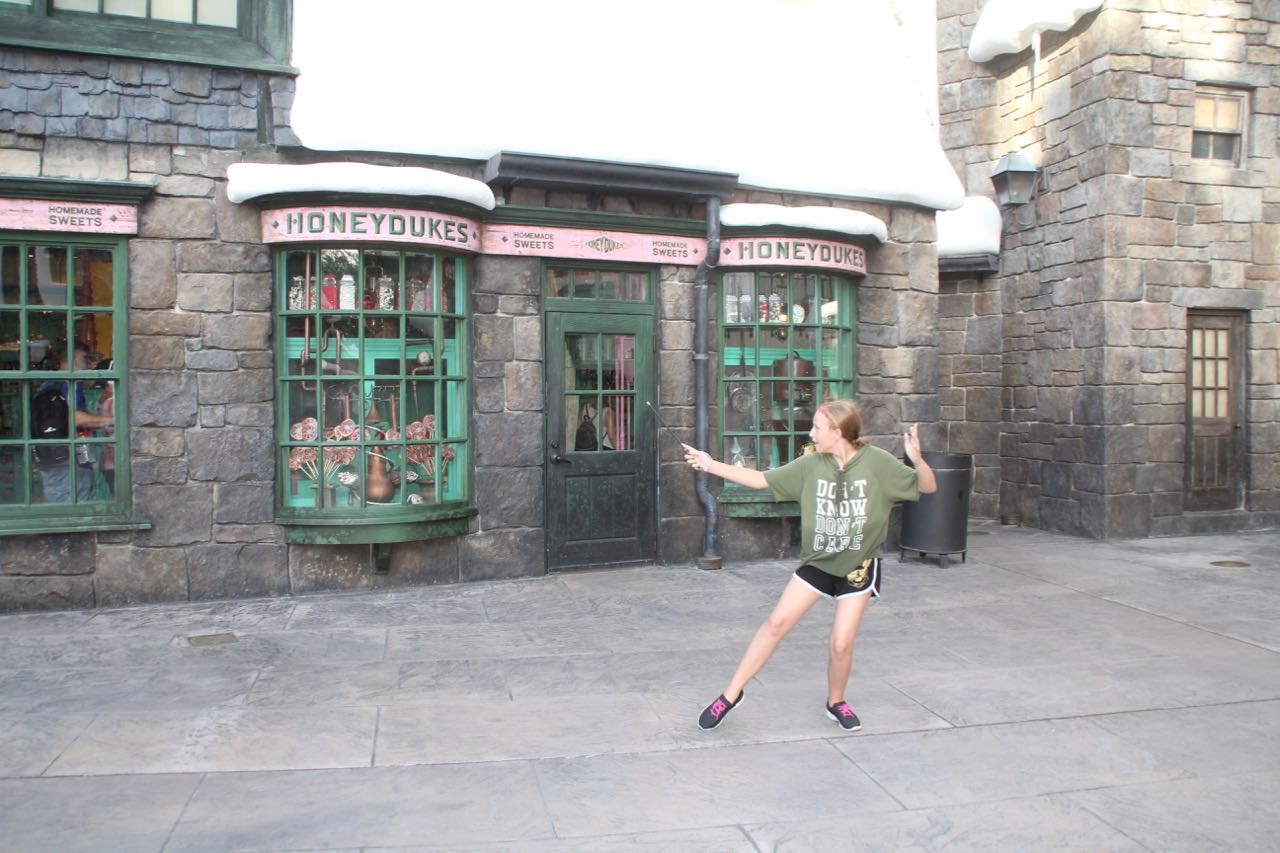 One thing that Sandy was a little disappointed about in Seuss Landing, and indeed the park as a whole, was the general lack of character meet and greet opportunities. In years past, there have been photographic studio setups where you could get some snaps with the various characters. All the Disney parks have these (sometimes more than one even). Having paid a small fortune for the photo pass, Sandy felt there should have been more options to take advantage of it. I agreed with her. Here in Islands of Adventure, we found but a single official park photographer. He was at the front of the park by the main entrance area. Nowhere else did we find one.
Before they left Seuss Landing, Sandy and Joey went in to the Cat in the Hat ride for another spin. Jennifer and I went in search of something more thrilling. We found it on the Hulk rollercoaster. Jennifer did still have her wand with her, but I had a zipper pocket that was just deep enough to keep it nicely tucked away.
Our final task before leaving the park today was to check in with guest services. As a result of the water drop rides I did today, the express pass we were originally provided with on our first visit to Universal was by now so water-damaged that the barcode is no longer readable. The barcode reader used by the assistant on the hulk ride couldn't read it at all. The only reason we made it through at all was the end-of-the-day-apathy the attendant was suffering from. I guess it was just easier to wave us through rather than try to deal with the problem. We exchanged the damaged pass at guest services for a brand new one. For good measure, the nice lady even gave us an extra day when she wrote out the validity date on the replacement pass, although that won't matter to us since we're leaving the Orlando area on Friday anyway.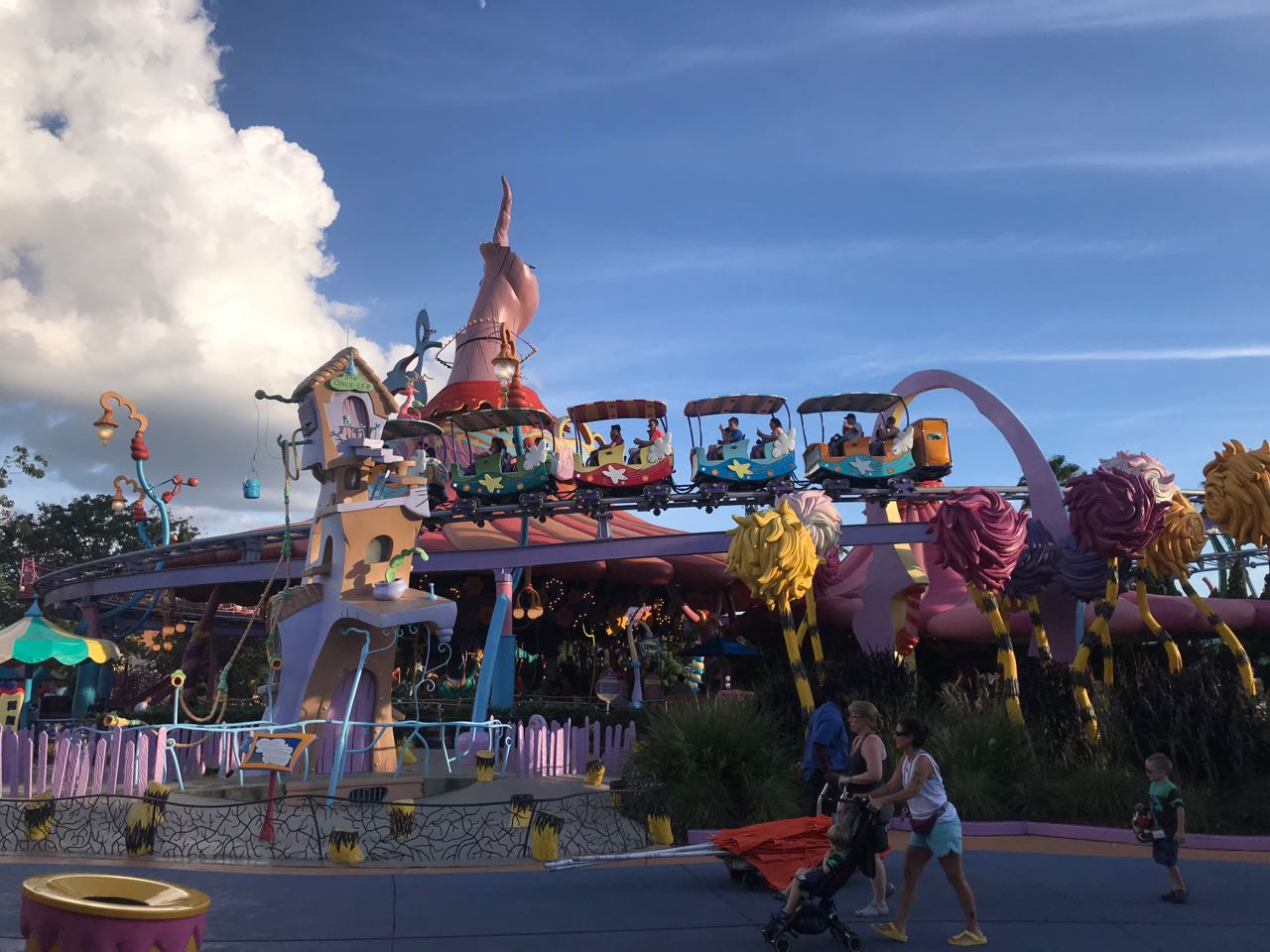 It was a good day, but we still had the long walk back to the car to deal with. Everyone was starting to feel the effects of the day. It was a struggle to get all the way to the car without succumbing to minor irritations from each other. Our last trick in the bag to help hold everything together for just a little while longer was to split up into pairs, denying the kids the opportunity to get ratty with each other. Sandy diverted Jennifer in to Star Bucks for a hot chocolate drink while I took Joey ahead and allowed him to feed a few more of the 51c penny machines that are everywhere here in Orlando. I have a special zipped pocket in my bumbag just for these pressed pennies. At the time of this writing, I have 29 of them in there. Packed away in the container are several collection wallets full of dozens more that we have from previous visits to various theme parks from around the world.
On the way home, we stopped off at a MacDonald's to get Jennifer a burger. Joey wasn't in the mood for a burger but said he wanted some fresh croissants instead. That triggered a diversion to our nearby Publix to pick up a couple more of the tubes of croissants. I grabbed a few chicken tenders from the hot chicken counter while I was there as well. In the event, my eyes were bigger than my belly, as I only ate half of them.
Back home, once my chicken tenders had gone down, I went on to the Sea World website to check out what would be in store for us in the morning. We also chatted with a couple of people we plan to visit while in Jacksonville in a few days' time. Our time here in the artificial holiday bubble that is Orlando is almost at an end. Just a few more days to go.