Day 5 – EPCOT
Saturday 18th August 2018
Today promised to be another full-on theme park trek. The plan was to collect Jamie and co after breakfast and drive us all to EPCOT for the day. This meant a relatively early start. I was up and active by around 6am. As I was the first to wake (there's a pattern emerging here), I was the one responsible for gently awaking the others. Despite the obligatory, and somewhat predictable, morning attitude exchanges between some of us, we made it out the door in one piece and made our way to our favourite Waffle House.
It was a little farther than we remembered but we got there in the end and pretty much had the entire staff there to ourselves. The night-shift staff, from a few days ago when we first arrived from the airport, didn't charge us fully for what we ordered but we got the full bill this time. With the tip included, breakfast cost me $55 this morning. Both kids ended up ordering more than their tummies could handle. Joey, for example, wanted a third waffle to take away with us but never ate it in the end. Jennifer ordered a double helping of toast but only ended up eating a half a slice. We all agreed they would be more conscious about what the ordered the next time so as to not waste money (my money!). I actually predicted both these scenarios on the spot but none of my fatherly preaching was ever going to sink in and they just had to figure it out for themselves. I guess I'm sort of paying for their education in a way. I should feel good about that, right?
With everyone satiated, we got back into our trusty maroon Chrysler Pacifica and reversed our course back along Hwy 192 towards the Holiday Inn sub-division (housing estate) where Jamie and co were staying. When I dropped them off last night, I neglected to make a mental note of the house number, although I had a rough idea of where inside the sub-division I had to go. At the entrance gate, the security guard looked at me expectantly as though I was supposed to confirm what my business here was, but the best I could offer him was that I was here to collect some friends. When he asked what the house number was, I said I didn't know but I thought there was a four in it. He just smiled and waved me through. To be honest, I could have been a Libyan terrorist and he probably still would have waved me through.
Inside the complex, I made the turn into the road I thought was the right one, but I wasn't exactly sure of it and drove slowly looking for what might be the right house as a result. It was dark last night, and everything looked different now in the cold light of day. I drove past a couple of ladies out for an early morning walk before turning the car around after realising I had gone past the spot I thought I needed to be. I drove up to that same couple of ladies and it turned out to be Jamie and her friend. I wound the window down to find them chuckling at the fact that they recognised me and even had their hand on the car door ready to get in, when I took off on them a few seconds previously. They got in and I drove into the next street to find Dan, Jamie's husband, jogging towards us. With the car now once again full of seven occupants, we set off towards EPCOT for the day.
It was only a fifteen-minute commute, but the sun had risen enough by that time to start sending the temperature soaring already. Once again, we had crystal clear blue skies with just an odd patch of white fluffy cloud smiling down on us. Jamie, Dan and Shanuel had to collect their tickets from roll-call. Since they planned on drinking their way around the countries of the World Showcase and we were going to take the kids to the various attractions in the front section of the park, we all went our own separate ways. We had a dinner reservation for all seven of us at the fancy Le Cellier steak restaurant in Canada for later in the day. We would all be reunited again then.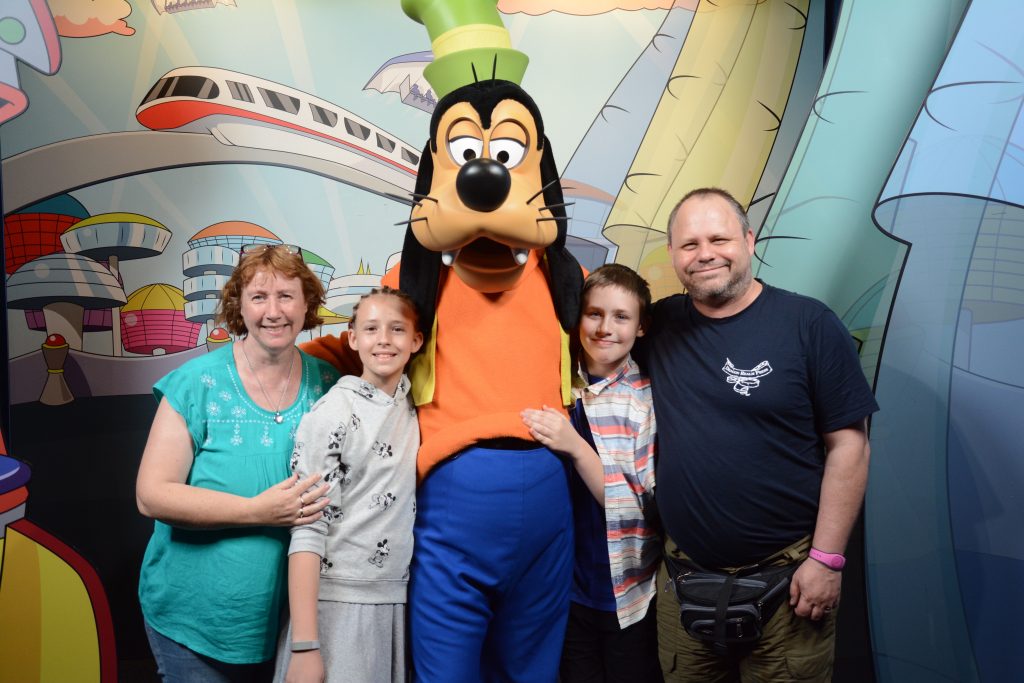 Just like yesterday, we had some fun and games getting Joey to agree to put on sun screen. We're doing our best to accommodate him and his whims on this trip, but some things just aren't open to negotiation and protection from the blistering sun just happens to be one of them. One of my bugbears is when we arrive at a destination but end up spending a lot of time not going anywhere. We have to get everything out of the car, put hats on, make sure the back packs have everything we need, go to the toilets, put sun screen on, etc., etc., etc. Sandy tends to want to take her time and make sure she does everything she needs in a particular order. Anything I say or do during this morning ritual is often just wrong – even if it isn't – and so the net result is that I end up standing around getting progressively frustrated at what to me seems like an inexplicable lack of getting on with moving into the park and enjoying what it has to offer. Between Joey not playing ball, ending up digging his heels in and hiding behind a bench after Sandy finally managed to get some sun screen on him, and my own frustrations rising because I'm standing around getting overheated, I cracked it (that's Australian for losing my shit). Rope drop[1] had just happened, and the hordes of park visitors were now making their way en masse into the park. Every minute we now delayed was another ten minutes added to the waiting times for the attractions. Those minutes were now mounting quickly in unison with my frustration. I decided that Joey was coming with us into the park right now like it or not. I wasn't violent with him by any stretch of the imagination, but I took him by the wrist and dragged him forcibly up out of his hiding spot behind the bench and manhandled him towards the entrance of Spaceship Earth (the huge golf ball looking thing at the front of the park) – all the while ignoring his protests. I actually hate it when I end up 'winning' one of these battles as it always makes me feel like a really shit parent after I calm down and reflect on how better I might have handled the situation. The fact is, however, that there are times that the physical approach really is the only remaining option in a given situation. Fortunately, this option of last resort doesn't happen very often.
[1] Most theme parks allow the visitors through to a certain point past the ticket booths just before opening time to where there's a suspended rope that then impedes their progress until the clock ticks down to the actual opening time. When the opening time countdown reaches zero, this rope is literally dropped to the ground – hence the expression – and the crowds push through.
We had a fastpass return time for the Spaceship Earth ride. In the event, the park wasn't especially busy today (it's all relative, of course), and we were able to get in and onto the ride slightly ahead of our time slot. By the time we had snaked through the Spaceship Earth ball exploring the history of human progress and communication, everyone had calmed down a bit and we were once again functioning mostly as a normal family. Joey and I were close to being on talking terms again. It's typically the two of us that tend to clash more than anyone else, but we always come around in the end. Joey went into his apologetic phase of giving cuddles, which is his way of realising, and coming to terms with, just how uncooperative he has been but is now sorry and wanting to make up for it.
Sandy's frustrations were also subsiding, although this was delayed a little further when the realisation set in one of us (I'm going to call it me for the sake of an easy life) had left Joey's popcorn bucket on the bench where we were struggling with the whole sun screen application saga. In actual fact, I never had the popcorn bucket in my possession at any point but at this point I'm willing to take one for the team. Sandy went back to try and find it, but it wasn't there. Naturally, Joey was now proclaiming (perhaps whining would be a better description) that he really needed it.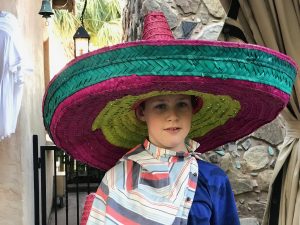 Of course! In truth, that probably wouldn't have been the case but for the attention that was given to the situation. He could easily do without his favourite toy if he didn't know it was missing. Just mention that fact, however, and it typically becomes a huge deal. We did ask one of the cast members inside the Spaceship Earth building whether anyone had handed the popcorn bucket in (we did pay $10 for it at Animal Kingdom yesterday after all) but that hadn't happened. Rather helpfully, the cast member did suggest we wander the few paces across to the next building, which was Guest Services. They might be able to authorise a replacement. In the event, that's exactly what they did, providing me with a coupon for a new one at one of the concessions stands after I explained the situation. Well played, Disney. That was a nice touch.
Once the initial hurdles of the day were over, we settled into a much more productive routine that made for a pleasant day. That being said, I was continually frustrated at the Disney app on my smartphone. It kept losing track of the fastpass bookings I had previously made. They showed up in the app only every now and then each time I looked for them. I had pretty good WiFi and cellular reception throughout the day, so it had to be a glitch on their end somewhere. Once or twice, I had to refer to my own spreadsheet to remind me of the times I had booked for the various attractions.
Since we had the DAS pass linked to our magic bands from yesterday, we invoked these several times throughout the course of the day. Whenever the wait time for the attraction in question was relatively small (20 minutes or less), we would typically be allowed straight in through the fastpass entrance. The one time that we did have some issues was with the Test Track attraction. As the wait time was more than an hour, we happily accepted our return time slot and duly arrived at that time to take our place in the fastpass queue. Unfortunately, the fastpass queue at the Test Track was still 20+ minutes long itself. We were all hot and bothered at this point. The attraction was loud with engines roaring and racing past every few seconds and Joey wasn't coping especially well so we spoke to the cast member about what we can do about avoiding that 20+ minutes of standing around in the queue. I suggested I'd be happy for me and Jennifer to endure the queue if Sandy and Joey could stand somewhere that wasn't in the queue, which makes him very anxious and unhappy. Alas, the cast member didn't seem to think there was another option available and he stood his ground. It was all very pleasant between us. I wasn't being rude or anything. Between us, Sandy and I had three attempts at pleading our case with him but unsuccessfully each time. We reached the point where we were just going to have to give up on the attraction altogether (such was the height of Joey's discomfort at the time), so I finally asked if I could please speak to a supervisor. It was the last throw of the dice for us. As luck would have it, there was a supervisor on hand and I explained calmly and politely that we hadn't anticipated needing to queue up once we received a return time (this is after all exactly what the system is designed to prevent) and that my son was not handling the situation very well. The supervisor was extremely pleasant and helpful. He immediately 'got it' and said he'd be happy to take us personally up through the back entrance directly to the loading point. He did explain that this would mean missing out on all the 'theming' of the attraction, but we were totally happy with that. In fact, the more we could minimise the avalanche of sensory overload, the calmer Joey would be. Our twenty minutes was thus reduced to zero. Once again, well-played Disney.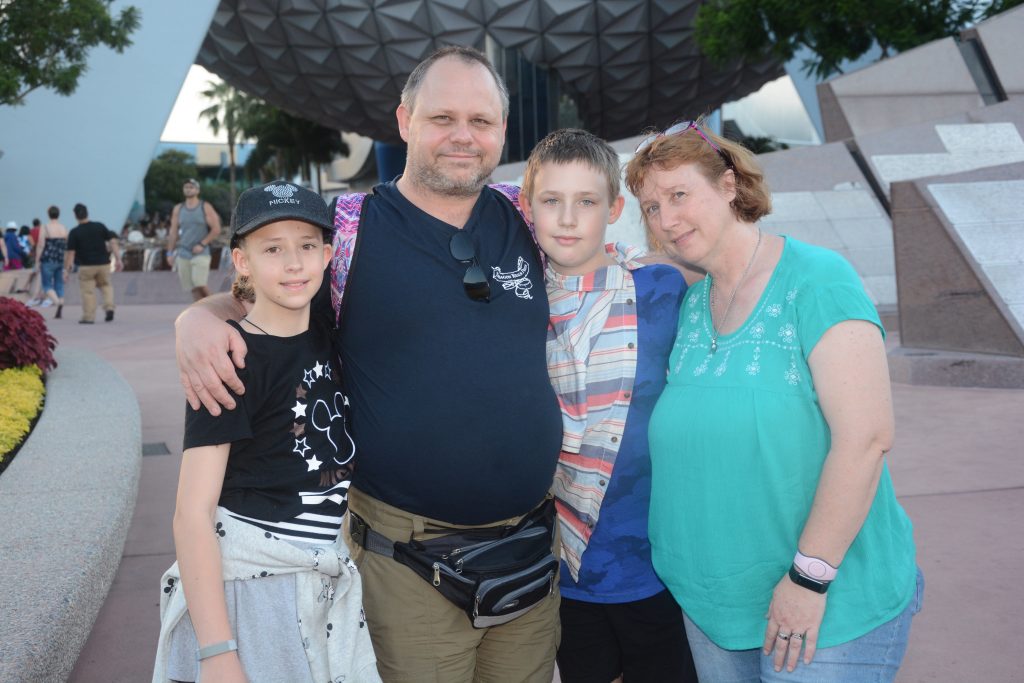 Even without the stress of queuing, Joey was quite overwhelmed with the attraction and we came out clearly in need of some climb down time and a way for him to recuperate. We did this with a quick trip to a nearby air-conditioned store. There were still plenty of people around, but it was at least relatively dark and calming. As luck would have it, this particular store also had a build-your-own Star Wars Lightsabre station. Joey had been saving (and I do use that word quite wrongly) so that he could get one of these. It's been something he's been looking forward to since we arrived here in Orlando. He was latched on to the station faster than a fridge magnet, effectively putting himself into one of his self-constructed bubbles – which just happened to be the very best place for him to be right at this moment. Yes, this in all likelihood was going to cost me about $30 but I used the opportunity to help Joey understand the logistics of saving and rationing his spending money, which has always been a tough lesson for Joey to comprehend. By the end of the negotiations with him on exactly what he could afford to buy, I had 'loaned' him an extra $3 so he could buy a particular accessory to his new Lightsabre. We agreed this 'loan' would be repaid by him agreeing to not kick up a fuss when we had to put sun screen on him in the future. We even pinkie-promised and he gave me a hug to seal the deal. Frankly, I'm under no illusions he'll forget this come the next time we have to put sun screen on him, but I do continually try to live in hope.
We spent much of our time today trying as much as possible alternating between doing things that would please each child in turn. Jennifer is the adrenaline junkie in the family. She really enjoys all the thrill rides. Since the Test Track satisfied her need for speed, we made our way over to the other side of this section of the park to Imagination, which we knew Joey would really enjoy. To be honest, it's one of our favourites also. Sandy became enamoured with the character of Figment when we very first came to EPCOT many years ago. The Imagination tune is also extremely catchy and pleasant. Like many of the attractions in EPCOT, it does seem to be showing its age a little nowadays, but we enjoyed the experience all the same.
Near the Imagination attraction are The Land and The Seas buildings. We spent some time 'doing' both of those also. In The Land, we went on the boat ride through the hydroponics area. Despite this being the gentlest of rides, Joey was still quite uncomfortable with it, as he was with all the water attractions throughout the park. This surprised us both and represents behaviour that neither of us expected. He was whimpering and extra clingy.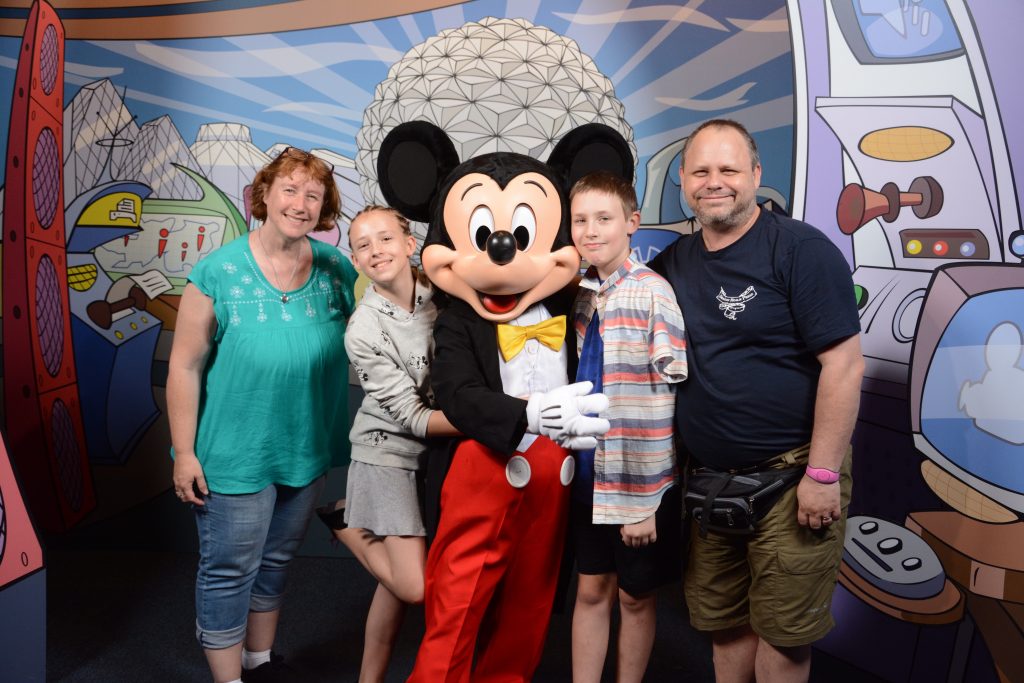 Next door, in The Seas, we had a great time with the Turtle Crush attraction and Finding Nemo ride. Once again, however, despite being a very small child friendly attraction, Joey struggled with it.
The next fastpass booking we had was for Soarin', which we were really looking forward to. I remember especially enjoying this ride the last time we were here. Fortunately, we were in the rear-most row of seats, which meant we were suspended the lowest off the ground. Despite that, Sandy still had to talk Joey through the experience to comfort him.
As our dinner reservation was for 3:50pm, which was relatively early, we decided to have just a light snack instead of a full-blown lunch after we exited Soarin'. It gave Sandy and me a chance to sit and have a good look through the menu of Le Cellier, the steak house restaurant in Canada Jamie had suggested I book. Unfortunately, there really didn't seem to be much on the menu that would accommodate us all – especially the kids. It seemed like a rather up-market restaurant. That was perfectly fine but to be honest, the high quality of the food would probably be lost on us and certainly lost on the kids. I had a quick chat with Jamie about whether they might be happy with an alternative. Fortunately, they were very accommodating, and we shifted the reservation from Canada to the Oktoberfest in Germany instead. It was a buffet menu and a little more down to earth. Since we were within 24 hours of the reservation, I stood to lose $10 per head ($70) with cancelling the reservation at Le Cellier. I called the Disney Dining reservations number and explained the situation. They were very accommodating. The lady said that since we were picking up a new reservation at another restaurant in the park, she would be happy to waive the $10 per person cancellation fee for Le Cellier. Well done, Disney. Yet another positive experience.
The last building we hadn't yet explored on this side of this section of the park was the cinema, where we would get to see a series of presentations on short movies. It was a great distraction and a welcome escape from the heat of the day. The fact that it was a sitting attraction was an added bonus. Once the half-full cinema crowd was ejected back out into the open, we found a popcorn stand and paid our $2 refill fee to fill the now empty bucket.
We were by now approaching the fastpass return time for the third and final pre-booked fastpass of the day. The Mission Space ride was back over the other side, adjacent to the Test Track, so Jennifer and I trundled over there. Judging by the ride's description, Joey was really not going to cope with it, so he and Sandy chilled out near the shops for a bit.
I have to admit that by the time we made it through all the pre-ride process, I was getting quite nervous about the Mission Space ride. It was a simulation shuttle launch and trip to Mars. At the entrance, we had the choice of the less intense or more intense version of the ride. Naturally, Jennifer opted for the more intense version. Lovely! We were handed 'boarding cards', upon which were very clearly written warnings in large print about the intense nature of this ride. Every ten seconds or so, we found warnings on screens and the walls about how we should be in good health and that we could still exit the ride if we really wanted to. Really, it wasn't too late. You can still get out now while you can. I've never seen any attraction that had so many warnings and escape route options presented. This was really making me very nervous. As we progressed through to the final boarding section, enough of the physical infrastructure of the ride was visible for the penny to drop. We were being loaded into a centrifuge. Shit. This was going to be gruelling. I kept a brave face for Jennifer's sake. Secretly, I was hoping – nay, begging – to be let out. We reached the point of no return and were strapped in to a closed in and very tight cockpit. I looked down to see a pile of vomit bags 'for my convenience'. Vomit bags? Seriously? The final 'briefing' on the individual screens in front of each of the four of us in our particular enclosure provided me with one final reminder at just unbelievably stupid I was to get onto this fucking thing. The 'simulation' then began and OH MY GOD what a fucking nightmare. The centrifuge went into action in sync with the imagery on the screen depicting an astronaut-eye's view of a shuttle launch and then boost to Mars. Holy fucking shit! This is the sort of physical endurance that can bring even the most hardened of physically trained astronauts to their knees. We all had cold air being blown onto our faces throughout and it was just as well. I was really feeling quite nauseous right from the get-go. There were several points in the simulation that involved several G's of centrifugal force we were subjected to. I thought I was going to fucking pass out or throw up all over the place – or both. My skin was sweaty all over, I felt a warm sensation in my stomach and the puke was already churning ready for ejection. The on-screen briefing had suggested that if we felt nauseous, we should not tilt our heads or close our eyes. I did my best to keep my eyes open and looking straight ahead but I was also taking deliberately deep breaths and just begging for the entire ordeal to finally end. I was literally counting the seconds in the hope it was going to be all over soon. When the end did finally arrive, I stumbled out of the enclosure and damn near collapsed. That was fucking hell. Jennifer, on the other hand, was jumping up and down and begging me to take her around to do it again. No fucking way! I told her it was a pre-booked fastpass and that I wouldn't be able to book another. In fact, this was the third and final fastpass booking of the day and I probably could have booked us in for another go but there was no fucking way in hell I was going back in there!
Back out in the open, I did my level best not to puke – which really did require all my powers of concentration – and we met up with Joey and Sandy near the Photo Spot. Sandy had in the meantime booked us a fastpass for access to the character photo shoot. We went in and duly had various shots of us all with Mickey, Goofy & Minnie. I'll probably look quite green on those photos.
The photo shoot represented the last activity of the day for this section of the park. With an hour or two still to kill before the new dinner reservation time of 5:50pm, we headed into the World Showcase section of the park, starting in Mexico and going clockwise. We didn't go all the way around the lake. In fact, we only made it as far as Germany for dinner. Before getting that far, we stopped in Mexico and did the gentle boat ride. The mere mention of DAS got us redirected to the front of the queue, but Joey was still uncomfortable with the fact that we were on water – even though we were able to point out that we were only in very shallow water.
Because it was still very hot, we meandered from shade to shade as we progressed around the lake. Sandy and Jennifer stopped off at Norway to the Frozen ride (essentially a re-themed version of what was previously the Maelstrom ride). Joey and I pressed on to Germany, where we found a spot in the Oktoberfest foyer to cool off and relax a little.
We were there for all of twenty minutes before Jamie, Dan & Shanuel arrived to meet up with us. Sandy and Jennifer arrived shortly thereafter. We were soon taken in to our table on the upper level of the Oktoberfest auditorium/theatre.
Jamie and the others had been drinking their way around all the showcase countries. They even had special shirts with the countries listed on them they had been checking off as they went. By the time we met up with them in Germany, they had ticked each country off with a sharpie.
We had a lovely time catching up with them all. It was a little difficult to hear each other talk but they had clearly enjoyed their time and were just a little tipsy from the experience. This just added to the fun of it all. We enjoyed the meal (at least I assume they all did) but time was pressing on and Joey was starting to show signs of giving up. Sandy and I agreed I'd drive her and the kids back to the house but that I would come back and see the Illuminations show with the others before driving them back to their resort for the night.
The trip back home and back was uneventful enough, but the timing was tight. I made it back to the car park at 8:50pm, which was ten minutes before the firework and light show was scheduled to start. In my haste to get back to the World Showcase to hook up with Jamie and the others, I forgot that I had to tap in at the right entrance. There were streams of people leaving the park and I just walked through them all. I was damn near tackled to the ground by big bertha who insisted I double back through the security check-point and tap in correctly. I did this without argument, but it did burn a few precious minutes. By the time I had reached Spaceship Earth, the Illuminations show had started. I probably missed the first third of the show altogether. Fortunately, Jamie responded to my message about me having arrived and looking for them and I made my way to the spot they were parked and enjoying the show.
We all enjoyed what was left of the show and then joined the rest of the sheeple all making their way back to the transportation hub and car parks at the front of the park. We all had a bit of fun in the car recounting the events of the day. Although we're doing our own thing tomorrow, we are going to spend some more time with them on Monday and I'll hopefully be able to take them all to the airport for their return to New Jersey.
Back at the house, a quick shower removed all the grunge of the day and I felt half human again. I only had enough energy to write up the notes of the day. It's now almost 9am on Sunday morning. I've been up since around 6:30am converting those notes into this blog entry.