Day 7 – Disney Springs & Hollywood Studios
Monday 20th August 2018
We decided to have breakfast at home this morning. I was to take Jamie, Dan and Shanuel to the airport this afternoon. Jamie had made a lunch reservation at Planet Hollywood for noon. We wanted to leave room for lunch and elected to omit the full-on breakfasts we've been having so far.
Jamie and co were ready for collection by around 10:30am, so we left the house at around 10:15am. They were all there ready and waiting with their bags when we arrived. I loaded them up and off we went to Disney Springs, what was previously known as Downtown Disney.
Upon arrival, I drove into the Lime multi-story car park. An added bonus was that not only was is free to park there but this particular car park had sensors above each parking bay. At the end of each row, an electronic sign displayed the number of vacant spots in that row, making it really easy to find somewhere convenient to park. Winning.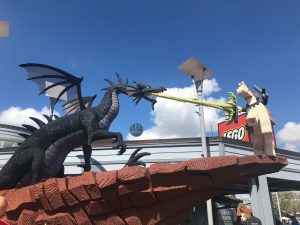 Although we had previously agreed that Disney Springs would be a good place to kill a couple of hours before Jamie and co went back to the airport, I had been secretly wanting to come here for another reason. There's a massive LEGO shop here. I was dying to let Joey loose there and to pick up a nice big LEGO set for him as a surprise – just to see the look of happiness in his eyes. Unfortunately, he was being quite the little shit this morning. It started at the house before we got in the car. He had parked himself on the floor and refused to get up or to get into the car. Jennifer and I were in the car already waiting for them. Joey's refusal to cooperate pushed Sandy's patience and softly-softly tactics to beyond her level of tolerance (which is hard to do). She emerged from the house, near slammed the door shut and gestured that we should just leave without him. The thought was tempting but I figured we'd better take him with us after all. That pushed me over the edge and I got out and went to get him – forcefully if need be. A controlled burst of loud and angry 'Get up off that floor this instant!' was enough to shift him into gear, albeit really quite reluctantly, and he got into the car – kicking and screaming. It was a good ten minutes before his crying died down.
Right up to the point that we parked the car and walked into the Disney Springs area, Joey was being difficult. Miraculously, the transition from awkward Joey to Happy Joey was near instant the moment we walked into the LEGO shop. I knew he would come around once we got there but the speed of transformation surprised even me. To be honest, I was just as much a kid in a candy store as he was when we were wandering around together hand-in-hand. Some of the LEGO sets they had paraded around the store were amazing. Many of them were presented fully constructed in display cabinets. A neat feature of some was that you could hold the box up to a TV screen. A scanner would read the box and then a VR display of the LEGO set being built would be projected onto the box you were holding on the TV screen. You could even tilt and turn the box around, so you could see the LEGO set from all angles – all in real time. It was pretty neat even if I say so myself. Joey had $25 of his own allowance to spend, but in my mind, I was always going to spend something like $100-$120 on him today regardless. It was to be an early birthday present. As he was now being cooperative, I decided to take him to one side and have a chat with him about his behaviour this morning. Confronting him at the moment he is being difficult has never really worked or been productive. He always comes around eventually and often becomes quite apologetic.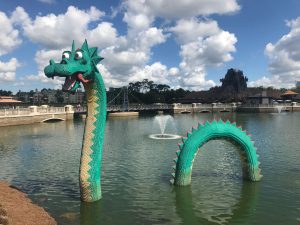 That's the brief window of opportunity in which to have a meaningful discussion with him – to help him to recognise his wrong-doing and to get him to reflect on it. We spoke about what the triggers were for this morning's episode. It's always hard for Joey to confront his behaviour and he was in tears trying to explain what it was that set him off. It was the tears that told me he was really reflecting on what had happened. And thus ended the pep-talk and lesson for the day, and we went back to enjoying the LEGO store together.
After examining various LEGO sets and displays, Joey indicated those that he was most interested in. I hadn't told him I planned on buying him anything. He was desperately looking for something smaller that was within his budget, but I was following his eyes and reading his body language to figure out what he really wanted. In the event, we collectively picked out three LEGO sets of varying sizes. Together, they came in at $160, which included Joey's allowance. Of course, there was the obligatory parental edict that these purchases be conditional on good behaviour going forward, etc. In truth, I think Joey would have agreed to pretty much anything at this point.
Laden with an armful of LEGO sets, we left the LEGO store (some of us grinning from ear to ear) and all headed over to the Planet Hollywood restaurant dome in the centre of the Disney Springs complex. Once again, it was blisteringly hot today, so we tried as best we could to hop from shade to shade.
We were a little ahead of our reservation time, but they sat us all the same. Inside, the décor is replete with movie props, costumes and other movie memorabilia. The whole thing is a huge dome with several levels of seating. We took our seat at a round table on the lower level. Right above us was a huge screen onto which music videos and other graphics were displayed in sync with the music. There was even a video camera somewhere under the dome that pointed at people enjoying their meals at the various tables. We caught ourselves up on the screen a couple of times throughout the meal, which was fun.
Sandy and I both had the buffalo wings. I have to say the food was really very good. They were the best wings I've had – certainly since we've arrived here. One of the highlights on the menu was the trio of dessert shakes. The mug was decorated with chocolate, sprinkles, Maltesers, various other mouth-watering, sugary, eye-candy and even a piece of chocolate cake perched on top. I felt my arteries hardening just looking at it. We all had a bit of a giggle at the prospect of someone at the table ordering one. Just for the sheer fun value of being able to take a photograph of the amazing concoction, I decided that would be me. The waiter did bring out multiple spoons but nobody else seemed daring enough to try it, so I had the entire things to myself.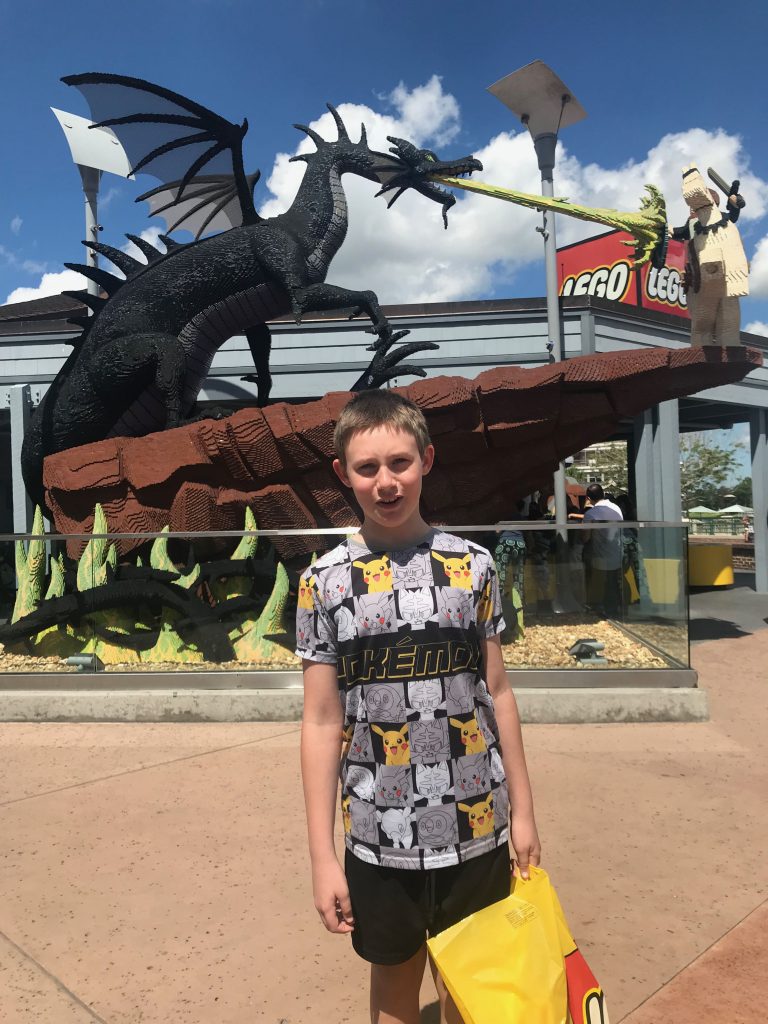 Well, what's a chap to do? It was amazing. I wasn't able to finish it entirely, but I shovelled enough of it down to ensure that my calorific intake was accommodated for for the next seven weeks. Winning! I left the restaurant feeling a little guilty. For one reason, that chocolate shake concoction really was a huge indulgence. For another, Jamie and Dan refused to allow me to pay anything towards the meal. Unbelievably, the bill for the entire table of seven of us came to just under $170, which was actually quite a bit less than I had predicted. Thanks, guys. That was really nice of you to spoil us all like that.
While at lunch, I received a notification via Facebook from Carol, one of my cousins. It turns out yet another of my relatives, her daughter Nicola, was in town this week. I'll see what I can do about hooking up with her for dinner sometime this week.
Since I was taking Jamie and co to the airport later in the afternoon, Sandy and Joey decided they would spend a couple of hours at Hollywood Studios. We agreed that Jennifer and I would remain at Disney Springs and then join them at the park after the airport run. Sandy did initially consider taking the bus. In the end, we agreed I'd drive them. I left Jennifer with Jamie and took Sandy and Joey over to the park. There was quite a bit of construction going on near the Hollywood Studios park. For one thing, there's a network of chair lifts being installed. This will link numerous Disney resorts and theme parks to each other when fully operational. The other thing was the new Star Wars themed area that was under construction behind a series of barriers. We'll miss all of that during this visit, but I guess it at least gives us more reason to return in a year or two when everything is open and functional.
Having dropped Sandy and Joey off at the park entrance, I drove back to Disney Springs to meet up with the others. We meandered around a little, but I think everyone was starting to slow down a bit through the heat of the day. We hopped from one air-conditioned shop to the next as we slowly hobbled around the Disney Springs area before finally making our way back to the car.
It took me about a half an hour to drive Jamie, Dan and Shanuel to the airport, where we said our goodbyes at the check-in kerb. It was a real thrill to have finally met my business partner. I'm sure it will help going forward now that I can put a physically real person and persona to the name and daily IM sessions. Fer her part, I can only hope that Jamie didn't come away from the experience thinking I was a total clod 🙂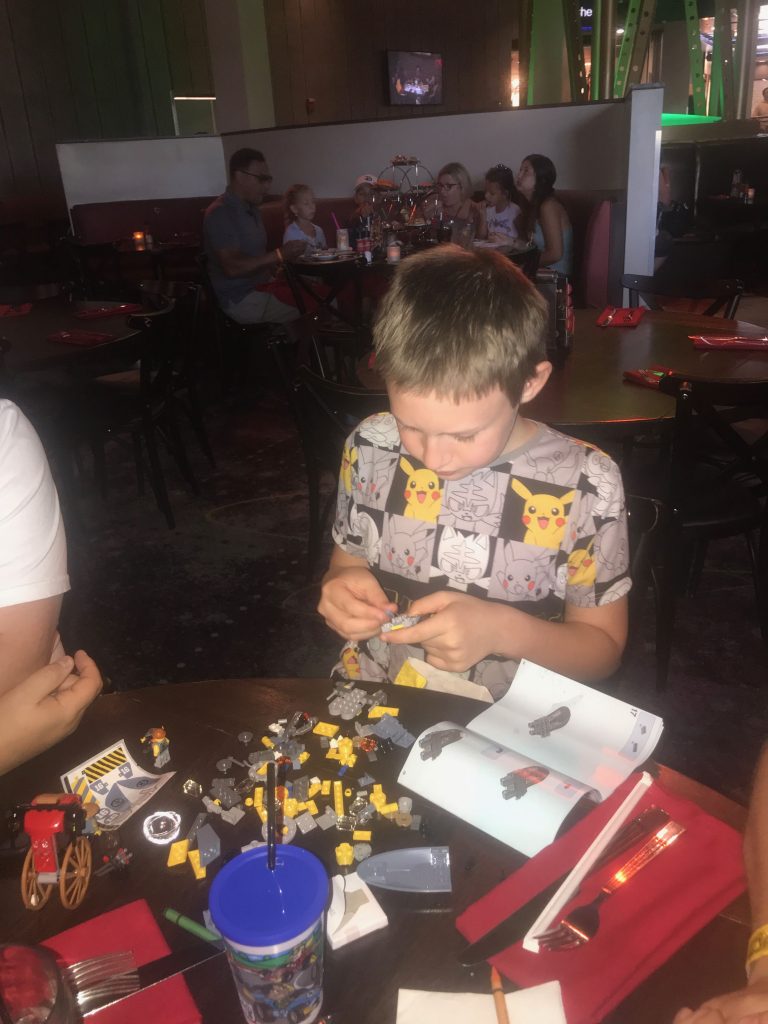 For Jennifer and me, it was back to Hollywood Studios to meet up with Sandy and Joey. We dropped the car off at the rear of the car park and hopped on to an already waiting tram to the front of the park. With all the construction happening, the tram didn't get as close to the turnstiles as it could have, and we did have to walk a little way to get there. It wasn't especially far, but in the blistering heat of the mid-afternoon, every step was a feat of endurance.
Once we tapped in via our Magic Bands, Jennifer and I wasted no time in hightailing it over to the Hollywood Tower of Terror. Jennifer has been chomping at the bit to ride this attraction since she first heard us mention we were coming to Florida for a holiday. Fortunately, we only had to wait about five minutes for our return time, which gave us a chance to sit in the shade for a bit. Knowing the attraction inside out also allowed us to slip in to the right places at the right time so that we could be as far ahead of the rest of the sheeple as possible and thus minimise our wait time to ride. I had my arms straight up in the air when we reached the business end of the ride itself. Alas, so did the row in front of us and the photo was taken right at the point my face was obscured by someone's hand. I guess that means we'll have to ride at least once more so as to get a better photo taken.
In the post ride giftshop, Jennifer wandered around looking for something to buy. She doesn't ask for much – and hasn't had as much as Joey has tended to so far – so I wasn't hesitant at all to indulge her request to grab a T-shirt. In my mind, it was $29 but in actual fact, it turned out to be $39. I noticed this only after we had left the store. I might have had pause for thought had I spotted it earlier, but it's done now, and Jennifer is a happy bunny for it so that's all that really matters.
Since it was right next door, we wandered down the path towards the Rock 'n' Rollercoaster ride and signed in for a couple of DAS return times – for just in case we made it back to this section of the park later today. As Sandy and Joey were by now no doubt hot and bothered and wondering where we were, we walked over to where they had parked themselves in the foyer of one of the restaurants in the park.
When we got there, they were indeed fairing less well and wondering whether it was worth cutting their losses and exiting the park. Sandy had arranged a DAS return time for the Slinky Dog Dash ride over on the new Toy Story land. Try as I might, I just wasn't able to secure a time for this as a regular fastpass, so I was keen that we should take advantage of this opportunity while we were here. Sandy bit the bullet and agreed we'd all wander over there to give it a go. Joey seemed keen also, so the battle was already half won. When we got there, we explained our situation, being that Sandy had only been able to secure a time slot for two of our number but that we were now all here as a family unit and hoped to go in all together. Once again, the cast members were very accommodating and had no issues with it at all. We were duly sent in through the fastpass queue and ended up having to wait only a few brief minutes before boarding the ride. Although it's more of a kid's rollercoaster, the ride is a very good one. What makes it especially good is that it's an extremely smooth ride. There are no harsh bumps or knocks that you tend to get with rollercoasters. Although it's a continual circuit, the ride is split into two sections. You're launched up into the ride in both sections.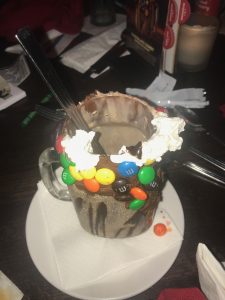 We all enjoyed it and were all smiling when we exited. As luck would have it, Sandy also arranged a return time for Toy Story Mania, another one of the popular attractions in the new Toy Story section of the park. Joey was by now starting to fade and lose the will to live again but we pressed on. We again managed to convince the cast members to allow us in given our situation, which they did. It was a slightly longer wait – even in the fastpass queue – so we did have to manage Joey a little more carefully. Despite his deteriorating mood, he and the rest of us thoroughly enjoyed the new ride. We exited and made our way back towards the park's main entrance/exit. We had just a couple of minor stops along the way there. One was to interact briefly with a couple of street comedy entertainers. The other was for a brief photo op via one of the many Disney photographers.
I had earlier asked my cousin Carol to put me in touch with Nicola. Nicola finally reached out to me directly via Facebook and we had a brief chat about the possibility of meeting up sometime this week. We agreed to have a chat via phone at some point to see if something could be arranged, which I hope it can.
One more interesting thing did happen today. I received an e-mail from Avis, the company we're renting our minivan from. It turns out there's a safety recall on the Chrysler Pacifica, which we're currently driving. They've asked that I take the car in to be replaced with something similar. I'm not especially keen on the idea of changing to a different car. I rather like this one to be honest and there's no guarantee we'll be issued with another one of the same. I checked the recall details. It's to perform a software update to eliminate the potential scenario of the car stalling when it's not supposed to. I'm not overly concerned. I'll probably hold on to it until the end of the rental period.
We walked to the tram stop and hitched a ride over to where I had parked the car. I think everyone was glad we were heading home. Even at just a few hours in the park, the soaring temperatures and limited opportunity to stay out of the sun means that a half day is still plenty.
A snap decision meant we would stop at a MacDonald's and KFC on the way back to the house for our evening meal. By the time we arrived at home, the food in the kids' tummies had put them into a good frame of mind. I showered all the grunge of the day from me and we settled into our shutdown routine.
With the new-found freedom to explore the parks on a whim as opposed to a set schedule, we did a bit of shifting around of things on my main organisation spreadsheet. We're going to be building in more half-day theme park visits and more rest days for the remainder of our time here. As an added bonus, that might also help stretch our dollar a bit farther. For this past week we have been exceeding the self-imposed daily budget. We do need to be a little more self-restrained going forward if we're to keep enjoying ourselves for the remainder of our time here.